South Georgia Film Festival
The South Georgia Film Festival is held the first weekend of March each year.
The next will be held March 4, 5, & 6, 2022 on the Campus of Valdosta State University.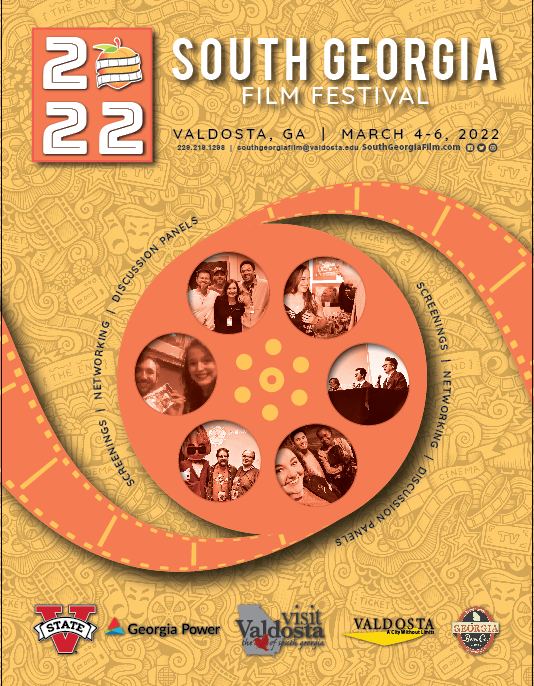 Along with screenings of global and local films from professionals and amateurs, the South Georgia Film Festival hosts panels on key issues facing the film industry and independent filmmakers. Celebrating the art and industry of film, the festival gives much time to network throughout the day and into the night with our evening events, such as our kickoff event with partner Georgia Beer Company. Our sponsors help us to provide the highest quality event and bring filmmakers of all ages to our community.

---
Awards are given for various achievements in all available categories.
High School and college filmmakers have the possibility to also win scholarships for their winning films. 
Find out about submitting to this year's festival
< https://filmfreeway.com/southgeorgiafilmfestival >
Check out previous year's winners
< https://www.imdb.com/event/ev0026797/2021/1/?ref_=evov_eh >
Visit our standalone page
< http://www.SouthGeorgiaFilm.com >
 Tickets will be available for in-person and on-demand screenings.
---
Email – SouthGeorgiaFilm@Valdosta.edu
Phone – 229-219-1298
BFA Mass Media
Mass Media Building
1500 N. Patterson St.
Valdosta, GA 31698
Mailing Address
1500 N. Patterson St.
Valdosta, GA 31698
Fax: 229.293.6182
Monday - Thursday8:00 am - 5:00 pmFriday8:00 am - 3:00 pm