Creating a Service Desk Incident
Step 1:
Login to VSU Service Desk.
Step 2:
Enter your VSU Active Directory (Computer Login) information. If you do not know your username or password, please use our Self-service Password Reset Tool.
Then, click on the Login button.
Step 3:
In order to create an incident ticket, highlight the Category that best fits the service you need.
Then, click the form that is best fit for the incident you wish to create.
Step 4:
When creating a new incident, you are presented with numerous fields for the incident creation:
Note: Grayed out fields are locked down and cannot be edited, white fields are where information can be entered, but not required, a red field denotes a required field.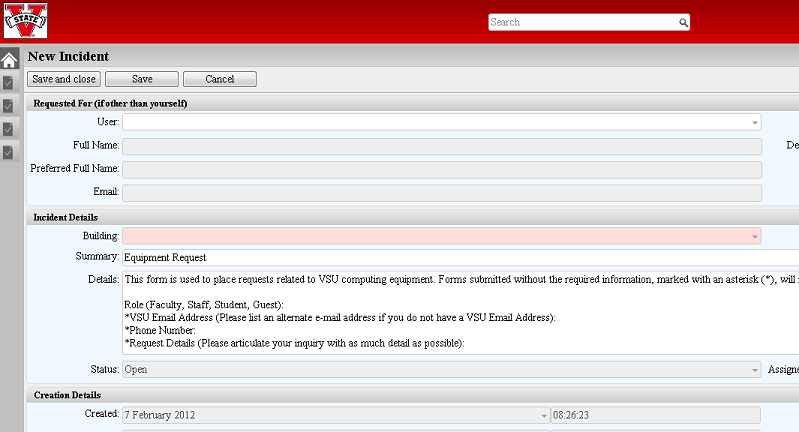 Step 5:
Requested For: If you are placing a request on behalf of a co-worker, please provide the user's information in the User field. You can search by user name, first name, or last name.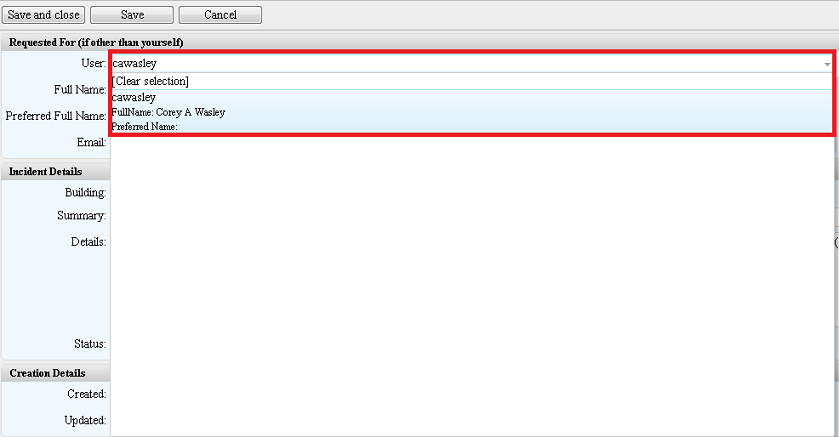 Step 6:
Incident Details: Choose the Building first and then the Room Number field will auto-populate , you can select each by typing it in, or selecting from the drop-down menu. Provide the information as detailed as possible in the Summary and Details fields.

Step 7:
Once all the information has been filled out, click the Save and close button to have the incident opened and be brought back to your Dashboard.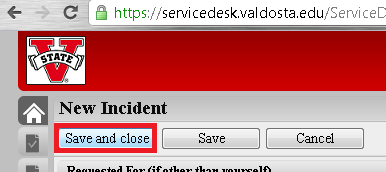 Congratulations! You have successfully created an incident. If you encounter any issues following these steps, please call the IT Solutions Center at (229) 245-4357, or e-mail us at the  solutions@valdosta.edu.  Please note that our work request system can only accept emails sent from a VSU email address.
Division of Information Technology
1500 N. Patterson St. Valdosta, Georgia 31698
Mailing Address
1500 N. Patterson St.
Valdosta, GA 31698
Solutions Center
Fax
Fax: 229.245.4349

VSU Solutions Center


Eastern Standard Times

Mon-Thurs: 8 am - 7 pm

Friday: 8 am - 5 pm


Saturday: 9 am - 2 pm

Sunday: 9 am - 3 pm