Checking the Status of a Service Desk Incident
Step 1:
Login to VSU Service Desk.
Step 2:
Enter your VSU Active Directory (Computer Login) information. If you do not know your username or password, please use our Self-service Password Reset Tool.
Then, click on the Login button.

Step 3:
Under View My Existing Help Requests, in the My Current Help Request area, click the incident you wish to check the status of.

Step 4:
If there is an update to the incident, or any questions related to the incident, it will appear at the bottom under Notes.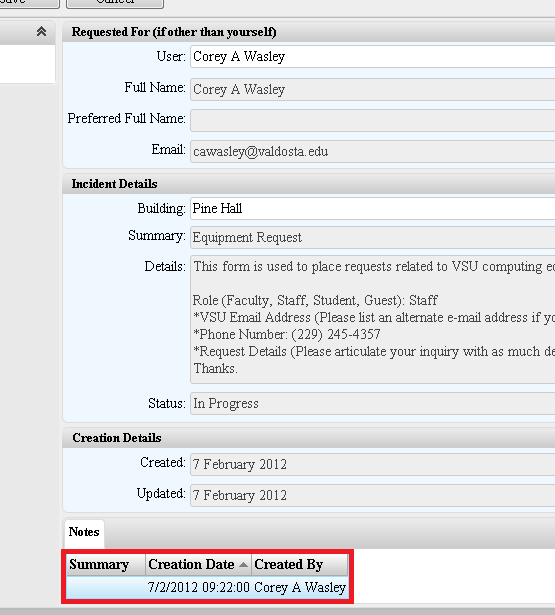 Step 5:
The message from IT will give you an update on the request. Once you have read it, click Cancel to return to the incident.

Congratulations! You have successfully checked the status of an incident. If you encounter any issues following these steps, please call the IT Solutions Center at (229) 245-4357, or e-mail us at  the  solutions@valdosta.edu.  Please note that our work request system can only accept emails sent from a VSU email address.
Division of Information Technology
1500 N. Patterson St. Valdosta, Georgia 31698
Mailing Address
1500 N. Patterson St.
Valdosta, GA 31698
Solutions Center
Fax
Fax: 229.245.4349

Sun: ClosedMon - Thurs: 8am to 6pmFri: 8am to 5pmSat: Closed