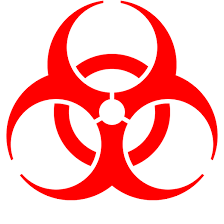 Valdosta State University's Biosafety Program includes several components. The Program is described in the Biosafety Manual. 
The purpose of the Biosafety Program is to provide guidelines for safety handling of biohazardous materials, including biological agents, toxins and recombinant DNA, by faculty, staff and students at Valdosta State University.
The University Biosafety Committee meets annually or more frequently as needed. The committee recommends standards under which biohazardous activities should be conducted and reviews projects for compliance with appropriate federal guidelines and regulations. Prior to starting research, all research projects involving biohazards must be submitted to the Biosafety Committee Chairman and Biosafety Officer, as well as being approved by the full committee. Submittal of the proposed research must be completed on the forms found in the Biosafety Manual. 
Biosafety Program Links
Environmental and Occupational Safety
1504 N. Oak St.
Valdosta, Georgia 31698
Mailing Address
1500 N. Patterson St.
Valdosta, GA 31698
Fax: 229.293.6172