Requisitions are processed into Purchase Orders as quickly as possible, in the order that they are received.
To ensure that your order is processed without delay:
Include all required documentation
Verify that budget manager approval has been provided, viewable in Manage Requisitions
Follow up on any automated emails that will notify you of budget errors or denials, make the necessary corrections and resubmit the requisition as applicable
NOTE:  Due to month end closing, requisitions and/or change orders not received 3 business days before the last working day of the month may not be processed until the books re-open (approximately 3 business days into the new month).
PURCHASE FLOW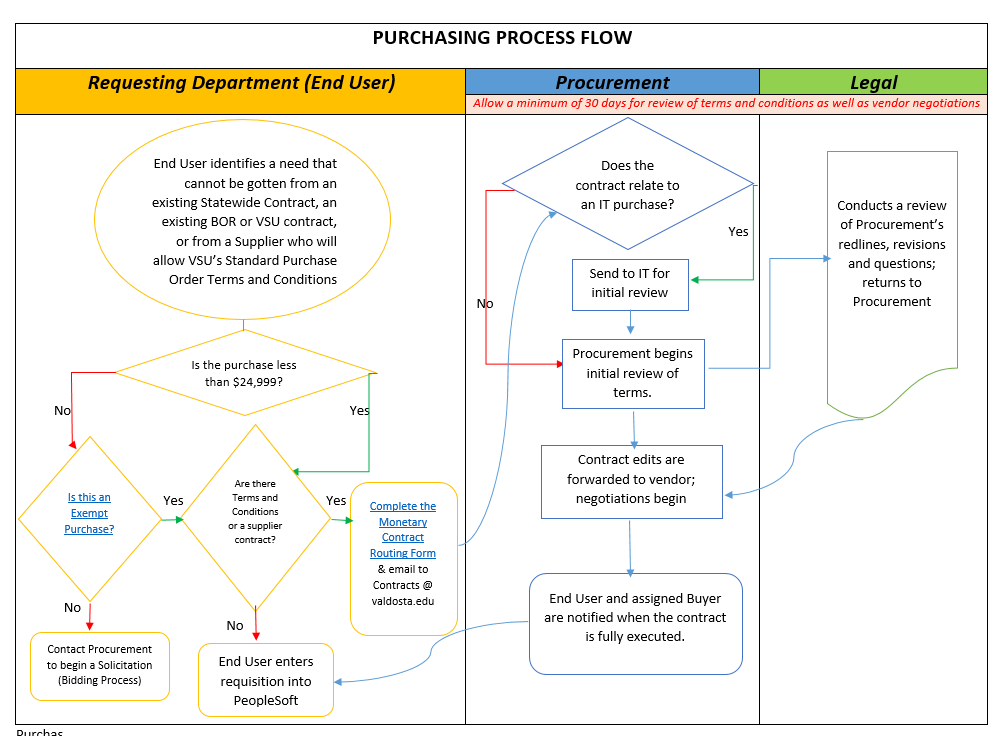 PURCHASING RESOURCES
POLICIES 
PROCEDURES
FOR SUPPLIERS 
FOR MORE HELP
The mission of Office of Procurement is to support a vibrant learning environment by delivering high value, efficient, and innovative procurement, logistics, and contracting solutions in compliance with Georgia law and public procurement best practices. The Office of Procurement serves the campus community in the following areas: eProcurement/Purchasing, Fleet Management, Fuel Card Program, IT Procurement, Purchasing Card (P-Card) Program, and Risk Insurance.
Procurement
University Center, Entrance 7
Financial Services
1205 N. Patterson St.
Valdosta, GA 31698  
Mailing Address
1500 N. Patterson St.
Valdosta, GA 31698
Office
Fax
Fax: 229.333.7408

M-TH 8am - 5:30pm and Friday 8am-3pm. 

Rate us