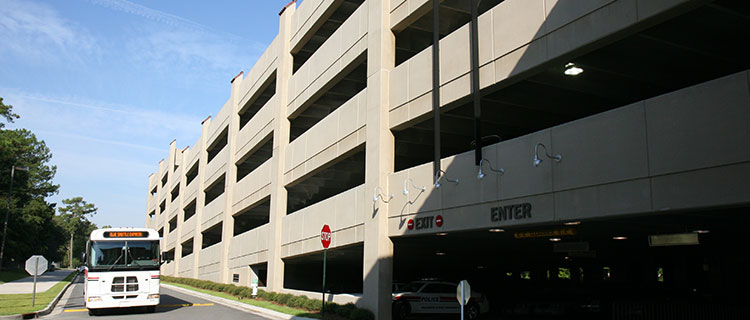 Welcome to Parking & Transportation
Fall 2022 virtual parking permits will be available for purchase beginning July 1, 2022 (your vehicle tag will be your permit, a number will be assigned to you – no physical permits will be issued – vehicles are no longer allowed to back in or pull through parking spaces). Drivers must notify the Parking office with new vehicle information and updated tags. This information can be updated through the parking web portal or by emailing parking@valdosta.edu.
License Plate Recognition (LPR) Program
Front Plate Tags
We are excited to announce that Parking & Transportation now offers front license plates for your convenience.  A front plate will allow our new License Plate Recognition (LPR) system to scan the front plate number as the virtual parking permit while a vehicle is pulled through or backed into a parking space on campus. Front plates must be affixed to the front of your vehicle.

The front plates are $25.00 for each vehicle and must be purchased at the Parking & Transportation Office, located in Sustella Parking Deck, via cash, check or money order (we apologize but do not have an online option for front plates).  A valid virtual permit must be on file to obtain a front license plate.  These front plates must be utilized by the associated customer ONLY and cannot be transferred, shared, or reassigned to additional parties.
Metered Parking Available
At the request of SGA, Parking & Transportation is excited to announce that 4 metered parking areas will be available on campus beginning Monday August 17, 2020: Langdale lot, Baytree lot, Café lot, and the Union lot. Parkmobile signs will be placed at each location for app downloading purposes. The charge is $0.25 per 15 minutes (or $1 per hour) with a 3 hour limit per day per lot. Metered spaces will be monitored from 7:00 a.m - 5:30 p.m Monday - Thursday and 7:00 a.m - 3:00 p.m on Friday (weekends are open campus parking). A VSU permit is not required to park and pay in the metered spaces, but is still required for other campus parking. Vehicles must park in the zone that was paid for.
Please review video presentation and flyer: https://vimeo.com/showcase/5726214/video/280775742
New web site to track shuttle buses:www.wherestheblaze.com* Be sure to download the DoubleMap application from the App Store to track VSU Shuttle Buses! Wi-Fi also available on all shuttle buses!
Blazer Safe Ride (This service is only operational during spring and fall semester.)
Parking Information
Attention Students
Resident Student Parking will be available in student spaces in the following lots overnight: Oak Street Parking Deck levels 2-5 only (no overnight parking in Oak Street surface lot), Sustella Avenue surface parking lot (unmarked student spaces), Sustella Avenue Parking Deck (all levels), and Centennial Parking Lot (unmarked student spaces).
Attention VSU Community (HSBA Parking at North Campus): VSU students with a valid virtual parking permit are permitted to park at the Billy Grant baseball field lot, unmarked student spaces behind Pound Hall, Ashley Cinema Movie Theater parking lot, and the 5th (top level only) and adjacent ramp of the SGMC parking deck. Please use the SGMC deck entrance on Cowart Street to access the deck.
Attention Employees
Employee Parking in the Oak Street Parking Deck will be limited to the 5th level only beginning Fall 2019.  The remainder of the deck will be designated for overnight student parking, since student mandatory fees fund the deck.  Additional employee spaces have been added in the Oak St. surface parking lot.
Thank you for your cooperation and have a great academic year!
Student virtual parking permits are $50.00 (fall) $25.00 (spring) and $15.00 (summer).



Students who add their parking permit charge to fees through banner registration must then log into the parking web portal to purchase the virtual permit (selecting with fees as the payment method).  Or, they can complete the registration form inside of the Parking Office and inform the Cashier that the charge was added into their fees.
Faculty/Administration virtual parking permits - $95.00 (when purchased in the fall), $75 (when purchased in the spring) and $65.00 (when purchased in the summer).
Staff virtual parking permits - $55.00 (when purchased in the fall), $45.00 (when purchased in the spring) and $35.00 (when purchased in the summer).
Semester virtual parking permits must be purchased inside of the Parking & Transportation office with cash, check, money order or flex. Prices are as follows: Faculty/Administration -$60.00, Staff - $35.00, Student - $30.00 (fall) & $20.00 (spring).
Payment methods: We accept cash, check (no starter checks) and money orders inside of the main office. Credit card payments ( Master Card, Discover or Visa) must be made via the web portal only. Coined monies must be rolled by customer (with full name and ID number listed on each roll); rollers can be provided by the department. Flex payments must be made in the office (have to physically swipe your card).
University Bursary also accepts parking citation payments - cash, check or money orders inside of the Bursary.
On Line Payments will be processed Monday-Thursday 8:00am-5:30pm and Friday 8:00am-3:00pm. Payroll deduction for virtual parking permits are available for Full-Time employees only (accepted during the fall and spring semesters only). Payroll Deduction is not available for parking citations, permits only. Please note that employees must have a ZERO balance before they can obtain a new virtual parking permit. All part-time VSU employees MUST go by Human Resources first to obtain an authorization form before a permit can be issued.
Banner holds are generated each day for all outstanding parking citations. Failure to pay citations in full will result in the blocking of transcripts and registration processes.
Interested in finding out what the parking situation at VSU is? This Parking Study shows some interesting parking statistics for Valdosta State University.
229.245.4343
Campus Address
1308 Sustella Avenue Valdosta, GA 31698
Mailing Address
1500 N. Patterson St.
Valdosta, GA 31698

Monday-Thursday




8:00 a.m. - 5:30 p.m.




Friday




8:00 a.m. - 3:00 p.m.