Tutor Appreciation Week: Monday October 2nd through Friday October 7th

International Tutor Appreciation Week starts Sunday, October 2rd! If you are so moved, let our tutors know!

Group Picture fall 2016

These successful undergrads can help you to be successful, too.

Fostering Student Success

Free tutoring in your core courses!

SSC Langdale Hall Entrance

Come early, come often for free tutoring!

Friendly and supportive

Good work is hard and we can help.
Welcome to the Student Success Center!
We are glad you are here!
We offer the following services to VSU students and the community.
Peer Tutoring: We provide FREE one-on-one and small group tutoring for undergraduate courses for VSU students. Tutoring is available for most core courses and some upper-division courses. To schedule sessions with a peer tutor, please schedule an appointment using the WCOnline link, stop by the SSC in Langdale Hall or call (229) 333-7570.
Community Tutoring: We provide tutoring to the community for a reasonable fee. To schedule sessions with a community tutor, please click on the link provided to learn more about the tutors available, then click on their names to find times that meet your needs.
Workshops: Time Management, Study Skills, Test Taking Strategies and more. (To learn more about the workshops, please click on the link.)

Technology Assistance

: We can provide assistance with many technology concerns such as the use of Microsoft Office Suite products. Call our office for a tutoring appointment

Standardized Exam Assistance

: We provide one on one tutoring for many of the most popular standardized exams including GRE, GMAT, GACE, TEAS and others. Please call our office for a tutoring appointment.
For those working with the Student Success Center, or interested in working with us.
Scheduling a Tutoring Appointment
The SSC is using a scheduling system provided by WCOnline. If you have never used it before, you will have to register once through the MyVSU portal.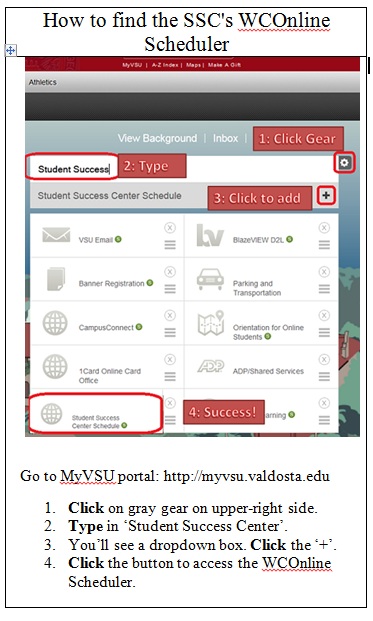 To register, click the link to the MyVSU Portal and sign in, then navigate your mouse to the gray cog or gear wheel on the upper right hand side.
Click on the gear wheel and a search box will open; type in "Student Success Center'; You will see a drop down box with 'Student Success Center Portal'. Click on the plus button, '+', to added it to your list of buttons. When you click on it for the first time, you'll see a screen asking you to register. It will be using your VSU email address which will be preloaded in the email field.

Complete the 'Create a new Account' form. Click the 'Register' button when finished.

Use your MyVSU Portal log-in information to view the scheduler.

Please note that the last 5 minutes of appointments are reserved for tutors to complete required paperwork. Therefore 30 minute appointments will be 25 minutes and 60 minute appointments will be 55 minutes.

If you need assistance, feel free to call the SSC at (229)-333-7570
Training Video: How to Make an Appointment
---
229.333.7579
Campus Address
Langdale Residence Hall
1500 N. Patterson St. Valdosta, Georgia 31698
(ground floor, Look for red awning)
Mailing Address
1500 N. Patterson St.
Valdosta, GA 31698
Mon-Thur: 9:00am - 7:00pm
Fri: 9:00am - 3:00pm
Sunday: 3:00pm - 7:00pm