About AASCU's Grants Resouce Center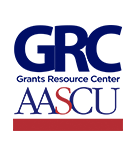 The Grants Resource Center (GRC), a unit of the American Association of State Colleges and Universities (AASCU), has enhanced the research and sponsored programs capabilities of higher education institutions since 1967. Valdosta State University's Office of Sponsored Programs and Research Administration maintains an institutional membership that provides access to the services provided.  
VSU's GRC membership is institutional, meaning that every individual affiliated with Valdosta State University has access to all GRC resources.  The entire campus community can use membership benefits, and there is no limit on how many individuals may use the resources at one time. However, we ask that you do not share our login information on open websites or with partners at other institutions, to ensure that paying members are not subsidizing non-member institutions.  To access VSU's login credentials, you may contact any member of our team directly or email the OSPRA staff at grants@valdosta.edu and put GRC Credentials in the subject line. 
Funding Opportunity Information
GRC's proprietary search engine, GrantSearch, includes 2,000 private and federal funding opportunities screened for recurrence and for higher education eligibility. Search results provide a high proportion of viable opportunities because the database excludes solicitations that are limited to a specific region, that make fewer than three awards annually, and for which higher education institutions are not eligible to apply or partner.  Each entry contains information about the scope of the funding announcement, any restrictions or special submissions required to apply, funding agency contact information, and links to more information. Each opportunity is individually verified by GRC staff members to ensure that only the most current information is reflected.
Faculty Alerts
Faculty Alerts provides a mechanism for faculty and staff to receive personalized funding alerts based on specific research interests. The Faculty Alerts are generated through the GrantSearch database and distributed on a monthly basis.  There is no limit to the number of Faculty Alerts an institution or an individual faculty can create. However, all email addresses used for Faculty Alerts must use the "valdosta.edu" email extension indicating a member institution.  Faculty alerts may also be used by students and other employees of the University regardless of position. 
How does one register for Faculty Alerts?
You can find the link for Faculty Alerts registration here. Once you enter your search terms, an automated message will tell you approximately how many funding opportunities you could receive in the current month's alert.  By entering the same terms in GrantSearch, you can actively find upcoming opportunities. We recommend that Faculty Alerts supplement rather than replace active searches.  
---
Resource Library
The members-only GRC website serves as a clearinghouse for higher education grant-seeking tools and resources. It provides access to the GrantSearch database, GRC publications and funding guides, and the GRC_News Twitter feed. The website also houses sample research administration policies, a library of funded proposals, and a weekly list of federal meetings. 
Proposal Library
GRC obtains funded proposals regularly and provides them to members. The proposals have come to GRC from successful principal investigators (PIs) or proposal writers, funders seeking to supply proposals that show best practices, and Freedom of Information Act (FOIA) requests.  Full proposals cannot be accessed from the GRC website.  It is GRC's policy not to make proposals readily available. Additionally, staff members may be able to provide context and information that would not be otherwise available from just downloading the document.  GRC staff members make every effort to ensure that proposals are no more than five years old.  GRC reserves the right to monitor and limit the number of proposals an individual campus receives. The goal of the Proposal Library is to offer examples of successful submissions in preparation for upcoming competitions. It is not intended to be used to build individual campus libraries.  
---
Publications
Your GRC subscription includes electronic publications that reduce the time you spend searching for funding opportunities and higher education grants and contracts news. GRC staff reviews federal grant announcements, agency alerts, and industry publications each day and provides you with a digest on a fixed schedule. 
Information is categorized by discipline and published in a concise format for easy forwarding to faculty, senior administrators, and other stakeholders. Many members use GRC publications as the basis for their offices' newsletters and other communication within the campus community. 
Deadlines is distributed once a month to provide 90 days' notice of federal and private grant opportunity deadlines. Each entry includes a program description, agency contact information, a link to the solicitation, and special competition information such as limitations on the number of applications accepted per institution. Note: You may subscribe to a faculty alert system at no additional charge. This optional service delivers relevant Deadlines funding opportunity announcements directly to individual faculty members according to their selected interests. 


GrantWeek is a weekly electronic news magazine. Its articles analyze federal legislation, agency policies, and challenges and best practices in research administration. Content is based on federal budget briefings, technical assistance workshops, interviews with program officers and successful awardees, and the close monitoring of other higher education and national news sources. 


GRC Bulletin is a twice-weekly digest of the Grants.gov, Federal Register, and FedBizOpps notices with the potential to have an impact on higher education grant-seeking and program development. 


In addition, GRC produces strategy and funding guides responding to high-priority grantseeking activities on member campuses. Recent examples include Advancing a Civic Engagement Agenda, Developing Competitive Proposals, Economic Development Funding, and Funding Sustainability Projects.  

---
Expertise Sharing
GRC membership increases your opportunities to gain knowledge directly from program officers, successful awardees, and experienced peers. The Washington-based GRC staff is a team of experts skilled in facilitating critical connections at every step of the pre-award grantseeking process. 
Support – VSU has been assigned a GRC staff liaison, an expert in connecting you with the information and individuals that will equip your institution to develop a greater number of successful grant proposals. Typical support includes activities like these:
Training the campus community to conduct targeted searches for funding opportunities
Monitoring legislation, appropriations, and program development news in institutional priority areas
Facilitating prospective applicant/successful awardee connections
Identifying examples of successful proposals
Attending Washington, DC meetings on your institution's behalf
Setting agency appointments for campus representatives traveling to Washington. 
Washington Conferences – GRC hosts an annual meeting in Washington, where attendees hear directly from—and meet individually with—the federal agency and foundation program officers who administer grant programs and influence funding decisions:
The Proposal Development Workshop is built around hands-on activities such as mock proposal reviews, strategies for revising declined proposals, and member-led problem-solving workshops. 
The External Funding Conference represents a major outreach event for government agencies, foundations, and, increasingly, executive branch officials to provide specific information on national priority programs and funding trends. 


Web Conferences – The GRC annual web conference series provides an additional forum for members to receive specific guidance on the development of competitive grant proposals. Web conferences are initiated by GRC staff, GRC member institutions, and federal and private program officers. In the case of several short-turnaround competition deadlines, GRC web conferences have represented the only public outreach opportunity for agency program officers.
---
Advocacy
Since 2007, GRC has convened three national task forces charged with improving grant systems and processes to increase members' competitiveness and efficiency. Each task force is member-driven and staffed by one or more GRC personnel with significant subject matter expertise. 
The three task forces include:
Community and Economic Development Task Force- Works to establish models of research and sponsored programs that promote institution-community partnerships and innovation transfer leading to healthy communities and regional economic development
Efficiency and Compliance Task Force- Works to reform agency policy and procedures related to electronic submissions, intellectual property, responsible conduct of research, financial controls, and the use of human and animal subjects in research 
Health Research and Education Task Force- Supports health-related agencies in the development of programs and funding mechanisms targeting non-research-intensive institutions, and creates awareness of the culture of these agencies to promote application success 
The three GRC task forces have established support from senior federal government personnel and from member institutions' presidents, provosts, vice presidents for research, deans, and faculty, in addition to sponsored research administrators.
GRC's advocacy efforts do not include lobbying, but GRC works closely with the AASCU state and federal relations staff to exchange perspectives at the intersection of federal legislation, state budget decisions, private sector trends, and research and sponsored programs needs on member campuses.
The increasing role that GRC and its member institutions play in influencing the national academic research landscape relies on strong, symbiotic relationships with other nonprofit organizations. GRC staff members are engaged in pilot and demonstration projects, information exchange, and resource sharing with the Association of Public and Land-grant Universities, the Federal Demonstration Partnership, the Council on Undergraduate Research, the Council on Governmental Relations, the Society of Research Administrators International, the Association of American Colleges and Universities, the Association of University Technology Managers, and the National Council of University Research Administrators.
Sponsored Programs and Research Administration
Converse Building
    (formerly Psychology Building)
Suite 3100
1500 N. Patterson St.
Valdosta, GA. 31698
Mailing Address
1500 N. Patterson St.
Valdosta, GA 31698
OSPRA Main (Calls will be returned within 24 hours)
Fax: 229.245.3853

Monday-Thursday: 8 AM - 5:30 PM

Friday: 8 AM - 3 PM