Applying for grants is an exciting experience of turning your ideas into a funded project, but it can also be frustrating and time consuming.  OSPRA offers the resources and experience to streamline the grant process and minimize the administrative burden on faculty.
Where are you in the grant proposal process?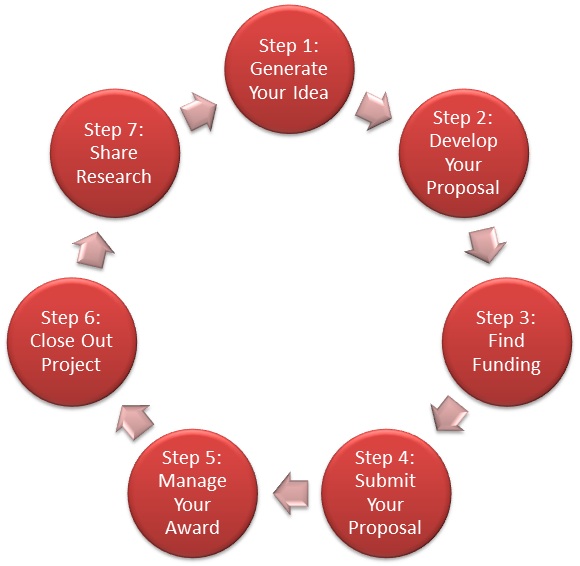 Proposal Writing
Proposal writing starts with developing a concept for a project or research that will address a need.  Ideas may come from previous research or study, or they may come from personal interest or experience.  Once you have identified the problem or need and have thought of an idea for addressing it, begin formatting a proposal.  Your proposal demonstrates why you have the best solution for the issue at hand.  Be detailed in your descriptions of what you plan to do and what the expected outcomes will be.  Address things such as methods, evaluation, needed personnel, timeframes and budget.
As your proposal begins to take shape, look for funding sources that match your goals.  Many sponsors will have strict and detailed guidelines for the content and format of your proposal so be prepared to make adjustments in order to secure funding.  Our team is available to review your proposal and possible funding sources to assist in determining a good match and interpreting sponsor guidelines.  
Grant Management
Congratulations, you've been funded!  Any award notice sent directly to the PI should be forwarded to OSPRA to ensure that the award is properly handled.  Once a notice of award is issued, you will need to complete PI Orientation to ensure compliance with all sponsor, institution and government requirements.  This orientation meeting will be held with the OSPRA director and the Restricted Funds Accountant to review the notice and set up the project.
For all of your grant proposal-related questions - including funding research, writing, editing and submission - please contact us at grants@valdosta.edu. 
Please note:  OSPRA is in the process of updating and revision our portion of the VSU Web site.  Should you not find the information or document for which you are searching, please do not hesitate to contact our offices at 229.333.5694 and we will be happy to assist you.  
Sponsored Programs and Research Administration
Converse Building
    (formerly Psychology Building)
Suite 3100
1500 N. Patterson St.
Valdosta, GA. 31698
Mailing Address
1500 N. Patterson St.
Valdosta, GA 31698
OSPRA Main (Calls will be returned within 24 hours)
Fax: 229.245.3853

Monday-Thursday: 8 AM - 5:30 PM

Friday: 8 AM - 3 PM