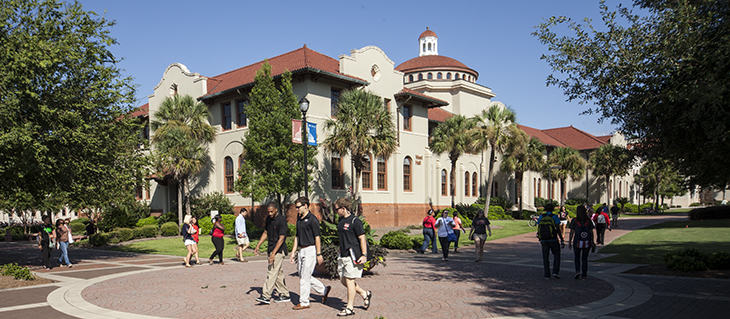 Faculty Resources
At Valdosta State University, we have outstanding faculty that teach and work with our Dual Enrollment students. Here are some resources to support our faculty:
1. Sample Syllabi
Here is the course syllabus for our Fall 2019 Dual Enrollment Cohort of COMM 1100: Human Communications.
Since many of our Dual Enrollment courses are tied to graduation requirements for our students, the high schools request progress grades be sent monthly using a numeric grade. The VSU DataWarehouse and the IT Department have made it very easy for faculty to submit these grades which report directly to the Dual Enrollment Office. This is a streamlined way in which grades can accurately and efficiently be reported back to the respective high school counselors. If you encounter any issues, please contact Keisha Roberts as she is very knowledgeable of the process and can assist you on her end. This portal is open at anytime, so please feel free to submit grades at any point in the semester.
We realize not all of you may have grades by the first date listed, but please report them as soon as you do. If you use a point system instead of the standard scale to determine grades, it would be very helpful to enter the grades already calculated so the schools know exactly where each student stands academically. Also, we encourage you to use the Success Portal to report any issues with attendance or grades. This is a great way for us to address any concerns on our end and assist if needed.
*If you are an eCore professor, you may contact us directly for grade submission and with any issues or concerns that you have throughout the semester.
3. Best Practices
4. Article References
As a collegiate faculty member teaching in our Dual Enrollment Program, the below articles may provide you with more information and insight in working with the Dual Enrollment population. 
5. Books and Materials
As part of the Dual Enrollment program at VSU, all books and resources needed for courses will be provided for each student in the Dual Enrollment Program.  Each semester, the VSU Bookstore receives a list of participating DE students and based upon your resources request previously submitted to the bookstore, the bookstore will know the resources needed for each class and will be able to provide exactly what is needed for each class.   All books and resources are pre-packaged for each student based on this information.  If Day1 resources are used, they will provide this information to the students as well.  All books and resources are typically available for pick-up at the Dual Enrollment Orientation session which occurs prior to the first day of classes. For online students, they may contact the VSU Bookstore and have their books and other needed resources sent to them either electronically or by mail.  They may attend the DE Orientation if they prefer and get their resources this way.  All students should have all the resources they need for your class on the first day of classes.  At the end of each semester, all books and resources must be returned in the manner in which they were picked up.
Campus Address
1500 N. Patterson St. Valdosta, Georgia 31698
Mailing Address
1500 N. Patterson St.
Valdosta, GA 31698