September 4, 2023
23-93
Robbyn DeSpain
Parking and Transportation Updates After Hurricane
Dozens of trees fell around VSU's campus during and after Hurricane Idalia came through on August 30.
VALDOSTA -- The parking and transportation plan for VSU's campus is fluid following widespread damage from Hurricane Idalia.
As students begin arriving back on campus, several parking lots and streets are still closed. The lots will be reopened as they are cleared, and those updates will be communicated to campus. 
**The below plan is effective from present through Sunday, September 10 
Residential Students
Parking
Park in Oak and Sustella Parking Decks and Centennial Lot upon return
Transportation
Busses will run beginning Tuesday 9/5 at noon through 11 p.m. with a special route running from Centennial bus stop to Main Campus Oak bus stop
Unloading
Unloading locations are Hopper Circle, Lowndes, Brown, Patterson Circle, and Centennial Lotu 
North Campus
Parking
Students -Park in University Center Lot (transportation available from UC bus stop) or SGMC Deck (top level)
Faculty/Staff – Usual parking available in HSBA Lot
Please do not park in Billy Grant Field parking area
Transportation
Busses will begin running 7:30 a.m. on Wednesday through 11 p.m. from University Center bus stop to the North Campus bus stop
Main Campus
Parking
Safe areas to park – Oak Street Lot, University Center Lot, Recreation Center Lot, PE Complex Lot, Infirmary Lot,  Jeanette Lot, Conference Lot, Blazer Lot, Nevins Gated Lot, Admissions Lot, Baytree Lot, Fieldhouse Lot, Communication and Martin Hall Lots (can only access from Patterson Street)
The following lots are closed due to ongoing cleanup efforts: Langdale Lot, Georgia Lot, Fine Arts Lot, College Lot, Café Lot
Transportation
Busses will resume normal operations at 7:30 a.m. – 11 p.m. on Wednesday 
Campus Safe Access Points
Patterson Street
Baytree Road (Access parking decks and Oak lot from Baytree)
Limited Oak Street (Avoid if possible)
Avoid/Blocked
Brookwood Drive
Toombs Street
Oak Street Pedestrian Bridge
Closed lots are circled in red on the map below, and blocked streets are highlighted in blue.
See the full campus parking map here.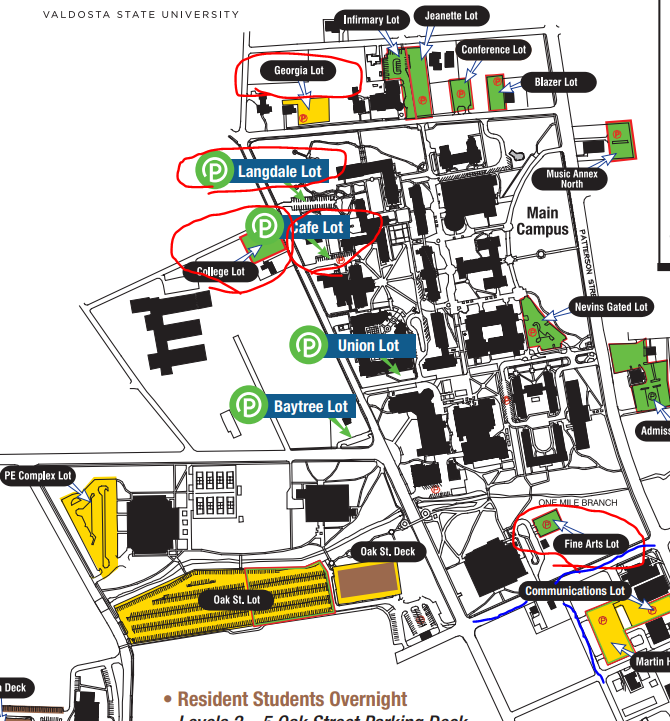 Newsroom
Office of Communications Powell Hall West, Suite 1120
Mailing Address
1500 N. Patterson St.
Valdosta, GA 31698
General VSU Information
Office of Communications