December 8, 2022
22-177
Jessica Pope
Communications and Media Relations Coordinator
Carrie Yarbrough Earns Blazer Creed Award for Integrity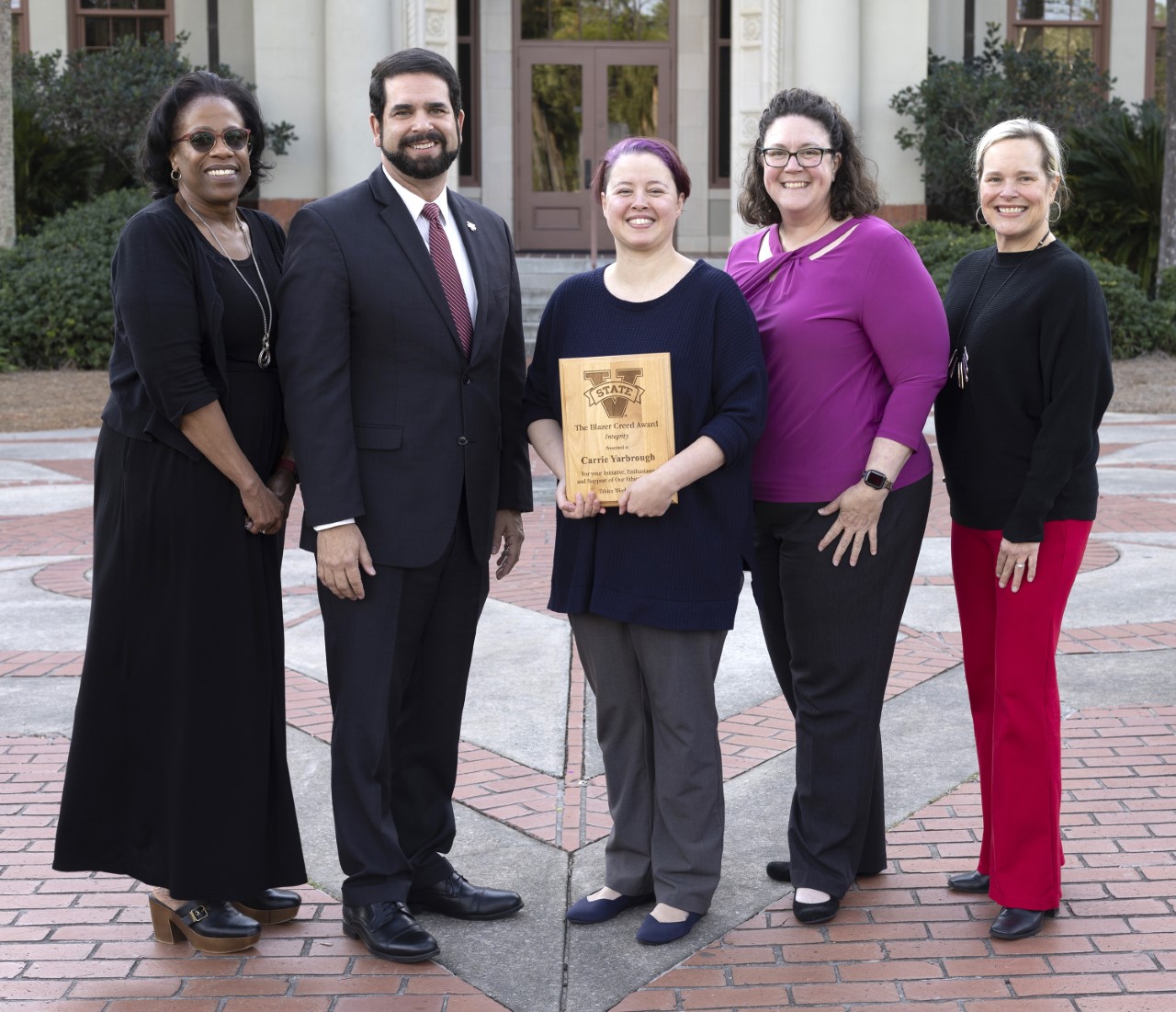 Carrie Yarbrough, a member of the Valdosta State University Human Resources team, earned The Blazer Creed Award for Integrity. She joined the VSU staff in 2019. She is pictured with Jeanine Boddie-LaVan, chief Human Resources officer; Dr. Richard A. Carvajal, university president; Christie Beth Coons Yates, deputy chief Human Resources officer; and Heidi Cox, 

director of the Office of Internal Audit.

 
VALDOSTA — Valdosta State University recently recognized an elite group of students, faculty, and staff for their steadfast commitment to uphold The Blazer Creed in everything they do — and Carrie Yarbrough, a member of the Human Resources team, was one of them.
As The Blazer Creed states, VSU is a learning environment based on trust and mutual respect, in which open dialogue, vigorous debate, and the free exchange of ideas are welcome. The university is dedicated to the core values of community, including a commitment to practice the following:
Civility — A Blazer shows courtesy and compassion as well as respect for the dignity of every human being.
Integrity — Each Blazer is responsible for his or her own actions, and our community is stronger when we contemplate the context of our decisions and uphold the principles of trust and honesty.
Citizenship — Every Blazer has an interest in the wellbeing of the community and, therefore, a duty to stay informed, to make positive contributions, and to offer support to those who need help.
Yarbrough, who joined the VSU staff in 2019, exemplifies what it means to be a Blazer, to treat others with good manners, to act with honesty and have strong moral principles, and to work hard and help others.  
VSU News: You were honored with The Blazer Creed Award for Integrity. Why is it important to have this character trait, and what role does it play in modern society? 
Yarbrough: When I think of integrity, I think of having strong principles and being honest and diligent with my work. Integrity is valuable to ensure that the work we are producing/our actions is/are of high value and contributes to both our jobs and society as a whole. I always strive to do my best, and genuinely hope that others do the same.
In the words of Paul Wellstone, "We all do better when we all do better." I truly believe this is incredibly important in modern society. I see modern society as embracing the individual and really promoting self-happiness, which I greatly support, but at that at the same time the emphasis on integrity and teamwork has taken a backseat in this regard. As we bring in an era of Teams meetings and remote work, I hope that integrity can still have a foothold, since it is needed now more than ever as more and more people are dependent upon themselves to hold their own quality of work/life.
It's not that people cannot have integrity in this aspect, but that doing it on your own is just a bit harder. As Stephen Covey said, "There are three constants in life — change, choice, and principles." I choose to keep integrity at the forefront of my decisions and actions.
• 
The Blazer Creed Awards Program is part of VSU's annual recognition of Ethics Awareness Week.
VSU is committed to the highest ethical and professional standards of conduct. This contributes to the university's success in promoting a culture of excellence, one that fosters student success in and out of the classroom, cultivates an inclusive environment, impacts regional progress across South Georgia, and sustains the institution for generations to come.
On the Web:
https://www.valdosta.edu/administration/student-affairs/the-blazer-creed.php
https://www.valdosta.edu/administration/audit/ethics-week/activities.php
Newsroom
Office of Communications Powell Hall West, Suite 1120
Mailing Address
1500 N. Patterson St.
Valdosta, GA 31698
General VSU Information
Office of Communications