April 28, 2021
21-42
Jessica Pope
Communications and Media Relations Coordinator
VSU Honors Bobby Mitchell With Most Outstanding AS300 Cadet Award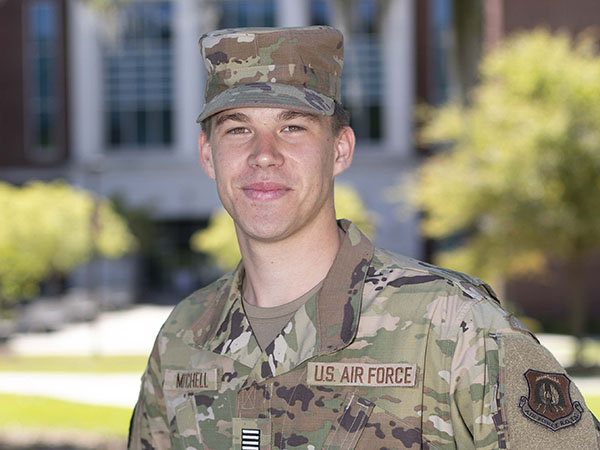 VALDOSTA — Bobby R. Mitchell of Sylvester, Georgia, is the recipient of the 2021 Most Outstanding AS300 Cadet Award at Valdosta State University.
 
"I am honored, blessed, and humbled to receive the Most Outstanding AS300 Cadet Award," he said. "While I may have been awarded this achievement, there are many other cadets that are just as much deserving of this accolade as myself. The Detachment 172 cadre has done an outstanding job at preparing my peers and I to become future second lieutenants. I am looking forward to continuing my hard work and dedication to become the best officer and leader I can be in the world's greatest Air Force."
 
To be considered for the Most Outstanding AS300 Cadet Award, Mitchell had to be ranked in the top five percent of his junior class; demonstrate positive contributions to leadership, initiative, good judgment, self-confidence, promptness, and respect for authority; be able to adapt to change; and possess the highest personal and ethical standards and strong personal convictions.  
 
Mitchell is currently pursuing a Bachelor of Business Administration in Management, a Minor in Aerospace Studies, and a Minor in Entrepreneurship. He anticipates graduating and commissioning into the United States Air Force in May 2022. His dream is to make a difference, to serve, to aim high, and to fly.
Mitchell has served as physical fitness officer and currently serves as cadet vice wing commander with VSU's U.S. Air Force Reserve Officer Training Corps Detachment 172. He was inducted into Beta Gamma Sigma: The International Business Honor Society and has held the position of vice squadron commander for the Emory Bass Squadron of the Air Force Association's Arnold Air Society.
 
Mitchell's commitment to academic, service, and leadership excellence has resulted in him earning repeated Dean's List honors, the Air Force ROTC Scholarship, and two flight scholarships to pursue a private pilot's license. His supportive family includes mom Gina Mitchell and dad Mark Mitchell.
 
On the Web:https://www.valdosta.edu/colleges/business/
https://www.valdosta.edu/afrotc/
Newsroom
Office of Communications Powell Hall West, Suite 1120
Mailing Address
1500 N. Patterson St.
Valdosta, GA 31698
General VSU Information
Office of Communications