August 14, 2020
20-159
Jessica Pope
Communications and Media Relations Coordinator
VSU's 2020 Excellence Awards Honor Distinguished Faculty, Staff
VALDOSTA — Dr. Richard A. Carvajal, president of Valdosta State University, recently honored five faculty members and two staff members with a 2020 Presidential Excellence Award.
The Presidential Excellence Award for faculty is an annual tradition at VSU, one that recognizes the diverse talents and contributions of the university's innovative and active faculty. Awards are given for excellence in teaching, research, service, online teaching, and scholarship of teaching and learning.
Dr. Lee Grimes, Presidential Excellence Award for Teaching
The Presidential Excellence Award for Teaching recognizes a faculty member who employs innovative teaching strategies and demonstrates a strong commitment to student success.
 
Dr. Lee Grimes, an associate professor in the Department of Human Services, joined the VSU faculty in 2013. She primarily teaches courses in the Master of Education in Counselor Education program and the Education Specialist in School Counseling program.
 
"As a counselor educator my teaching philosophy is relatively simple and is built on the needs of graduate students and the expectations of my discipline," she said. "Students, particularly adult learners, do not come into the classroom as blank slates. I recognize the value of my students' life experiences and unique worldviews. By leading students through how their strengths, prior experiences, and learning abilities affect their current learning experiences, I am teaching my students to critically reflect about themselves and to honor the same experiences with their students and clients.
 
"To meet the rigorous demands of the counseling profession, my philosophy is to guide students using high-impact practices through the core tenants of the discipline so that they finish the program with the knowledge, skills, and ethical dispositions to be successful. I recognize that one does not do counseling. Rather, one becomes a counselor. This identity is one we carry in all parts of our lives. As such, my teaching philosophy includes the importance of my role as a model of professionalism, ethical behavior, and social consciousness."
 
Grimes's commitment to advancing the quality and practice of teaching and learning is evident in a multitude of ways. She attends and presents at a minimum of two conferences each year to learn new skills. She makes it a priority to maintain her professional credentials as a licensed professional counselor, certified professional counselor supervisor, and certified school counselor "to show my students my commitment to remaining connected to my work as a practitioner of school counseling." The Georgia School Counselor Association named her Counselor of the Year in 2018.
 
With a focus on ensuring her students graduate with the knowledge and experience needed to be successful in the counseling profession, Grimes uses a variety of methods to develop her students' critical-thinking and problem-solving skills. This includes developing new courses that meet the needs of a fast-changing world and weaving multiculturalism and social justice into every one of them. All papers and project assignments are based on real-life school or community mental health needs that often present challenging ethical problems for students to solve.
 
Grimes employs simple yet innovative uses of technology to enhance her students' experiences as learners, as well as high impact practices like active learning, learning communities, student portfolios, community-based learning connected to guest speakers, and high-quality assessments. If an opportunity does not exist, she works to create it. Her commitment to fostering excellence continues outside the classroom as well when she helps students practice interview skills, polish their resumes, conduct research, present at conferences, and become published authors in professional peer-reviewed journals.
Dr. E-Ling Hsiao, Presidential Excellence Award for Research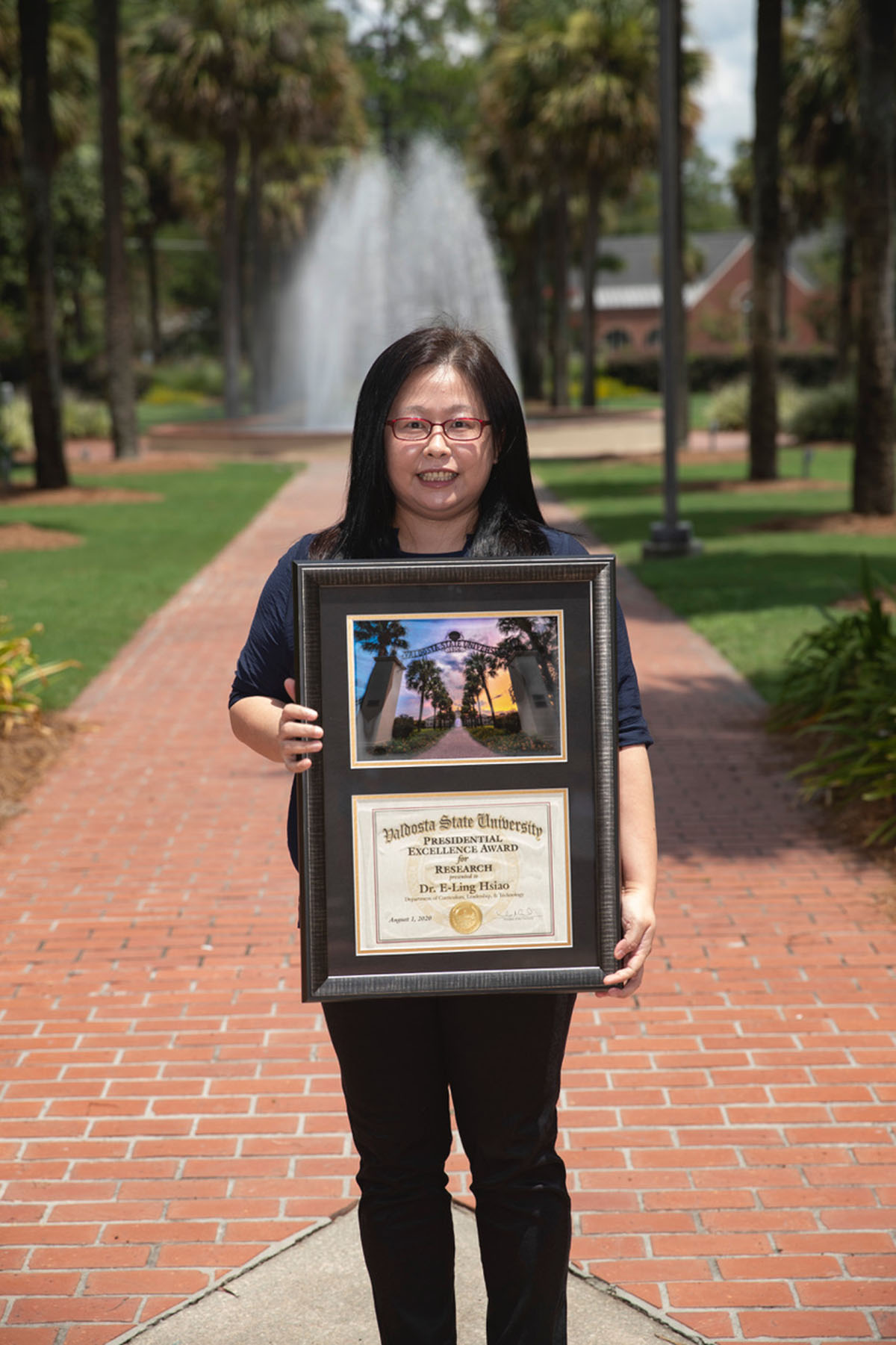 The Presidential Excellence Award for Research recognizes a faculty member with a strong record of creative scholarship.
 
Dr. E-Ling Hsiao, a professor in the Department of Leadership, Technology, and Workforce Development, joined the VSU faculty in 2011. In less than a decade she has amassed 50 scholarly works, including 20 publications, 29 conference presentations, and a co-edited special issue of TechTrends, the top practitioner journal for professionals in the educational communication and technology field.
 
Reflecting upon her scholarship, Hsiao said her work can be characterized by three major research threads — online education, instructional design technology, and topics related to her students' dissertations.
 
"I have an enthusiasm for exploring possible instructional strategies to support peer learning," she said. "I believe that peer learning is a critical component of online education. Through peer learning, students won't feel isolated when they study online."
 
Hsiao has rich experience in multimedia design to support student learning. Collaborating on a project with a colleague at the Indiana State University Scott College of Business, she helped research methods for establishing a multimedia-rich e-learning environment to enhance experiential learning and engage students in applying course content in real-world settings. Students were satisfied with the multimedia content she built and perceived that it provided them authentic learning experiences in online courses.
 
"I am interested in applying new technologies to support instruction," she said.
 
Collaborating with a colleague at Ohio University, Hsiao tackled the concept of educational games, including arcade-style games and their limitations for promoting mastery in the conceptual learning domain. The research distinguishes between two types of concepts and provides game designers guidance for selecting concepts related to their instructional content.
 
"Arcade-style gameplay is primarily a function of presenting concepts to players and continually requiring them to respond with finer responses," she said. "The degree to which a concept is malleable determines how large its range is in gameplay."
 
Outside of her own intellectual pursuits, Hsiao enjoys helping her students achieve excellence inside and outside the learning environment. She has chaired 16 student dissertation committees and served on nine student dissertation committees as a researcher and 11 as a reader. As of January, she has produced seven articles and three presentations with her students.
 
"I enjoy learning about a wide range of topics outside my field of interest," she said. "After my doctoral students complete their dissertations, I actively work with them for academic publications and presentations. I believe that this helps my students apply the research skills and knowledge they learned from the program to real-world settings."
Dr. Jane Kinney, Presidential Excellence Award for Service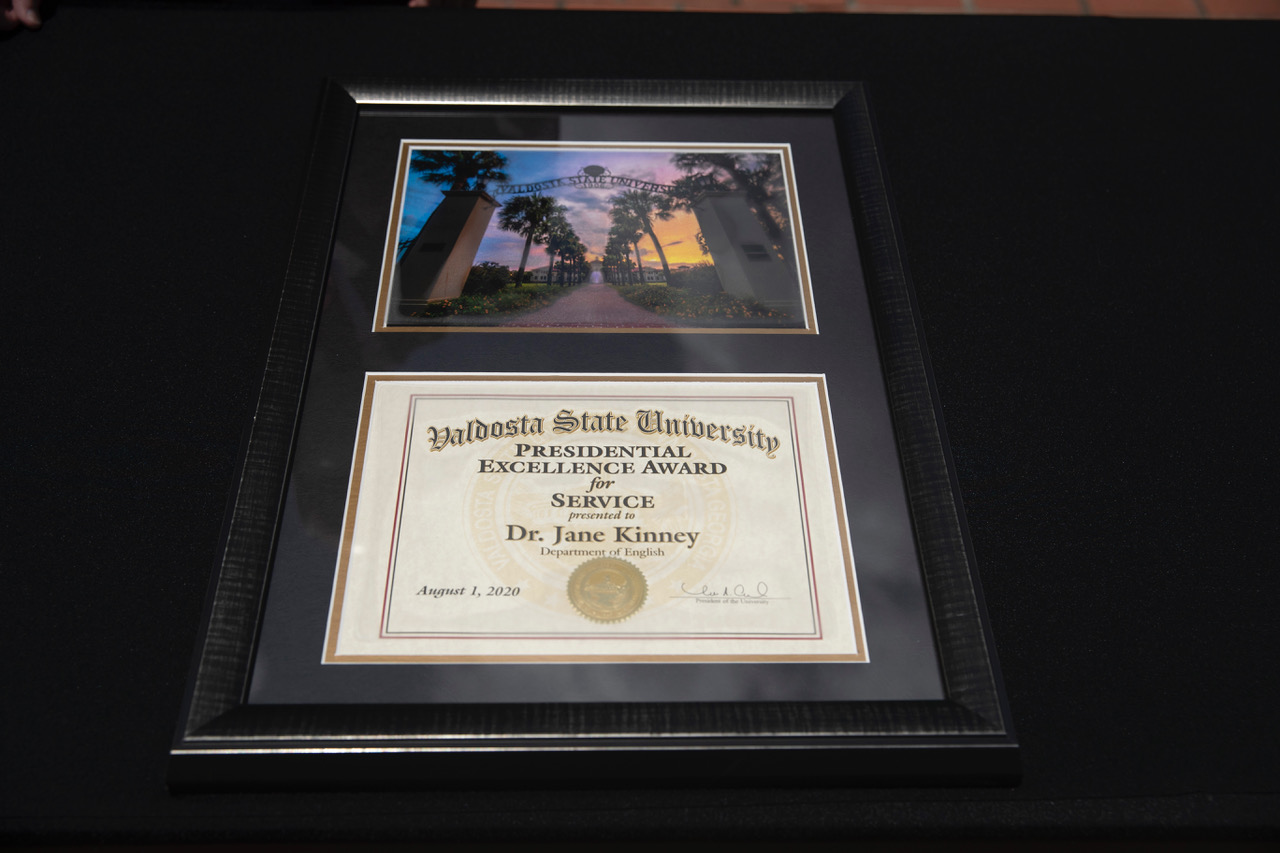 The Presidential Excellence Award for Service recognizes a faculty member who has demonstrated a strong and consistent commitment to service at VSU and to the local community.
Dr. Jane Kinney, a professor in the Department of English, joined the VSU faculty in 1992. In addition to her role as teacher and mentor, she devotes her time and talent to building a sense of community on campus and tackling those behind-the-scenes tasks that allow the university an opportunity to flourish.
 
"I do not have anything as clearly articulated as a philosophy of service, but service is something I have always enjoyed," she said. "My parents were excellent role models in this area of life; both were committed to serving their community through civic organizations, the church, and giving. As such, I learned the importance and the joy of service to one's various communities from early on."
 
Kinney's first faculty position at VSU was a temporary one that one year. When it led to a full-time offer, she was excited to join "wonderful colleagues who were very involved in service to their department, college, university, and community and who encouraged me to get involved — not just because service was needed for tenure and promotion but also because it was a good way to get to know colleagues across campus and to understand how the university worked."
 
Kinney soon found herself serving on department-level committees. Within a year she was chairing departmental committees. By her third year at VSU she had earned the responsibility of heading up the Department of English's curriculum revision during the conversation from quarter system to semester system.
 
"It was challenging and, frankly, a bit scary, but my senior colleagues were very supportive," she said. "I learned a lot about how the university worked and how faculty governance worked, and I was hooked."
 
Kinney has served in more than 100 service roles at VSU. Her current ones include editor of university catalogs; member of onsite review teams for the Southern Association of Colleges and Schools Commission on Colleges; reviewer for Omnino; a member of the Department of English Assessment Committee, Search Committee, and World Literature Committee; chair of the Department of English Executive Committee; member of the university-wide Promotion and Tenure Committee, Faculty Grievance Committee, General Education Committee, Area B PERS Committee, and PERS Advisory Committee; member of the Women's and Gender Studies Advisory Council; member of the University Assessment Committee; and coordinator of Friday Faculty Socials. Her local community service roles include delivering guest lectures and book reviews at churches and libraries, as well as participating in academic competitions at schools.  
 
After nearly 28 years of service, Kinney said she has discovered a real joy for doing her part to make VSU "the wonderful institution it is."
 
"I was helped and encouraged every step of the way by excellent administrators, from department heads to deans to provosts and presidents," she added. "I have learned that working with colleagues across the university is fun and rewarding — the better we know each other, the better we can work together to make VSU a positive environment in which to teach and learn."
 Dr. Glenda Swan, Presidential Excellence Award for Scholarship of Teaching and Learning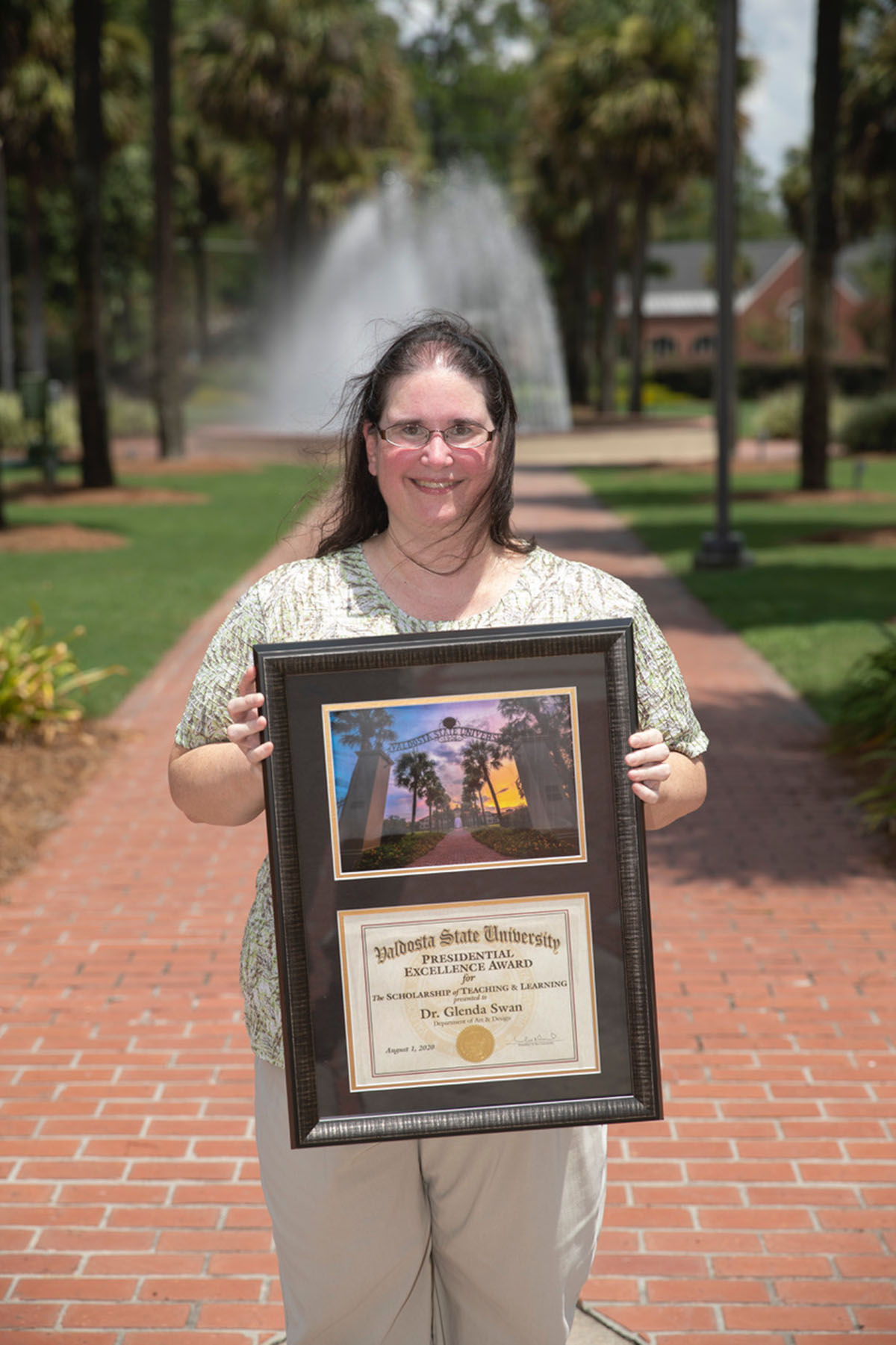 The Presidential Excellence Award for Scholarship of Teaching and Learning recognizes a faculty member who produces innovative scholarly work on the science of teaching and learning and regularly contributes new questions and knowledge on the subject.
 
Dr. Glenda Swan, an associate professor in the Department of Art and Design, joined the VSU faculty in 2013. She primarily teaches courses in art history and perspectives and enjoys researching ancient art.
 
"In my early years of teaching, most of what I achieved came from trial and error," she said. "When I finally discovered the scholarship of teaching and learning at a conference, however, an entire new world opened up for me. I was so excited to see how many other scholars in such a wide range of fields were interested in finding tools and techniques that demonstrated an increase in student learning."
 
Swan said reading about the pedagogical study in other disciplines was often helpful, but she quickly realized that most of the scholarship of teaching and learning in art was associated with arts education rather than art history. Of those studies that did relate to art history, very few addressed ancient art.
 
"Since coming to VSU I have worked very hard to increase awareness of the effective pedagogical approaches that I've used in my own classes beyond that restricted space," she said. "I have focused particularly on discovering useful strategies to engage contemporary studio art students in ancient art as well as the larger discipline of art history itself. I employ a variety of strategies in the classroom to help students understand that they can learn to look beyond the surface of an image and see things from a new perspective, regardless of the time and place where that image may have originated."
 
Swan stressed that it is important for class content to be made interesting and relevant to students in order to stimulate engagement and comprehension. It is also important for teachers to have a clearly defined set of goals that form the core concepts and skills upon which students will be evaluated — and that students understand the purpose behind the activities they are being asked to do.
 
Swan makes it a priority to be inclusive and accessible to her students throughout the learning and evaluation processes. She encourages her students to take an active role in crafting the classroom environment. She finds unique ways to connect ancient ways of life with modern belief systems. She believes visual literacy benefits all students, regardless of their major, because in a modern digital world, visual analysis of an image is a must-have skill for success.
 
"I always want to remain open so that I might discover new approaches and ideas to help students understand and retain information," she said.
 
"The classroom is, for me, a place of constantly ongoing exploration, where I am both teacher and learner. I honestly believe that this perspective into teaching is why I continue to remain excited at the thought of being able to walk through the classroom door each day."  
Dr. Ransom Gladwin, Presidential Excellence Award for Online Teaching
 
The Presidential Excellence Award for Online Teaching recognizes a faculty member who demonstrates a strong commitment to quality online teaching and learning; employs innovative online teaching practices; and develops rapport with individual learners in and beyond the virtual classroom.
 
Dr. Ransom Gladwin, a professor in the Department of Modern and Classical Languages, joined the VSU faculty in 2006. He teaches undergraduate-level courses in Spanish as well as graduate-level courses in the English to Speakers of Other Languages and Foreign Language Education programs.
 
With two-thirds of his teaching load taught 100 percent online, Gladwin strives every day to create and maintain a dynamic community fostering student engagement and satisfaction.
 
"One of the innovative teaching practices my students use and appreciate are the dozens of personal videos I make for my courses," he said. "I believe they bring a warmth and connection to my online courses, and I have taught workshops on how to produce them to enrich and personalize an online learning environment. They take a tremendous amount of time to make, and the videos must be continually re-shot because of new textbooks, new public policy, and new video platforms. However, the time invested is worth it, and many students directly praise the videos in their Student Opinion of Instruction evaluations."
 
Gladwin's student evaluations across all his online courses are consistently positive with students describing him as "helpful," "encouraging," and "responsive." He believes these attributes are what allow him to excel in an online teaching / learning environment.
 
Gladwin recently had an opportunity to travel to China where he was named an honorary professor of the Business College of Shanxi University. The purpose of his visit was to share his experiences as an online teaching expert.
 
"The lectures were packed and my sessions extended into questions and answers," he said. "The interest in online instruction and how we teach languages online was phenomenal, and I truly believe … Shanxi University's Language Department is one step closer to being able to offer their own online course, or at least a hybrid course."
 
Before pursuing his doctorate and joining the world of higher education, Gladwin taught English in Ecuador with World Teach, a non-government organization dedicated to international development and education. Many of his students tell him they dream of living and teaching overseas, too.
 
"The information available to them is daunting and filled with dubious teaching schools and credentialing," he said. "Despite these students living at a distance, I routinely meet with them through video conferencing and explain where is currently safest to teach, where one can make money, and I recommend specific groups and schools. It brings me a great amount of satisfaction to hear back from these students as they are later teaching overseas, as the experience is often empowering and life changing."
 
Gladwin also enjoys mentoring his colleagues and providing online teaching tips to local teachers who are eager to advance their knowledge and skills. Many of these teachers, he shared, are motivated, like he is, by a sincere desire to help struggling migrant farmworkers and their families and other English learners in their schools.
 
"I am relentless in making my class practical and impactful for these teachers," he said. "Their personal emails and Student Opinion of Instruction comments tell me they are making a difference in the real world with the information and skills learned from my class."
 
 
The Presidential Excellence Award for staff is also an annual tradition at VSU, one that recognizes the high standards of service, initiative, reliability, professional attitude, exemplary job performance, and leadership of the university's dedicated staff.
Tina Wright, Presidential Excellence Award: Classified Staff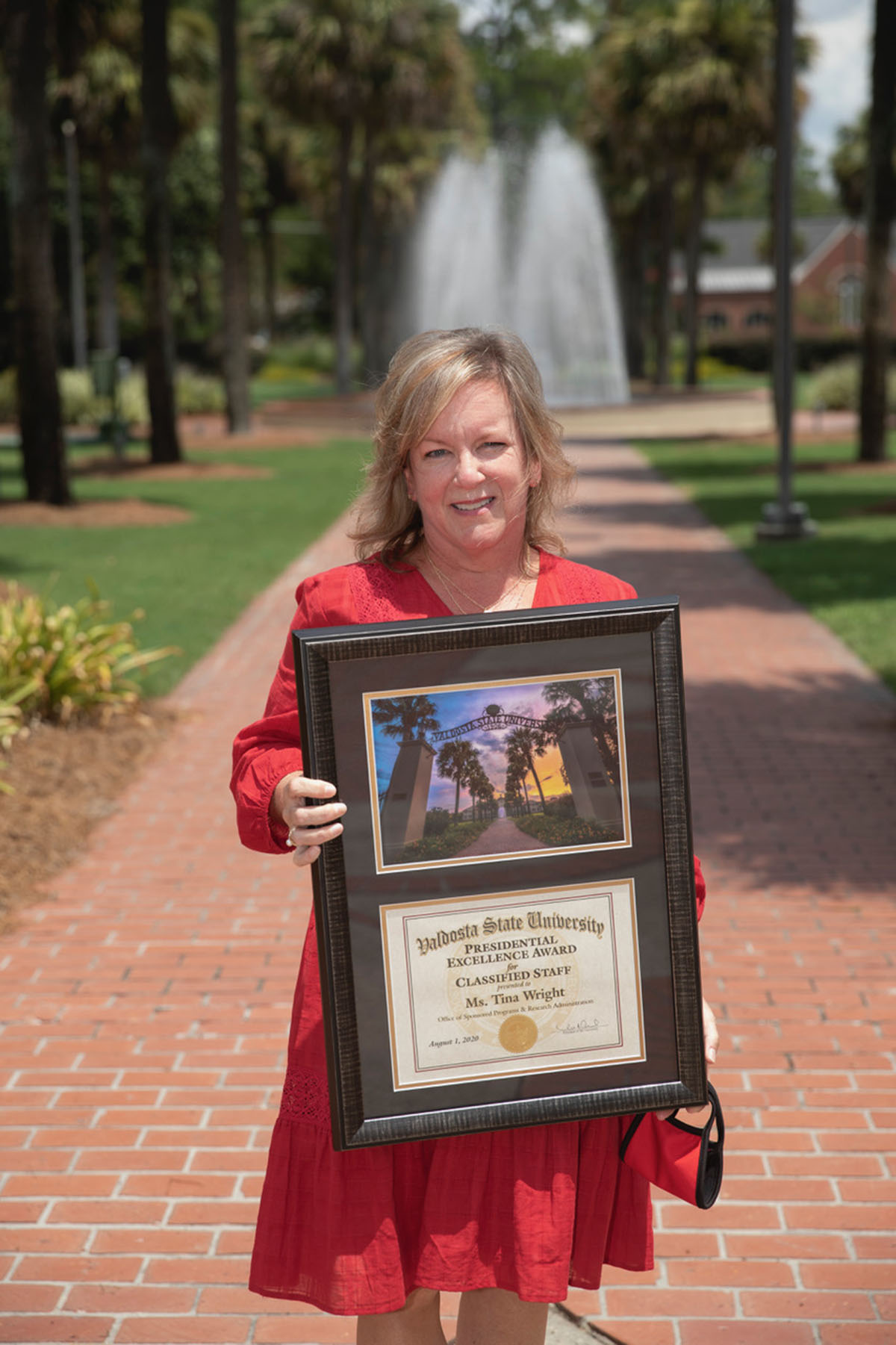 Tina Wright, a compliance officer in the Office of Sponsored Programs and Research Administration, joined the VSU staff in 2016.
 
"My primary role is to oversee compliance programs in fulfillment of the teaching and research mission of the university," she said. "I work to ensure protection of human and research participants based on Institutional Review Board and Institutional Animal Care and Use Committee procedures, and I coordinate intellectual property conflict of interest disclosures and management as required for sponsored programs."
 
Outside of her work with the Office of Sponsored Programs and Research Administration, Wright serves her university colleagues as parliamentarian of the Conflict Management and Restorative Practices Committee.
 
Wright is a VSU graduate. She earned a Bachelor of Science in Education in Technical, Trade, and Industrial Education in 2009.
 
"To be nominated and to receive this award is extremely gratifying and motivating," she said. "I am beyond excited."
Clinton Cauley, Presidential Excellence Award: Classified Staff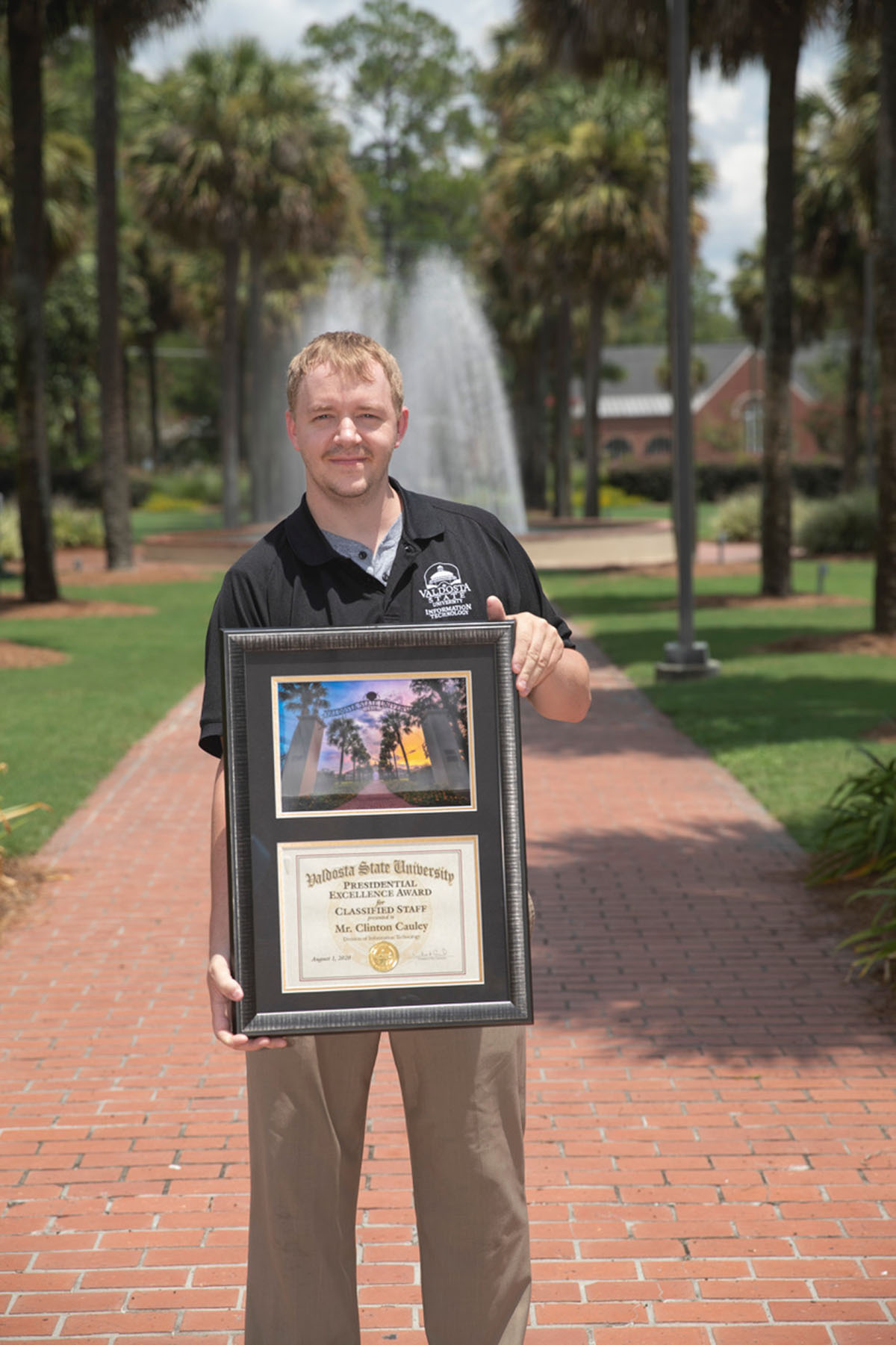 Clinton Cauley, a programmer analyst with the Division of Information Technology's Enterprise Applications and Analytics unit, joined the VSU staff in 2014. Before that he worked as a student technician with Information Technology's Technical Support Services unit.
 
"As a programmer analyst for the Banner team, I write or modify programs, help resolve discrepancies, integrate third-party systems, and analyze data specifically dealing with the Banner student information system, with some report building thrown in," he said.
 
Cauley also serves as a liaison to various departments on campus, offering back end support for their systems and technical resource services whenever possible. He said he takes great pride in his work and is always willing to go the extra mile to help someone and to grow as a professional.
 
"I'm absolutely honored to be recognized with this award," he said. "Whenever possible I strive to provide the little extras in what I do, and I'm bothered by the things I am unable to accomplish. It feels good to know that people notice and want to reward the genuine effort behind what I and those I work with strive to provide."
 
On the Web:
https://www.valdosta.edu/academics/academic-affairs/presidential-excellence-awards.php
https://www.valdosta.edu/administration/council-on-staff-affairs/staff-excellence-awards.php
Newsroom
Office of Communications Powell Hall West, Suite 1120
Mailing Address
1500 N. Patterson St.
Valdosta, GA 31698
General VSU Information
Office of Communications