May 1, 2020
20-37
Jessica Pope
Communications and Media Relations Coordinator
Jacob Bell Named Undergraduate Ceremony Commencement Speaker at VSU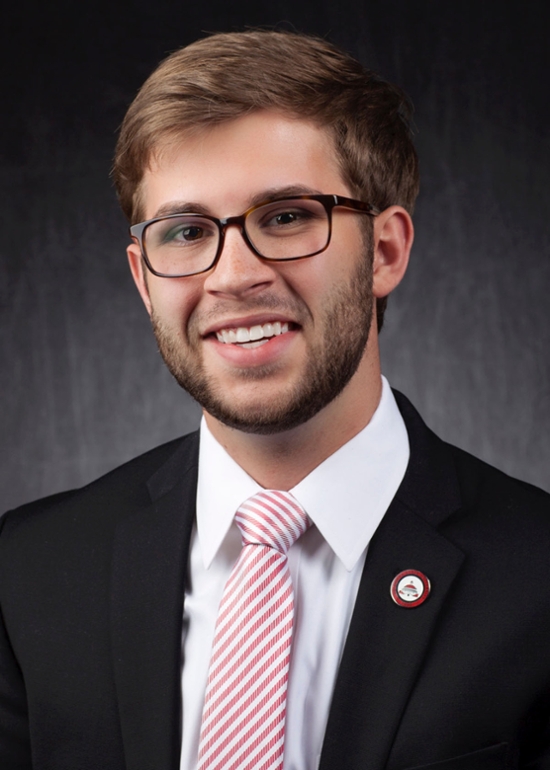 Jacob R. Bell
VALDOSTA — Jacob R. Bell of Baxley, Georgia, will deliver one of two commencement addresses during the virtual Undergraduate Ceremony portion of Valdosta State University's 229th Commencement, which is scheduled for 7 p.m. on Saturday, May 9, at valdosta.edu/commencement.
Bell graduates with a Bachelor of Business Administration in Economics and an Honors College Certificate.
Bell said that he is honored to have the opportunity to deliver the address at VSU's first virtual undergraduate commencement ceremony, as "there is nothing more special than the opportunity to speak to my friends, classmates, and fellow graduates."
"These times are undoubtedly different, but they do not cheapen or lessen the transformational power of higher education," he said. "The way we celebrate may be different this spring, but our accomplishments retain their incredibly special meaning for each of us and our families, both now and in the future. While our time on campus has been shortened, there is no doubt that we have left our mark on our university. I look forward to joining my fellow graduates and our families as we celebrate our accomplishments three special times this year."
As a student at VSU, Bell served two academic terms as student body president and one as a Student Government Association senator.
"In my time leading the Student Government Association, I have taken keen interest in efforts to improve academic policy to better serve students here at VSU," he said. "In the fall, I was named to the University System of Georgia's General Education Core Curriculum Redesign Task Force that has redesigned the system's core curriculum for the first time in more two decades. I have sought to champion efforts to remove barriers to student success, particularly student hunger. This work eventually landed me on the Equity in Education panel at Georgia Budget and Policy Institute's 2020 Policy Conference where I was able to appeal to law and policy makers for need-based aid and increased resources for mental health services. I have also played a key role in VSU's efforts to engage students, grow student participation in athletics, and invest in diversity and inclusion efforts."
Bell participated in the University Ambassadors Program, was a member of the Wesley Foundation Leadership Team, and completed a summer internship experience in the office of Georgia State School Superintendent Richard Woods. He was inducted into Blue Key Honor Society and Beta Gamma Sigma: The International Business Honor Society.
Taking full advantage of VSU's rich and diverse lineup of study abroad programs, Bell enjoyed two unforgettable cultural and professional experiences, one in Cadiz, Spain, and another in Hong Kong. He volunteered four times as a state-level extemporaneous speaking judge for FFA.
"I have so loved my time here and all the things I have gotten to do," he said. "I could never have done it without my team. And most unfailingly, I could never have done it without the support Amea Thompson, student body vice president and fellow undergraduate commencement speaker, has given me. Amea really did a fantastic job leading efforts to improve the Student Government Association, like leading the implementation of our new First-Year Senator Program and growing our membership by 40 percent. The SGA has also seen updates to all its governing documents, rewritten to ensure our organization represents our fiercely diverse student body in a way that is balanced and effective. She has served on a variety of committees and boards within the university in her time and has made a heck of a difference."
Bell's commitment to academic, service, and leadership excellence resulted in him earning repeated spots on the Dean's List, the Harley Langdale Jr. College of Business Administration Steele Scholarship, the Honors College Azalea Scholarship, and the highly coveted Eternal Flame Leadership Award. 
Bell said the global pandemic "has sort of upended my initial post-graduation plans," but "I hope to continue my education and pursue a career in public service." He is the son of Jeffrey Bell and Paula Hallman Carter.
Bell is one of three high-powered student speakers selected to deliver commencement addresses during VSU's 229th Commencement. The other two — Ashlie M. Prain of Valdosta, Georgia, and Amea J. Thompson of Springfield, Georgia — will speak during the virtual Graduate School Ceremony and virtual Undergraduate Ceremony, respectively. Each of these students boasts a record of academic achievement, service, leadership, and campus involvement. They are excited to have the privilege of inspiring a new class of creative, conscious, and caring Blazers ready to meet the needs of a changing global society.
On the Web:
https://www.valdosta.edu/administration/advancement/event-services/commencement/
https://www.valdosta.edu/colleges/business/economics-finance/
https://www.valdosta.edu/colleges/honors/
Newsroom
Office of Communications Powell Hall West, Suite 1120
Mailing Address
1500 N. Patterson St.
Valdosta, GA 31698
General VSU Information
Office of Communications