March 6, 2020
20-28
Jessica Pope
Communications and Media Relations Coordinator
Learning from the Past: VSU Students Work to Build Searchable History of Women's Struggle for Equality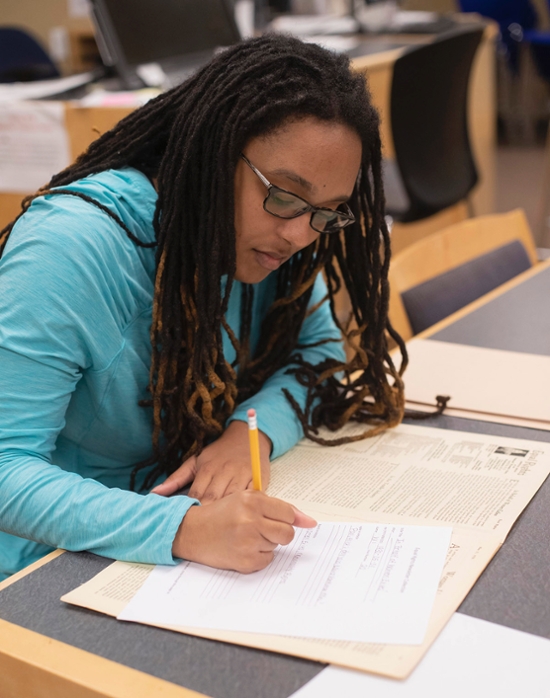 Taylor Westmoreland is one of several students from VSU's Women's and Gender Studies Program and Department of History working to index 30 years of "Equal Rights" publications in Archives and Special Collections.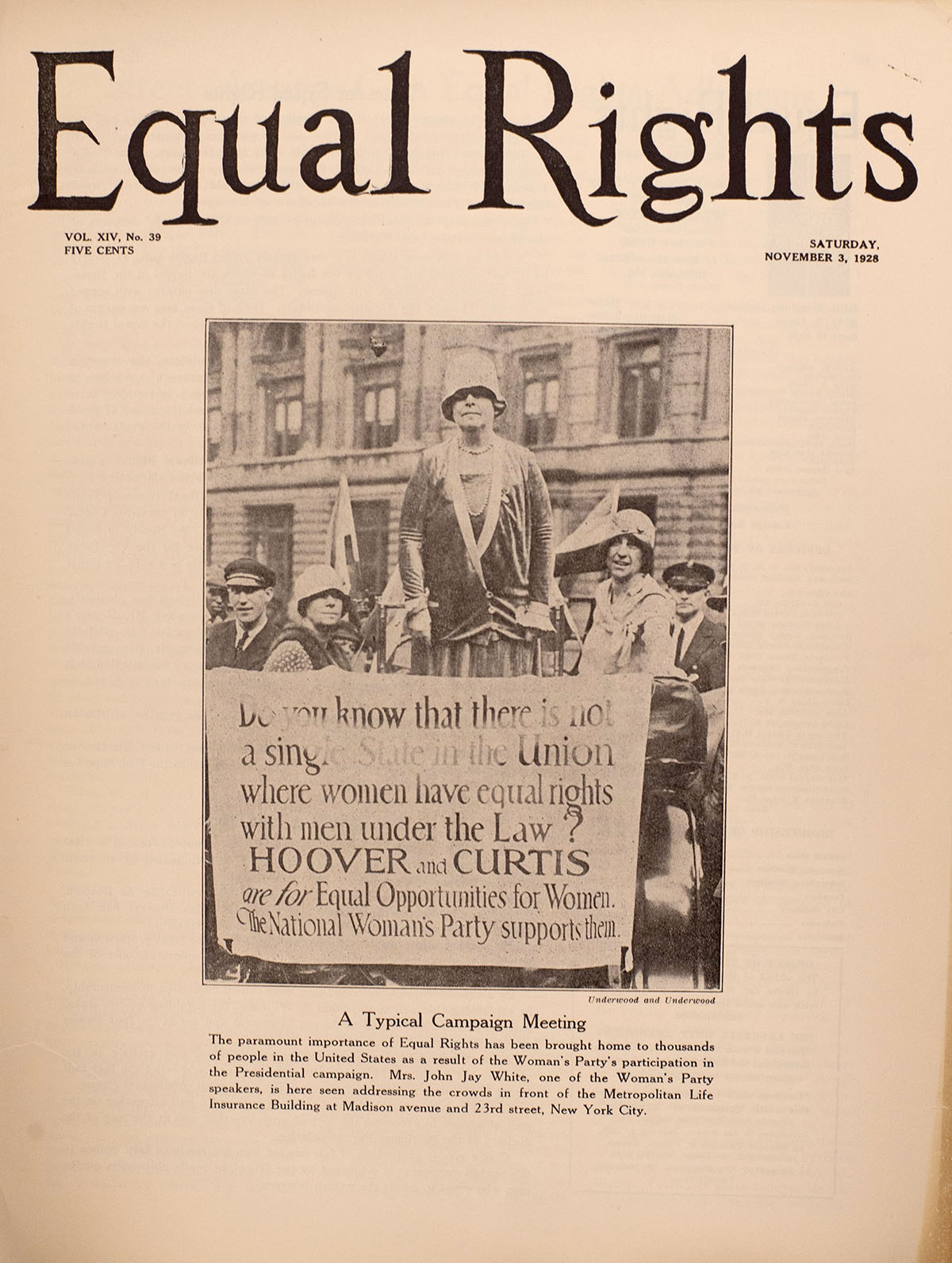 March is Women's History Month, and March 8 is International Women's Day, a time to celebrate the social, economic, cultural, and political achievements of women. The 2020 theme: An equal world is an enabled world. #IWD2020 #EachforEqual 
VALDOSTA — Valdosta State University is home to the largest collection of "Equal Rights," a historical periodical documenting the long struggle for gender equality in the United States of America and around the globe. 
Students from VSU's Women's and Gender Studies Program and Department of History are working to index three decades of the publication.
Deborah Davis, director of VSU Archives and Special Collections, said it is painstaking work, but once it is complete, VSU will house the only indexed collection in the world.
"Equal Rights" was first published in early 1923 by the National Woman's Party, which was formed in 1916 to fight for women's suffrage. The political organization played a critical role in the passage of the 19th Amendment in 1920 that granted U.S. women the right to vote.
With Alice Paul, suffragist, feminist, and women's rights activist, at the helm, the National Woman's Party regrouped in 1923 and turned its attention to the issue of gender equality and passing the Equal Rights Amendment. Paul did not believe the 19th Amendment would be enough to ensure that men and women were treated equally.
The National Woman's Party published the first issue of "Equal Rights" early that same year.
Several months later, Paul drafted the Equal Rights Amendment and presented it during the 75th anniversary of the Seneca Falls Convention and the Declaration of Sentiments that first proposed equal rights for women in July 1848.
The primary focus of the "Equal Rights" publication was to bring attention to "the progress and ongoing challenges of women in the U.S. to gain equal rights socially and economically, as well as politically," shared Dr. Catherine Oglesby, former professor of history and coordinator of VSU's Women's and Gender Studies Program. Before her recent retirement, after more than two decades of service to Blazer Nation, she worked with Davis to help bring the collection to campus and make indexing it an experiential learning opportunity for students. 
"Significantly, the publication also reported on the same issues of women around the world," Oglesby added. "It was designed to educate the public, as well as to encourage women here and around the world to keep the faith, so to speak, and not give up the fight for the cause of gender equality."
"Equal Rights" was published from 1923 to some time in the 1950s. VSU's collection covers the publication from 1924 to 1954, as well as a few copies of an offshoot publication known as "Equal Rights: Independent Feminist Weekly."
"I have really embraced the best version of myself through this project," said Taylor Westmoreland, a Jacksonville, Florida, resident who anticipates earning a Bachelor of Arts in Psychology, minor in Women's and Gender Studies, from VSU in May 2021.
"Reading and indexing this collection has given me more insight into the trials and tribulations women have faced throughout history. One of the questions I find myself asking as I work on this project is, 'Has anything really changed in terms of women's rights?' We still have laws and people that put limitations on women's abilities."
Transformed by this experiential learning opportunity, Westmoreland has rediscovered a passion for motivating her female peers to never settle for less than they deserve, to never let society define who they, as women, should or need to be. She also finds herself promoting the concept of collective individualism and encouraging her female peers to recognize that their individual actions, words, thoughts, and perspective can have an impact on the larger society — and that is how change happens.
"Once indexed, this publication will be a great scholarly resource," Davis said.
Creating digital images of the collection as a whole is not an option due to copyright restrictions, she added. However, the indexes will allow scholars from any location to discover what each issue of the publication contains and then request specific parts of it to be scanned according to fair use.
Oglesby said that "Equal Rights," like many other women's history publications, has not been widely consulted or critiqued. How it is relevant to modern day global issues of equality is something scholars will have an opportunity to explore through VSU's collection now and for years to come. 
"To the extent we value the ideals we claim — liberty and justice for all — we cannot live without our history," she shared. "The reason we do not have genuine liberty and justice for all now, why it's still for sale to the highest bidders at the top, why most of us know it only as a platitude is because those closer to the bottom have not learned, or been taught, their history.  
"We could talk all day about the reasons people don't know their history, are not taught their history, don't care about history, but the availability of and the interest in history — both human and natural — may be the only hope we have of achieving justice for all and having a livable planet to sustain us as we figure out how to coexist in harmony with each other and our natural environment. 
"What we know better today than we have in the past, perhaps — and it applies directly to the question about a publication dedicated to gender equality that ran for more than 30 years — is that the more inclusive the history, the more widespread justice extends."  
VSU's "Equal Rights" collection is located in Archives and Special Collections on the fourth floor of Odum Library. The Sewall-Belmont House, museum and headquarters of the National Woman's Party in Washington, D.C. since 1929, donated it to the university.
On the Web:
https://www.valdosta.edu/academics/library/depts/archives-and-special-collections/
https://www.valdosta.edu/womenstudies/
https://www.valdosta.edu/history/
Newsroom
Office of Communications Powell Hall West, Suite 1120
Mailing Address
1500 N. Patterson St.
Valdosta, GA 31698
General VSU Information
Office of Communications