October 16, 2019
19-132
Jessica Pope
Communications and Media Relations Coordinator
VSU Fine Art Gallery Hosts Foundations Exhibit Oct. 21-Nov. 8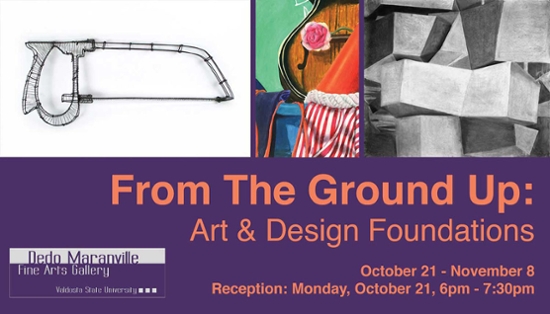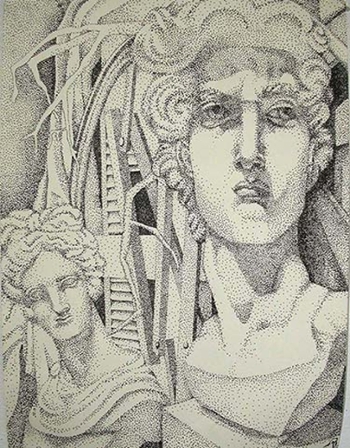 Artist: Taylor Gray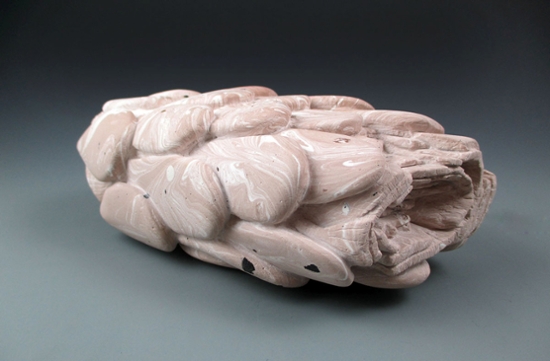 Artist: Isis Pina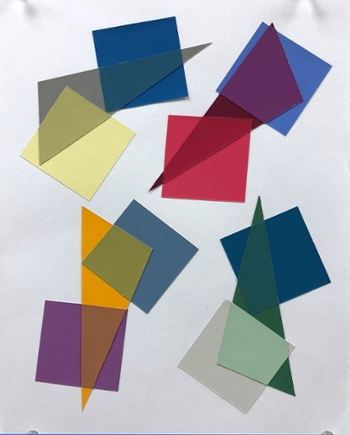 Artist: Jonathon Holden Staten
VALDOSTA — Valdosta State University will celebrate the work of 76 student-artists when it presents From the Ground Up: Art and Design Foundations in the Dedo Maranville Fine Arts Gallery Oct. 21 through Nov. 8. Admission to the gallery is free of charge and open to the public.
"This is a big 'push pin' show …," shared Julie Bowland, gallery director. "For most of these students, this is the first time their work has been featured in a gallery — and they and their instructors are justifiably proud of what they have achieved."
From the Ground Up: Art and Design Foundations features 125 works completed by student-artists studying ART 1010: Drawing I, ART 1011: Drawing II, ART 1020: Two-Dimensional Design, ART 1030: Three-Dimensional Design, and ART 2030: Computers in Art at VSU. Department of Art and Design faculty members Julie Bowland, Evelyn Davis-Walker, Clyde Edwards, Mark Errol, Craig Hawkins, Abigail Heuss, Kristy Hughes, Sean Hurley, Selena Nawrocki, Richard Peterman, and Kalina Winska selected the individual pieces for the exhibit.   
"These foundation courses prepare students for their more advanced work, regardless of the direction they take, whether they go into painting, sculpture, ceramics, interior design, graphic design, or other forms of art and design," Bowland added. "By showcasing the foundations work, the Department of Art and Design hopes to show that these beginning courses are very important to building art and design skills 'from the ground up.'"
An opening pizza reception for From the Ground Up: Art and Design Foundations will be held at 6 p.m. Monday, Oct. 21. Attendees will have an opportunity to meet the student-artists and discuss their works.    
The Dedo Maranville Fine Arts Gallery is located on the first floor of VSU's Fine Arts Building, at the intersection of Oak Street and Brookwood Drive. It is open from 8:30 a.m. to 5:30 p.m. Monday through Thursday and from 8:30 a.m. to 3 p.m. on Fridays.
Contact Julie Bowland at (229) 333-5835 or jabowlan@valdosta.edu to learn more or to schedule a guided tour of the exhibition.
On the Web:
http://www.valdosta.edu/colleges/arts/art/
On Facebook:
VSU Dedo Maranville Fine Arts Gallery
On Instagram:
VSU Fine Arts Gallery
Newsroom
Office of Communications Powell Hall West, Suite 1120
Mailing Address
1500 N. Patterson St.
Valdosta, GA 31698
General VSU Information
Office of Communications