Lisa Long Honored with Presidential Excellence Award for Service: Classified Staff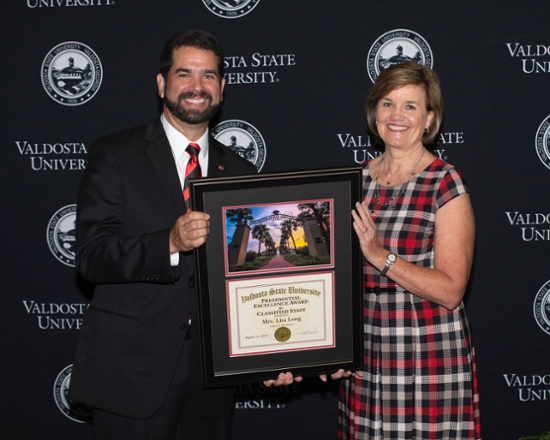 Lisa Long (right) with VSU President Richard A. Carvajal
VALDOSTA — Lisa Long is the recipient of Valdosta State University's 2019 Presidential Excellence Award for Service: Classified Staff. 
The Presidential Excellence Award for Service: Classified Staff recognizes a staff member who exhibits high standards of service and an exemplary and innovative job performance. Long, associate director of admissions, was chosen for her more than three decades of unwavering excellence, passion, and leadership in the Office of Admissions.
"Lisa has been in our office for over 32 years and is always willing to lend a helping hand to anyone on campus," said Hilary Willis, assistant director of admissions. "She is a teacher and a leader, and she has helped me personally grow in my current position. Lisa is always willing to go above and beyond to help a prospective student and for any of the staff members in our office. She brings her years of knowledge and skills to every staff meeting we have and encourages our team to think of the best way to solve a problem.
"Lisa and her family can be seen at all the VSU athletic events and support the VSU community with pride. She is proud of the work she has done at VSU and has a heart for her university. In my eyes, there is no one more deserving of this award."
Long, an alumna of VSU, began working at the university in 1989 as a clerk typist in the Office of Admissions. She was promoted to admissions counselor in 1996 and then to assistant director in 1998. She assumed her current position in 2003.
Long currently supervises admissions processors and evaluates transfer credits for students, collaborating with numerous offices and departments across campus daily to fulfill her duties. She has been involved in many milestone projects for the university, including the creation and oversight of VSU's transfer articulations agreements; the electronic overhaul of VSU's filing system; the implementation and maintenance of DegreeWorks; and the formation of the "I Caught You Caring" program. She was also highly instrumental in establishing VSU's dual enrollment program.
"Lisa has also had some incredible recent accomplishments in terms of numbers," said Ryan Hogan, director of admissions. "Over the last four years, she and her staff have consistently and efficiently processed more applications than the year before. In our industry, timeliness of processing applications is often the deciding factor for students to choose our institution. We have definitely seen a result of Lisa and her department's hard work in the overall goals of the institution."
Many have said Long has personally impacted their lives for the better and that even after three decades, she is still just as passionate about helping students as when she started.
"Lisa is the true epitome of what it means to be a Blazer," said Christy Croft, assistant director of admissions. "She upholds the Blazer Creed on a daily basis, without any hesitation. She has proven herself to be an exemplary employee, and I honestly don't know where Valdosta State University would be today without her. There is no other person like Lisa." 
Long said she was "beyond honored" to receive the award.
"I couldn't believe the nice things my coworkers wrote about," she said. "Many things I had forgotten, and I didn't realize the impact they made. I truly believe VSU is a hidden jewel. Not only do we have a beautiful campus but we have the best students, faculty, and advisors, and I enjoy working with them all."
Long holds a Bachelor of Science in general studies from VSU. 
Each year, VSU continues its tradition of honoring faculty and staff excellence with awards recognizing the diverse talents and contributions of its innovative and active employees. Awards are given for excellence in teaching, research, service, online teaching, and scholarship of teaching and learning. The 2019-2020 recipients were publicly recognized at the fall convocation and received a monetary prize of $1,000. 
On the Web:
https://www.valdosta.edu/administration/council-on-staff-affairs/staff-excellence-awards.php
https://www.valdosta.edu/admissions
General VSU Information
Office of Communications
Campus Address
Office of Communications Powell Hall West, Suite 1120
Mailing Address
1500 N. Patterson St.
Valdosta, GA 31698