Kennedy Drury Named Graduate Assistant of the Year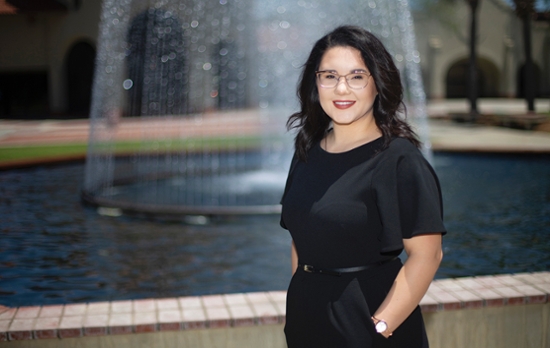 Kennedy Drury
VALDOSTA — Kennedy Drury of the Office of Employee and Organizational Development is Valdosta State University's 2018-2019 Graduate Assistant of the Year.
 
Drury began working as a graduate assistant in May 2018 after graduating from VSU with a Bachelor of Science in psychology. She earned a Master of Science in industrial-organizational psychology in May 2019.
"I had no idea I was going to win and felt honored just to be nominated with so many other hardworking individuals," said Drury, a Jesup, Georgia, native. "I think this award represents the incredible work and dedication that I as well as other graduate assistants put into our jobs."
As a graduate assistant in the Office of Employee and Organizational Development, Drury helped design and deliver professional development trainings, analyzed training evaluation data, and worked on customized projects for various campus departments.
"My favorite part about my graduate assistantship was the collaboration within the office," she said. "No matter how small or big the project, we always valued each other's talent and knowledge. I loved knowing that as soon as I walked into the office each morning, I would be a part of a great team who eventually became my second family."
Ashley Cooper, assistant director for Human Resources and Employee and Organizational Development, nominated Drury for the honor.
"Kennedy not only possesses a high level of self-awareness but also a keen awareness of others and the needs of others," Cooper said. "Her observational skills are some of the strongest that I've seen in several years. This allows her to provide excellent customer service to staff and faculty and, really, anyone she comes into contact with. She has a true servant-leader leadership style, and it's apparent in all that she does.
"Kennedy walks the walk and talks the talk. She not only trains on professionalism and service excellence in the workplace; she lives it every day. I can say that I've learned so much just from watching Kennedy interact with employees. She's a quiet force to be reckoned with and will leave a huge void on our team as she graduates."
Drury plans to pursue a career as a consultant for government organizations to provide better transitions into the workforce and increase job opportunities for individuals transitioning from the military and prison systems.
Drury is the daughter of Angie Drury of Albany, Georgia, and Charles and Donna Drury of Jesup, Georgia.
On the Web:
http://www.valdosta.edu/academics/graduate-school/welcome.php
https://www.valdosta.edu/administration/finance-admin/employee-development/
Newsroom
Office of Communications Powell Hall West, Suite 1120
Mailing Address
1500 N. Patterson St.
Valdosta, GA 31698
General VSU Information
Office of Communications