September 13, 2018
18-181
Jessica Pope
Communications and Media Relations Coordinator
VSU Fine Arts Gallery Hosts Aging and Nudism Exhibit Sept. 17-Oct. 5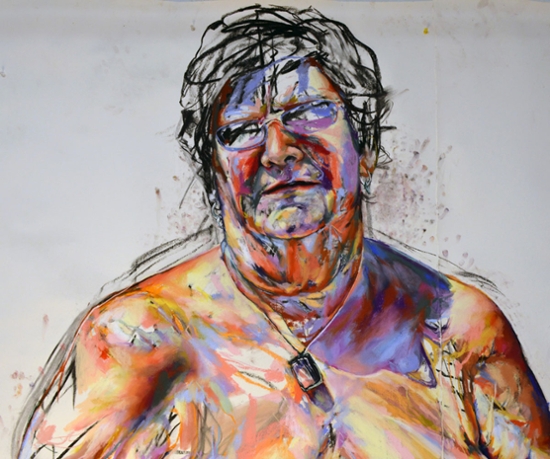 Bridey (cropped) by Ghislaine Fremaux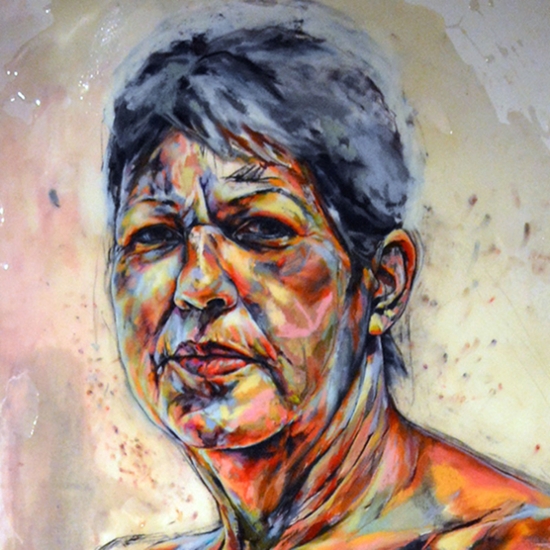 Winona (cropped) by Ghislaine Fremaux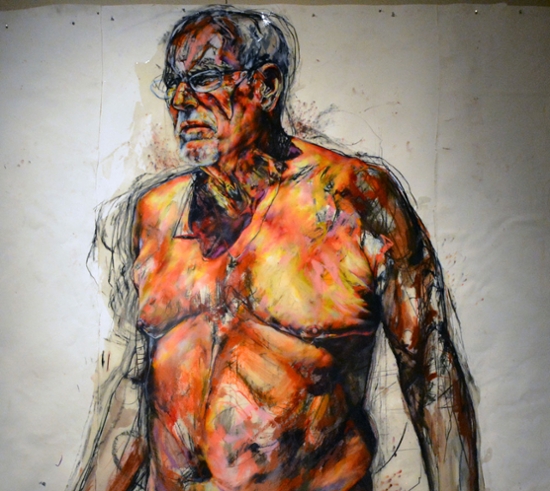 Matt (cropped) by Ghislaine Fremaux
VALDOSTA — The Valdosta State University Department of Art and Design will present The Acceptable Body: Large-Scale Drawings on Aging and Nudism Sept. 17-Oct. 5 in the Dedo Maranville Fine Arts Gallery.
The Acceptable Body: Large-Scale Drawings on Aging and Nudism is the culmination of an interdisciplinary project examining the practice of social nudism among senior citizens. Ghislaine Fremaux, artist, and Dr. Jean Pearson Scott, gerontologist and social scientist, both based in Texas, conducted the study, with a focus on the embodied experiences of nudists over the age of 60.
"The aging body is largely invisible in American culture, renounced by putative models of beauty so essentially reliant upon trappings of ability and youth," according to Fremaux's artist statement. "Consumer culture's few meters of bodily value — beauty, athleticism, work/labor, and sexual viability — cannot fathom the elderly body and dismiss it as immaterial and strangely unreckonable. 
"This project intends to expound the aging body. All subjects' participation was voluntary, and their poses were not instructed. While in pop culture, nudity is so often enmeshed with humiliation or is always-already sexualized. The nudist's bodily exposure presents a different modality. Rather than the artistic nude that seems unaware of its own exposure, here is a nudity that is deliberate, self-possessed, and holistic. My subjects participate in an inter-subjective encounter, seeing and being seen — because living bodies are not objects, ideas, or anatomical proofs. 
"In dry chalk upon paper slight as a fingernail, which "sweats" with floods of high-gloss resin, I attempt to evoke that very living body. In amplified color and scale, at heights of seven to 10 feet, the invisible body of the aging person is made patently visible."
An opening reception will be held from 6 p.m. to 7:30 p.m. on Monday, Sept. 17, in VSU's Dedo Maranville Fine Arts Gallery.
A closing pizza reception with artist's talk will be held at noon on Friday, Oct. 5.
Both special events are free and open to the public.
The Dedo Maranville Fine Arts Gallery is located on the first floor of VSU's Fine Arts Building, at the intersection of Brookwood Drive and Oak Street. It is open from 8:30 a.m. to 5:30 p.m. Monday through Thursday and 8:30 a.m. to 3 p.m. on Fridays. Admission is free of charge.
Contact Julie Bowland, Dedo Maranville Fine Arts Gallery director and professor of art, at (229) 333-5835 or jabowlan@valdosta.edu to learn more or to schedule a guided tour of the exhibition.
On the Web:
http://www.valdosta.edu/colleges/arts/art/
https://www.ghislainefremaux.com/
On Facebook:
VSU Fine Arts
Newsroom
Office of Communications Powell Hall West, Suite 1120
Mailing Address
1500 N. Patterson St.
Valdosta, GA 31698
General VSU Information
Office of Communications