March 14, 2018
18-61
Jessica Pope
Communications and Media Relations Coordinator
VSU Hosts 42nd Annual International Dinner March 24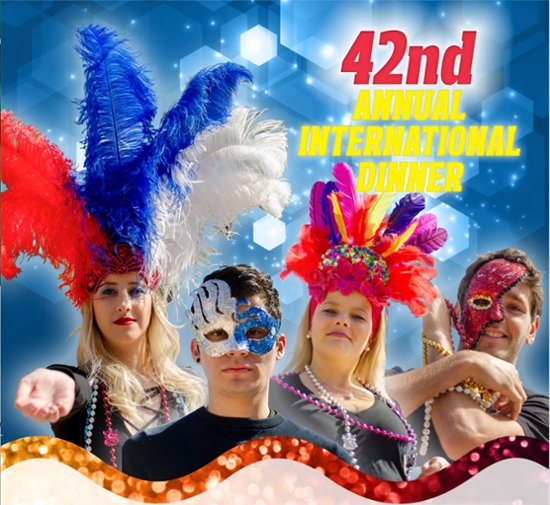 Pictured, from left to right, are Amanda Bethel (Bahamas), Hugo Julian Morales Calderon (Colombia), Suvi Savolainen (Finland), Jordi Mas de Ugarte (Spain).
VALDOSTA — The Society of International Students at Valdosta State University will present its 42nd annual international dinner — Carnival Edition — at 6 p.m. on Saturday, March 24, in the Student Union Ballroom. Tickets are on sale now.
Carnival Edition is an opportunity for VSU's international students to share part of their culture with the people of South Georgia. The celebration of cultural diversity will begin with appetizers, side dishes, entrees, and desserts prepared by students from Belize, Brazil, Colombia, India, Russia, Saudi Arabia, South Korea, and Sweden. The meal will be served buffet style. 
Throughout the evening, guests will have an opportunity to experience henna body art. There will also be singing, dancing, musical performances, and more.
Tickets for Carnival Edition are $10 for VSU students with a valid 1Card; $10 for area elementary, middle, and high school students; and $20 for VSU faculty and staff and the general public. Children under the age of 5 will be admitted free of charge.
Tickets may be purchased online at http://bit.ly/2tAc03u or at VSU's Center for International Program, which is located at 204 Georgia Ave. and is open from 8 a.m. to 5:30 p.m. Monday through Thursday and from 8 a.m. to 3 p.m. Fridays.
VSU has more than 250 international students from more than 45 countries on campus this semester.
Danielle Bacud may be reached at (229) 333-7410 or cdbacud@valdosta.edu for more information.
On the Web:
http://www.valdosta.edu/academics/academic-affairs/international-programs/
http://www.valdosta.edu/academics/academic-affairs/international-programs/student-information/international-dinner.php
Newsroom
Office of Communications Powell Hall West, Suite 1120
Mailing Address
1500 N. Patterson St.
Valdosta, GA 31698
General VSU Information
Office of Communications