VSU's Nina Guyette Studies Pop Culture, History, Art in Japan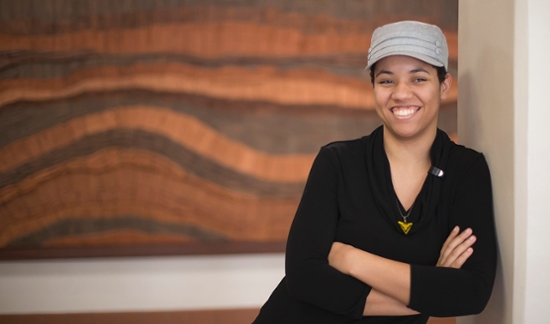 Nina Guyette
VALDOSTA — Valdosta State University student Nina Guyette recently had the opportunity to spend a week in Japan through The Kakehashi Pop Culture Project, a fully funded youth exchange program sponsored by the Ministry of Foreign Affairs of Japan. She was one of 25 students from across the United States chosen to participate.
Guyette, an art major from Kingsland, Georgia, who expects to graduate in Spring 2020, was handpicked by the Consulate-General of Japan in Atlanta. She is the first VSU student to participate in the program.
"There's always a lot to gain in travel, and I was honored to be chosen," she said. "Seeing different cultures lets you learn about the world. My favorite thing about Japan is the people. They were really nice and accommodating right from the beginning."
Guyette was immersed in Japan's pop culture and history during her trip. She visited world heritage sites and government offices in addition to attending lectures on Japan's society and economy. She traveled to large cities, such as Tokyo and Kyoto, as well as rural villages.
"Government-sponsored trips like these are very important and beneficial for students," said Natsumi Hayashi, professor of Japanese at VSU. "There are opportunities to meet important people and to visit exciting places. Nina was also able to learn deeply about the industry she wants to work in after graduation."
Guyette dabbles in Japanese-style art, and her trip included a technique class in Manga — Japanese comics — and a visit to the International Manga Museum at Kyoto Seika University. Her favorite form of art is digital animation, and she was able to tour Japan's Studio Ghibli, an iconic animation film company.
"I've been animating all my life as much as I can remember, starting with little drawings on sticky notes," said Guyette, who wants to one day animate Hollywood films. "At Studio Ghibli, I got to see them break down how they make animation shot by shot. It was amazing."
Guyette also practiced speaking the Japanese language to native residents. She is learning the language through foreign language courses at VSU.
"For the last five years, Professor Hayashi has created a vibrant and dynamic Japanese program at VSU," said Dr. Ofelia Nikolova, interim head of the Department of Modern and Classical Languages at VSU.  "We are very proud of our Japanese program and of the students who have gone on to earn prizes in regional competitions and of Nina's phenomenal success as one of 25 students nationwide selected for her trip."
The Kakehashi Project seeks to promote deeper mutual understanding among the people of Japan and the U.S.; enable future leaders of Japan-U.S. exchanges to form networks; and encourage young people to pursue active roles at the global level in the future. The program is commissioned by the Maureen and Mike Mansfield Foundation and is organized by the Japan International Cooperation Center.
"Visiting the country and people whose language one studies is an invaluable opportunity for students," said Irina McClellan, assistant director of VSU's Center for International Programs. "Very few students get to do that, and Nina is very lucky. Trips like this can reaffirm a student's desire to continue pursuing the study of foreign language or even motivate them to find a job related to that foreign culture."
Video: https://www.youtube.com/watch?v=LnZVCt0VSdE&feature=youtu.be
On the Web:
https://www.valdosta.edu/academics/international-programs/
https://www.valdosta.edu/colleges/arts-sciences/modern-classical-languages/
Newsroom
Office of Communications Powell Hall West, Suite 1120
Mailing Address
1500 N. Patterson St.
Valdosta, GA 31698
General VSU Information
Office of Communications