February 7, 2018
18-28
Jessica Pope
Communications and Media Relations Coordinator
Solo Drawing Exhibition Moves Into VSU Fine Arts Gallery Feb. 12-March 2
All artwork by Paul Santoleri.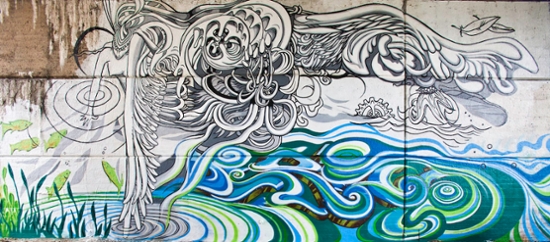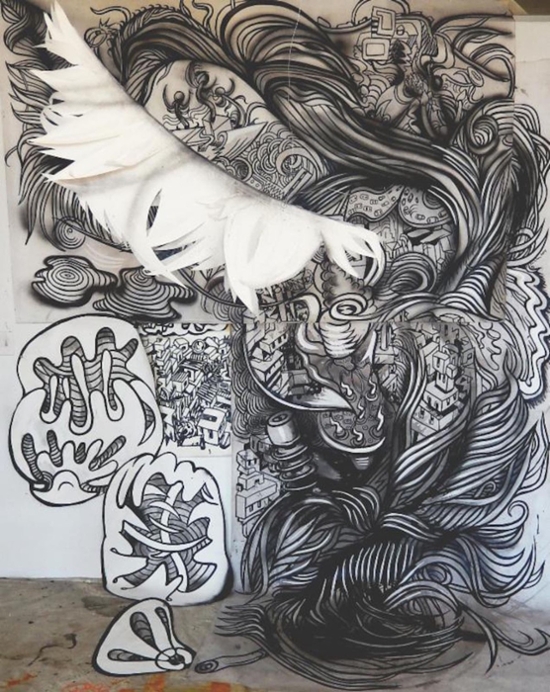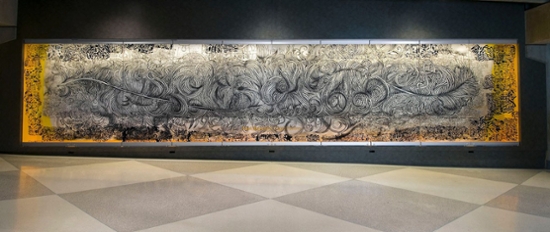 VALDOSTA — The Valdosta State University Department of Art and Design will present Underline, a solo drawing exhibition, Feb. 12-March 2 in the Dedo Maranville Fine Arts Gallery.
Underline features works by award-winning artist Paul Santoleri of Philadelphia, Pennsylvania. He is best known for his drawing installations and wall-sized paintings, which can be found along city streets around the world. His focus on the art of line has led him to create works in a wide variety of situations, often in public spaces.
Santoleri recently installed a permanent 6-foot by 30-foot stoneware tile mural in the Philadelphia International Airport. He has received numerous honors and awards for his art, including grants from The Pollock-Krasner Foundation Inc., the Independence Foundation, the Pennsylvania Council on the Arts, and The Santo Foundation. A book about his work was published by Criteres Publications in Grenoble, France, and accompanied his first solo show in Paris.
Santoleri has conducted many social projects through his art, participating in residencies and collaborations through artistic communities and embassies worldwide, most recently with a group of students in Lagos, Nigeria. He has traveled extensively to make his work, and he is represented globally in both public and private collections.
Julie Bowland, gallery director and professor of art, said that the Dedo Maranville Fine Arts Gallery "will be transformed into a giant drawing installation …. Paul Santoleri will surround viewers with drawings hanging from the gallery ceiling, drawings spray painted on the walls, and drawings on the floor. It will be a total immersion of art."
Santoleri will deliver a gallery talk at 4 p.m. on Monday, Feb. 12, in the Dedo Maranville Fine Arts Gallery. An opening reception will follow from 6 p.m. to 7:30 p.m. Both events are free and open to the public.
"The work is a way to keep time, to maintain an awareness of my own relationship to my inner and outer world," according to Santoleri's artist statement. "I incorporate objects that I collect, images from dreams, flowers blooming and decaying in my back yard, stories and postindustrial waste, and anything else that slips out of my brush and through my line. The images are loosely in the tradition of landscape, and often mountainous and dense.
"I wish the works to feel and be organic, to have no beginning and no end, to reflect a repetitive action, like the act of art-making itself. I often reflect on the beauty in decay in my drawings, and the landscape gives way to a deeper storyline that both disturbs and intrigues me. The work inevitably reflects my own views of the planet's demise, and sometimes I use the flower as a metaphor for the life and death cycle of the natural world. But because I don't see a distinction between people and nature, I find that the cycle itself is awesome, but sometimes repulsive or magical, like the potential nature of artwork itself. I travel often to challenge my senses to open up and breathe freely.
"I often draw in response to the surface and my surroundings, borrowing lines and images from my environs in an effort to enable the work to create itself, with me as the hand and mind through which it passes. Work is made in layers, and I will frequently use a found object as my surface for a painting, drawing, fresco, or assemblage. The density that I favor reflects an overloaded experience. Drawing for me is about rhythms, repetitions that build a narrative; the forms lately have spun into abstractions based on emotions, patterns, movement, and direct response based on instinct. These have been presented as room drawings, where the viewer experiences the work by walking through it. Consequently, the pieces become part of the architecture in which they exist. Like room sculptures they grow out of the walls using line and objects to carry their weight."
The Dedo Maranville Fine Arts Gallery is located on the first floor of VSU's Fine Arts Building, at the intersection of Brookwood Drive and Oak Street. It is open from 8:30 a.m. to 5:30 p.m. Monday through Thursday and 8:30 a.m. to 3 p.m. on Fridays. Admission is free of charge.
Contact Julie Bowland at (229) 333-5835 or jabowlan@valdosta.edu to learn more or to schedule a guided tour of the exhibition.
On the Web:
http://www.valdosta.edu/colleges/arts/art/
http://www.paulsantoleri.com/
On Facebook:
VSU Fine Arts
Newsroom
Office of Communications Powell Hall West, Suite 1120
Mailing Address
1500 N. Patterson St.
Valdosta, GA 31698
General VSU Information
Office of Communications