November 7, 2017
17-259
Jessica Pope
Communications and Media Relations Coordinator
VSU Presents Department of Art and Design Fall Senior Exhibition Nov. 12-Dec. 1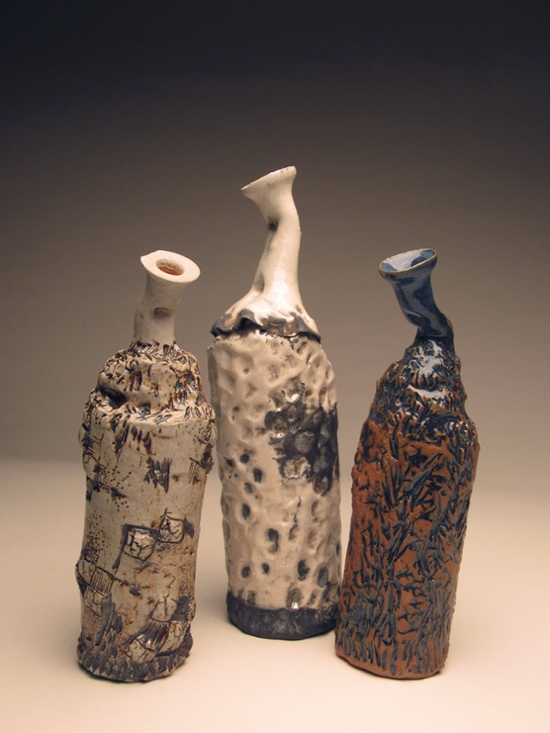 Hunter Pope, Three Bottles

Hanna Hamstra, Stained Series No. 3
VALDOSTA — Valdosta State University will celebrate the work of 16 graduating Department of Art and Design students when it presents "After Hours" in the Dedo Maranville Fine Arts Gallery November 12 through December 1. Admission to the gallery is free of charge and open to the public.
An opening reception for "After Hours," the 2017 Fall Senior Exhibition, will be held from 1 p.m. to 3 p.m. on Sunday, Nov. 12. Attendees will have an opportunity to meet the artists and discuss their works, while enjoying live musical entertainment by the VSU Student Jazz Combo and a few refreshments.    
"After Hours" features drawing, painting, graphic design, photography, mixed media, ceramic, sculpture, and jewelry metalworking works created by Sandra Barrios, Marsica Burrow, Ashley Cheeks, Casey Daniel, Hanna Hamstra, Katrina Perez, Carla Johnson, Kelly Jones, Sarah Moore, Brittany Morales, Katherine Ogletree, Aramis Phaire, Hunter Pope, Bemis Smith, Jesse Suda, and Ansley Vicknair. All of the students are art majors who anticipate graduating with either a Bachelor of Fine Arts or Bachelor of Arts in December.
"As art students, we spend time creating, practicing, and perfecting our craft in the studio," shared event organizers. "For us, the amount of time spent in the studio equals the success we see in our artwork. The term 'after hours' represents this time, especially when we work after normal school hours. It means working on paintings, ceramics, illustrations, and drawings until your hand cramps up and the sun is just beginning to rise. 'After hours' is that extra effort that takes our art above the bare minimum. We spend countless hours at home and on weekends in the studio actualizing our ideas."
The Dedo Maranville Fine Arts Gallery is located on the first floor of VSU's Fine Arts Building, at the intersection of Oak Street and Brookwood Drive. It is open from 8:30 a.m. to 5:30 p.m. Monday through Thursday and from 8:30 a.m. to 3 p.m. on Fridays.
Contact Julie Bowland, Dedo Maranville Fine Arts Gallery director, at (229) 333-5835 or jabowlan@valdosta.edu to learn more or to schedule a guided tour of the exhibition.
On the Web:
http://www.valdosta.edu/colleges/arts/art/
On Facebook:
VSU Fine Arts
General VSU Information
Office of Communications
Campus Address
Office of Communications Powell Hall West, Suite 1120
Mailing Address
1500 N. Patterson St.
Valdosta, GA 31698