Benjamin Li Honored with Presidential Excellence Award for Service: Classified Staff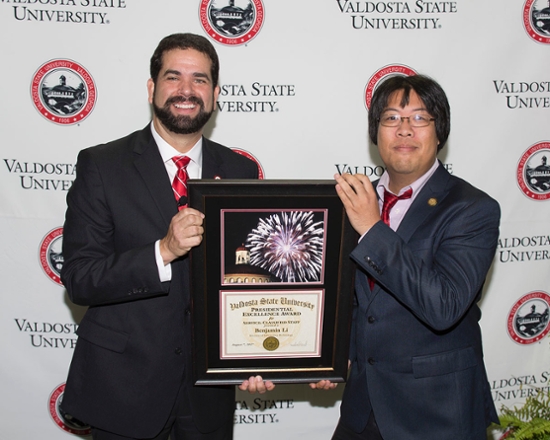 President Richard A. Carvajal and Presidential Excellence Award recipient Benjamin Li
VALDOSTA — Benjamin Li is the recipient of Valdosta State University's 2017 Presidential Excellence Award for Service: Classified Staff.
The Presidential Excellence Award for Service: Classified Staff recognizes a staff member who exhibits high standards of service and an exemplary and innovative job performance. Li was chosen for his extensive service and leadership in the Division of Information Technology (IT), specifically his work to create The Solutions Center. 
"I'm really proud of this award," Li said. "I feel it shows that the work I've done for the university has had value."
Li has worked in VSU's Division of IT for more than 11 years, starting as a computer services specialist in 2006. He was promoted to computer services coordinator in 2010, and he assumed his current position as solutions manager in 2016.
"Ben's service toward this university has [been] … truly phenomenal," said Sterlin Sanders, director of technical support services at VSU. "Every waking day, Ben gives 100 percent toward every phone call, conversation, and method of assistance [for] anyone he encounters." 
In 2016, Li led the design and launch of the The Solutions Center, which helps to answer calls from the Office of Admissions, Welcome Center, and IT Helpdesk.
The Solutions Center has absorbed more than half of the phone calls from the Office of Admissions, cutting call wait times and dropped calls significantly and positively affecting student recruitment and retention.
"This has made a huge impact in both the effectiveness and efficiency within the Office of Admissions," said Tee Mitchell, associate vice president for enrollment services. "Ben has given tirelessly of himself in order to enhance customer service efforts at VSU."
Li has led multiple projects in the areas of policy development and Helpdesk design and best practices. He assisted the Office of the President with the creation of VSU's strategic goals and mission statements, and he formed a university collaborative to establish best practices for student employee training and engagement. 
He planned, designed, and implemented a new service-oriented IT website in 2014. He co-founded the IT Technical Response Unit the same year to offer 15-minute IT incident response time to campus.
In 2012, Li founded an internship program in partnership with the Department of Adult and Career Education to allow graduates to gain employment with industry leaders within their field of study.
Li has received multiple VSU I Caught You Caring awards. Under his leadership, the IT Helpdesk won the University System of Georgia Chancellor's Service Excellence Award for Contact Center Excellence in 2008 and 2014. 
"Benjamin Li is irrefutably the very embodiment of superior service excellence," said Rachel Martin, computer services specialist at VSU. "As a leader, Ben is committed to mentoring, coaching, and challenging his employees to reach their full potential. Ben's reputation for service excellence, reliability, professionalism, and initiative has made him an invaluable member of the Valdosta State University family."
Li holds multiple professional certifications related to Helpdesk service and employee management. He has shared his expertise in IT and customer service at multiple conferences and through the publication of several articles.
"The best thing about working at VSU overall is having the opportunity to collaborate," he said. "We're all striving toward the same goals and willing to help each other out and willing to encourage the success of students and employees. It's really made VSU a wonderful place to work. That's what I look forward to every day."
Li holds a Bachelor of Applied Science in adult and career education and a Master of Education in instructional technology from VSU. He served as adjunct instructor of mathematics and computer science at VSU from August 2012 to December 2013. 
Each year, VSU continues its tradition of honoring faculty and staff excellence with awards recognizing the diverse talents and contributions of its innovative and active employees. Awards are given for excellence in teaching, research, service, online teaching, and scholarship of teaching and learning. The 2017-2018 recipients were publicly recognized at the fall convocation and received a monetary prize of $1,000. 
On the Web:
https://www.valdosta.edu/administration/council-on-staff-affairs/staff-excellence-awards.php
http://www.valdosta.edu/administration/it/
General VSU Information
Office of Communications
Campus Address
Office of Communications Powell Hall West, Suite 1120
Mailing Address
1500 N. Patterson St.
Valdosta, GA 31698