Caitlin Mozzo Earns Bartram Award for Intellectual Exploration at VSU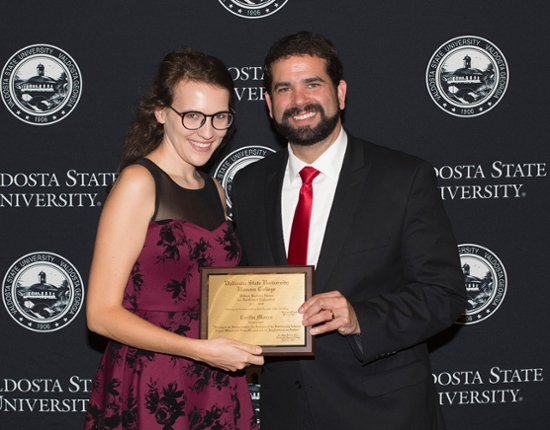 Pictured, from left to right, are Caitlin Mozzo and Dr. Richard A. Carvajal, university president. 
 VALDOSTA — Caitlin Mozzo is the recipient of Valdosta State University's 2017 Bartram Award for Intellectual Exploration. 
The Bartram Award for Intellectual Exploration is presented to an Honors College student who has demonstrated the skills of intellectual exploration, adventure, and competence. Mozzo was recognized during VSU's annual Academic Honors and Awards Dinner. 
"Receiving the Bartram Award for Intellectual Exploration was the most exciting experience I've had in college thus far and is my greatest achievement as a member of the Honors College," said the 22-year-old from Adel. "The Bartram, to me, is a way of recognizing student research and showing how much the Honors College encourages students to really explore their intellectual curiosity. I was surprised when I found out I won the award as my research that I present is almost always outside my discipline area. I tend to do research on topics that I am passionate about more so than those that would normally be associated with my major, so winning was something I never actually pictured would be possible for me. As I completed my Honors College requirements this semester, this was the icing on the top of the cake for my Honors College experience at Valdosta State." 
Mozzo is a member of Alpha Lambda Delta: National Honor Society for First-Year Students and The Honor Society of Phi Kappa Phi and serves as a university ambassador. She previously served as vice president and upperclassman representative of the Honors Student Association; president of Reade Hall Council; and operations chairwoman, internal affairs director, and director for Dance Marathon, which raises funds to support the Children's Miracle Network's Shands Children's Hospital at the University of Florida in Gainesville, Florida. 
A regular on the Dean's List and an honors scholar, Mozzo is the recipient of the 2014 Hugh C. Bailey Family Scholarship and 2014 Maggie Webb Bridges and Michael Anthony Stoddard Fund Scholarship. She earned the 2016 Gerald Petrella Award for Outstanding Student in Mathematics Education. 
Mozzo works as a writing tutor in VSU's Student Success Center. 
Mozzo expects to earn a Bachelor of Science in Education in middle grades education with a concentration in mathematics and language arts and an Honors College Certificate in December 2017. She would like to teach for at least a year before pursuing a Master of Education. She is the daughter of Ron and Lori Mozzo. 
On the Web: 
https://www.valdosta.edu/colleges/education/
http://www.valdosta.edu/colleges/honors/
http://www.valdosta.edu/administration/advancement/event-services/special-events/awards-honors.php
General VSU Information
Office of Communications
Campus Address
Office of Communications Powell Hall West, Suite 1120
Mailing Address
1500 N. Patterson St.
Valdosta, GA 31698