David Hanna Honored with Clare Philips Martin Scholarship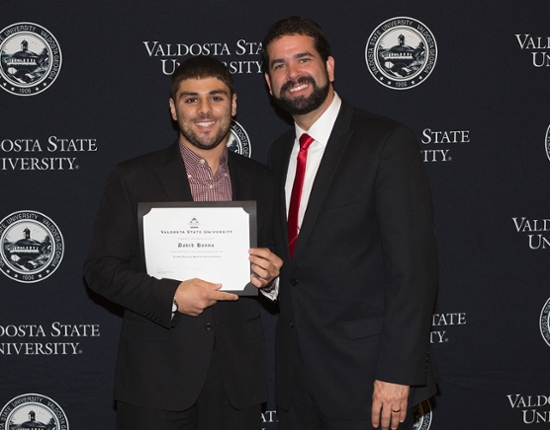 Pictured, from left to right, are David Hanna and Dr. Richard A. Carvajal, university president.
VALDOSTA — David Hanna is Valdosta State University's 2017 Clare Philips Martin Scholarship recipient. 
"I really appreciate the committee for choosing me as one of their scholarship winners," said the 21-year old from Valdosta. "I know there were plenty of qualified candidates that applied, and it makes me feel that much more special. Without such gracious scholarships, I truly do not know how college could be made possible without accumulating tremendous debt." 
Named for the wife of the late Dr. Sidney Walter Martin, who served as VSU's fifth president from 1966 to 1978, the Clare Philips Martin Scholarship is presented to a student with a minimum grade point average of 3.5 who is active in both on- and off-campus activities and organizations and has earned a total of 60 academic credit hours or more. Hanna was recognized during VSU's annual Academic Honors and Awards Dinner. 
Hanna is vice president of VSU's chapter of the Institute of Management Accountants and will serve as president in Fall 2017. He is a member of Alpha Lambda Delta: National Honor Society for First-Year Students, the Beta Tau chapter of Phi Kappa Phi, Sigma Alpha Pi: The National Society of Leadership and Success, Beta Gamma Sigma, and the Valdosta chapter of the Georgia Society of Certified Public Accountants. 
A regular on the Dean's List, Hanna is the recipient of the 2017 Harley Langdale Jr. College of Business Administration Accounting Student of the Year Award, 2017 Georgia Society of Certified Public Accountants Coastal Chapter Scholarship, 2016 Georgia Society of Certified Public Accountants Atlanta Chapter Scholarship, 2016-2017 Georgia Gulf Sulfur Scholarship, and the 2015-2016 and 2016-2017 Ty Cobb Educational Foundation Scholarship. 
Hanna volunteers with Valdosta-Lowndes County Habitat for Humanity, Second Harvest of South Georgia Inc., Lowndes County Animal Shelter, and the Valdosta chapter of Knights of Columbus. He attends St. John the Evangelist Catholic Church. 
Hanna expects to graduate in December 2017 with a Bachelor of Business Administration in accounting. He would like to earn a Master of Accountancy at VSU and become a certified public accountant. He is the son of Joseph and Gezel Hanna of Valdosta. 
On the Web: 
http://www.valdosta.edu/administration/advancement/event-services/special-events/awards-honors.php
http://www.valdosta.edu/colleges/business/
General VSU Information
Office of Communications
Campus Address
Office of Communications Powell Hall West, Suite 1120
Mailing Address
1500 N. Patterson St.
Valdosta, GA 31698