November 1, 2016
16-285
Jessica Pope
Communications and Media Relations Coordinator
VSU Artists Join the Fight Against Hunger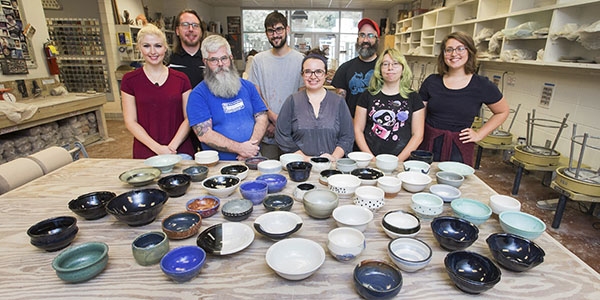 Pictured, from left to right, are Angela Bass, Michael Schmidt, Mark Errol, Jared Zeigenbein, Hunter Pope, Joel Dion, Laura Civis, and Sara Moore.
VALDOSTA — A group of Valdosta State University potters recently donated their time and talent to help bring an end to the hunger crisis in South Georgia.
Working nights and weekends in the campus-based Ceramics Studio, eight VSU students — Hunter Pope, Jared Zeigenbein, Angela Bass, Laura Civis, Michael LaGon, Ansley Vicknair, Sara Moore, and Sara Pratt — created a collection of original, handcrafted bowls for Empty Bowls, an annual Annette Howell Turner Center for the Arts exhibition and fundraiser benefitting Second Harvest of South Georgia. The student artists were joined by Joel Dion, a May 2016 Bachelor of Fine Arts graduate; Michael Schmidt, a Valdosta-based ceramics artist and associate dean of VSU's College of the Arts; Mark Errol, a Tifton-based ceramics artist who has taught at VSU since 2015; Schmidt's wife, Nancy Collingwood; and Errol's partner, Glenn Josey.
"Empty Bowls is about giving to those in need, about sharing what we have with others to add to their lives, and that very idea fits perfectly with the world of ceramics and what we teach at Valdosta State University," shared Errol, who organized and led VSU's fight against hunger efforts. "We are fortunate to be able to be creative, share what we do, and have it impact others — what an enriching quality to instill to the students and community."
VSU created 59 of the 165 bowls donated to this year's Empty Bowls event, which raised much-needed funds for food insecure individuals and families in the 30-county area served by Second Harvest of South Georgia. The bowls each sold for $15 or more. Schmidt created a set of bowls that went for $200 during a live auction.
Supporters who purchased a bowl were invited to attend a simple meal of soup and bread and to keep the bowl as a reminder of the one in four South Georgians who do not know from where their next meal will come — many of them children who are too hungry to learn.
"As a longtime artist, educator, community advocate, and now 'arts administrator,' I am extremely proud of our VSU students and faculty," said Schmidt. "Their drive, generosity, and most importantly selflessness are just a few of the traits that embody the spirit of Empty Bowls and community engagement. Professor Mark Errol sets a great example for students and community members alike. His dedication to VSU, the Valdosta community, and the greater South Georgia region through Plough Gallery continues to make positive and long-lasting connections on a daily basis."
Hidden Hunger, a collection of photographs designed to raise hunger awareness, accompanied the Empty Bowls exhibit. Barbara Grover, a Los Angeles, California-based freelance photojournalist, was commissioned by MAZON, a Jewish nonprofit organization dedicated to fighting hunger in the United States and Israel, to travel the country to document the faces of hunger. Dominick Gheesling, an award-winning photographer who has taught at VSU since 2010, printed her images for display.
On the Web:
http://www.valdosta.edu/colleges/arts/art/
Newsroom
Office of Communications Powell Hall West, Suite 1120
Mailing Address
1500 N. Patterson St.
Valdosta, GA 31698
General VSU Information
Office of Communications