October 18, 2016
16-268
Jessica Pope
Communications and Media Relations Coordinator
"We the Beast" Exhibition Runs Now Through Nov. 5 in the Fine Arts Gallery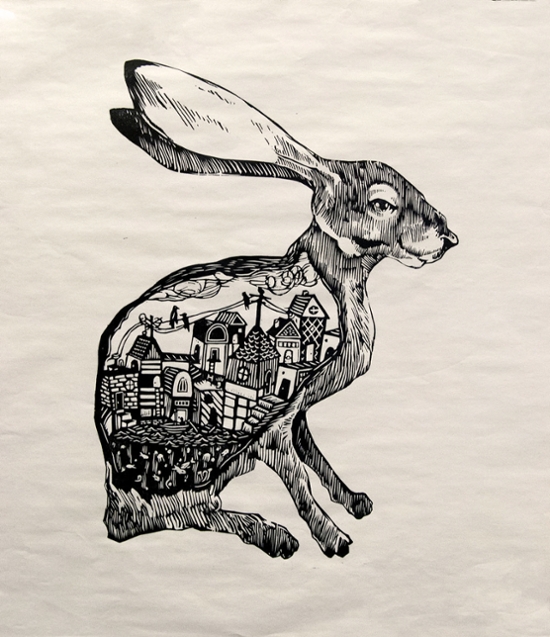 Rabbit by Patrick Vincent and Lauren Rose Kinney.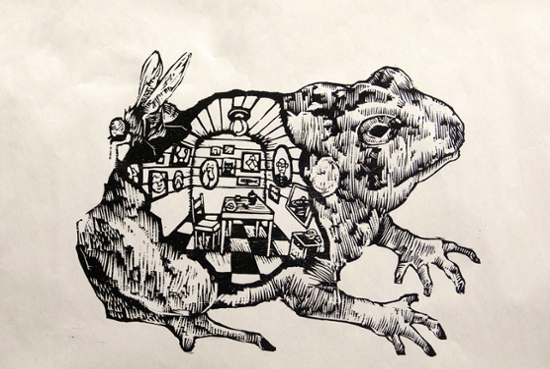 Toad by Patrick Vincent and Lauren Rose Kinney.
VALDOSTA — The Valdosta State University Department of Art hosts We the Beast in the Dedo Maranville Fine Arts Gallery through Nov. 5. Admission is free of charge and open to the public.
We the Beast features works by Patrick Vincent of Minneapolis, Minn., and Lauren Rose Kinney of Santa Rosa, Calif. The two artists "collaborate in woodcut, using imaginary figures and places to articulate the split between seen and unseen, reality and myth, waking and dream," explained Julie Bowland, Fine Arts Gallery director, professor of art, and noted landscape painter.
"Their work engages the interconnection of animals and humans in folktales and fairytales through hidden pictures, symbols, and patterns. These works are ever evolving as a hybrid of Vincent's investigation into animal symbolism and Kinney's surreal, graphic storytelling."
Vincent holds a Bachelor of Fine Arts from the University of Minnesota in Twin Cities and a Master of Fine Arts from Arizona State University. He serves as an assistant professor of printmaking at Austin Peay State University in Clarkesville, Tenn. He has a strong foundation in books, printmaking, and design and has worked for the Minnesota Center for Book Art, the Pyracantha Press, and Studio on Fire. He enjoys creating original works of art and collaborating with others through print media. 
Kinney holds a Bachelor of Arts from Humboldt State University and a Master of Fine Arts from Arizona State University. She is a collector of things, from junk to secrets, which has influenced her work by allowing her to play with, combine, and reinvent the things she finds. She currently works in woodcut, screenprint, and book arts in Nashville, Tenn.
The Dedo Maranville Fine Arts Gallery is located on the first floor of VSU's Fine Arts Building, at the intersection of Oak Street and Brookwood Drive. It is open from 8:30 a.m. to 5:30 p.m. Monday through Thursday and from 9 a.m. to 3 p.m. on Fridays.
Contact Julie Bowland at (229) 333-5835 or jabowlan@valdosta.edu to learn more or to schedule a guided tour of the exhibition.
On the Web:
http://www.valdosta.edu/colleges/arts/art
/
Newsroom
Office of Communications Powell Hall West, Suite 1120
Mailing Address
1500 N. Patterson St.
Valdosta, GA 31698
General VSU Information
Office of Communications