June 2, 2016
16-185
Jessica Pope
Communications and Media Relations Coordinator
Natalie Milko Wins Three-Minute Video Research Competition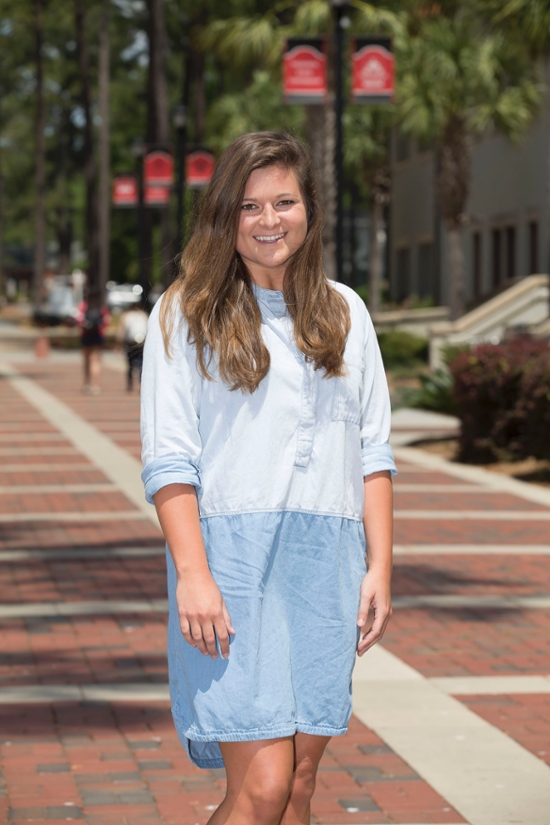 Natalie Milko
VALDOSTA — Natalie Milko's "Teter Tiny House" won first place at the 2016 Undergraduate Research Symposium Three-Minute Video Research Competition hosted by Valdosta State University.
"My three-minute video was based on the research I conducted while designing a tiny house," said the 23-year-old who graduated from VSU on May 7 with a Bachelor of Fine Arts in interior design and a minor in entrepreneurship. Her award-winning research was guided by Tommy Crane, an assistant professor in the Department of Art.  
"I was able to design the Teter Tiny House using knowledge I have gained in VSU's Interior Design Program as well as during my time as a student assistant with VSU's Office of Facilities Planning. Having the great opportunity of designing a tiny house inspired me to share my experience through video. I felt that the public would be interested in learning more about the tiny house movement after watching my video."
All freshmen, sophomores, juniors, and seniors at VSU were invited to submit proposals for the 22nd annual Undergraduate Research Symposium. Individual academic departments and colleges then selected the university's best paper, poster, and video research presentations, as well as creative arts exhibits, to be featured throughout the four-day event and to compete for prizes.
"Each year I am incredibly impressed with the quality of our undergraduate student research, scholarship, and creative work," said Dr. James LaPlant, assistant vice president for research and dean of the Graduate School. "The students are making original contributions to the body of knowledge of their disciplines. Many of the students are doing research that we often do not see until the graduate level."
The Undergraduate Research Symposium reflects VSU's commitment to increasing the opportunities available for undergraduate students to participate in research through specialized courses, engagement in internships and service learning, and other opportunities. This has many benefits, according to the university's Council on Undergraduate Research, as students who engage in research activities are able to build relationships resulting in enhanced learning with their faculty mentors, are more likely to be retained, are more likely to pursue advanced degrees, have an increased knowledge base of research methodology, and are more likely to promote an innovation-oriented culture.
Milko is no stranger to VSU's Undergraduate Research Symposium. She previously presented original research in 2012 and came in first runner-up in the Arts and Humanities Poster Competition in 2014.
As a student Milko represented Blazer Nation as a University Ambassador from 2015 to 2016; a member of the College of the Arts Dean's Student Advisory Council from 2013 to 2016; and a member of the American Society of Interior Designers, where she served as sophomore representative from 2013 to 2014, vice president from 2014 to 2015, and president from 2015 to 2016. A regular on the Dean's List and a Georgia HOPE (Helping Outstanding Pupils Educationally) Scholar, she earned second place honors during the 2016 Student Employee of the Year Competition and was awarded the Danielle B. Harmon Student Merit Scholarship during the 2013-2014 academic year. Her original designs for a restaurant and a dental practice were accepted into the 2015 and 2016 Juried Student Art Competition, respectively, with the former earning honorable mention recognition.
Milko, a native of Aylmer, Ontario, Canada, works for BFB Gladwin Architects in Downtown Valdosta. She is the daughter of John and Kelly Milko.
On the Web:
https://www.valdosta.edu/academics/graduate-school/urc/
http://www.valdosta.edu/colleges/arts/art/
---
Valdosta State University's 2013-2019 Strategic Plan represents a renewal of energy and commitment to the foundational principles for comprehensive institutions.
Implementation of the plan's five goals, along with their accompanying objectives and strategies, supports VSU's institutional mission and the University System of Georgia's mission for comprehensive universities. 
The story above demonstrates VSU's commitment to meeting the following goals: 
Goal 1: Recruit, retain, and graduate a quality, diverse student population and prepare students for roles as leaders in a global society.
Goal 3: Promote student, employee, alumni, retiree, and community engagement in our mission.
Goal 4: Foster an environment of creativity and scholarship.
Visit http://www.valdosta.edu/administration/planning/strategic-plan.php to learn more.
Newsroom
Office of Communications Powell Hall West, Suite 1120
Mailing Address
1500 N. Patterson St.
Valdosta, GA 31698
General VSU Information
Office of Communications