May 17, 2016
16-165
Jessica Pope
Communications and Media Relations Coordinator
Kyle Bragg Honored by Division of Aerospace Studies at VSU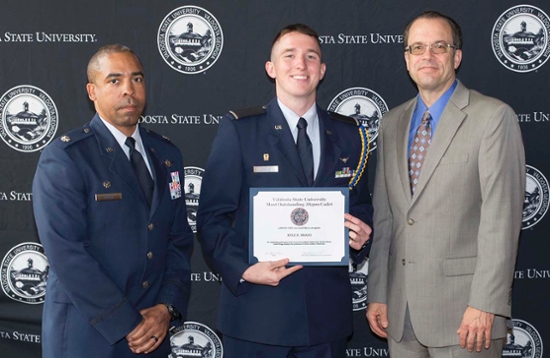 Pictured, from left to right, are Lt. Col. Melvin Green III, professor of aerospace studies and commander of Air Force ROTC Detachment 172; Kyle Bragg; and Dr. Brian Gerber, interim provost and vice president for the Division of Academic Affairs.
VALDOSTA — Kyle Bragg of Bonaire is the recipient of Valdosta State University's 2016 Most Outstanding AS300 Cadet Award.
"There are so many top-notch cadets in my class, and honestly any one of them could be considered for this type of recognition," said the United States Air Force Reserve Officers' Training Corps (ROTC) Detachment 172 cadet and recruiting flight commander. "You see people get these kinds of awards and you never stop and think, 'That could be me.' It just seems so far fetched. It's really cool to think that all the hard work and dedication to this school and our little detachment is being noticed."
To be considered for the Most Outstanding AS300 Cadet Award, Bragg had to be ranked in the top 5 percent of his junior class; demonstrate positive contributions to leadership, initiative, good judgment, self-confidence, promptness, and respect for authority; be able to adapt to change; and possess the highest personal and ethical standards and strong personal convictions. He was recognized during VSU's annual Academic Awards and Honors Dinner, where he was honored by Lt. Col. Melvin Green III, professor of aerospace studies and commander of Air Force ROTC Detachment 172.
A regular on the Dean's List, Bragg, 21, is a three-time recipient of the Air Force ROTC Achievement Award and a recipient of the Commendation Award. He has been named Detachment 172 Cadet of the Month multiple times since arriving at VSU three years ago and "coined" twice by his commander for outstanding performance. He earned Distinguished Graduate honors at Field Training, finishing second out of 20 during the four-week military basic training-style encampment at Maxwell Air Force Base in Alabama. He has been named to Who's Who Among Students in American Universities and Colleges, inducted into Alpha Lambda Delta: National Honor Society for First-Year Students, and awarded the Air Force ROTC Scholarship. He enjoys serving his community as a volunteer with Habitat for Humanity, Jacobs' Ladder Therapeutic Riding Center Inc., Community Soup Kitchen Inc., the South Georgia Regional Library System, Relay for Life, Second Harvest of South Georgia Inc., the American Red Cross, and more.   
Bragg anticipates graduating from VSU in May 2017 with a Bachelor of Science in computer information systems and a double minor in computer science and aerospace studies. He has already been selected for an Air Force pilot slot.
"I'm going to try my best to end up in a fighter jet, which is a pretty selective process, and eventually end up flying for the United States Air Force Thunderbirds. Both of these goals are pretty far fetched, but I've been taught to aim high so that if you miss and land short you still end up pretty high. I enjoy speaking publicly and instructing, so after my military service I'd like to settle down and either teach for high school students as a junior ROTC instructor or potentially become a college professor. Another big ambition I have is to potentially get involved with politics. A good bit of Americans are fed up with the way things are and the people running our country, but very few have the integrity and the drive to actually do something about it. I like to think that I do."
Bragg is the son of Julie Bragg and the grandson of Emily and Rudy Dennis. He said he enjoys telling his mother and grandparents, "You did this; you raised someone who is trying their best to be somebody great."
On the Web:
https://www.valdosta.edu/afrotc/
---
Valdosta State University's 2013-2019 Strategic Plan represents a renewal of energy and commitment to the foundational principles for comprehensive institutions.
Implementation of the plan's five goals, along with their accompanying objectives and strategies, supports VSU's institutional mission and the University System of Georgia's mission for comprehensive universities. 
The story above demonstrates VSU's commitment to meeting the following goals: 
Goal 1: Recruit, retain, and graduate a quality, diverse student population and prepare students for roles as leaders in a global society.
Goal 4: Foster an environment of creativity and scholarship.
Visit http://www.valdosta.edu/administration/planning/strategic-plan.php to learn more.
Newsroom
Office of Communications Powell Hall West, Suite 1120
Mailing Address
1500 N. Patterson St.
Valdosta, GA 31698
General VSU Information
Office of Communications