April 12, 2016
16-113
Jessica Pope
Communications and Media Relations Coordinator
Fine Arts Gallery Presents Spring Senior Exhibition April 17-May 2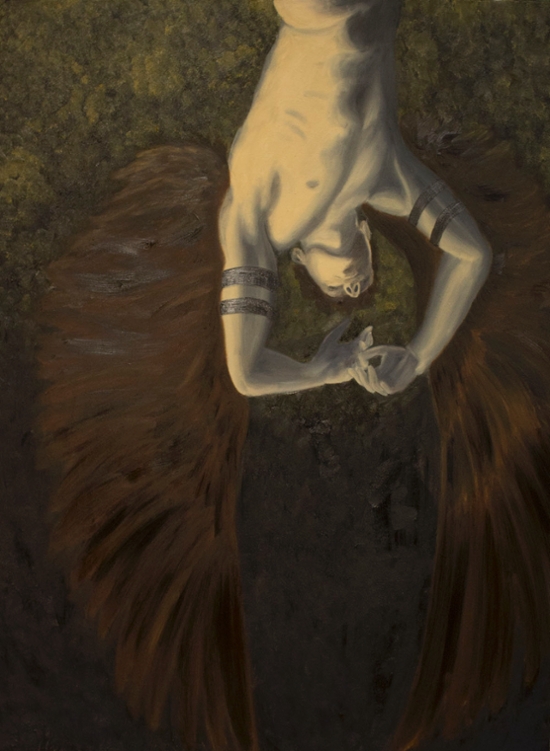 Andria Earp's "The Fall of Icarus"
VALDOSTA — Valdosta State University will celebrate the work of 22 graduating Department of Art students when it presents Auxilium in the Dedo Maranville Fine Arts Gallery April 17 through May 2. Admission to the gallery is free of charge and open to the public.
An opening reception for Auxilium, the 2016 Spring Senior Exhibition, will be held from 1 p.m. to 3 p.m. on Sunday, April 17. Attendees will have an opportunity to meet the artists and discuss their works as they enjoy live musical entertainment and a few refreshments.     
Auxilium features drawings, paintings, photography, ceramics, sculpture, mixed media, and graphic design created by Brittany L. Averett, Alexandra D. Countryman, Andria M. Earp, Bryce C. France, Leah A. Garcia, Elana L. Harper, Savannah B. Hensley, Marleigh A. King, Chandler C. Makuta, Kaycee P. Martain, Todd B. Mitchell, Robert M. Morris, Brandon J. Moultrie, Joseph C. Myles, Casey O'Kelly, Dario G. Santillan, Lindsey M. Schultze, Josh M. Taylor, Oliver N. Thompson, Maugrette D. Washington, Ashley B. Watkins, and Britney A. Williams. All of the students are art majors who anticipate graduating with either a Bachelor of Fine Arts or Bachelor of Arts in May.
"Deciding on a title for our show seemed a daunting task until a commonality among our works emerged — auxilium," shared event organizers. "Auxilium is a Latin term meaning 'to lend assistance or provide a supporting resource or force.' We all deal with this idea differently. Many of our works deal with themes of support, strength, and reflection …. Some make art about connecting and relating to the joys and sorrows of individuals and communities. Others tackle personal issues and focus on introspection.
"There is great power in numbers, and we believe that 22 uniquely talented and driven artists can come together to make a successful show — to put ourselves fully into our work and help each other share it with the community. We are auxilium. We are a force to be reckoned with, not here to conquer but to help bolster one another and ourselves."
The Dedo Maranville Fine Arts Gallery is located on the first floor of the VSU Fine Arts Building, at the intersection of Oak Street and Brookwood Drive. It is open from 8:30 a.m. to 5:30 p.m. Monday through Thursday and from 8:30 a.m. to 3 p.m. on Fridays.
Contact Julie Bowland, Dedo Maranville Fine Arts Gallery director and professor of art, at (229) 333-5835 or jabowlan@valdosta.edu to learn more or to schedule a guided tour.
On the Web:
On Facebook:
VSU Fine Arts Gallery
---
Valdosta State University's 2013-2019 Strategic Plan represents a renewal of energy and commitment to the foundational principles for comprehensive institutions.
Implementation of the plan's five goals, along with their accompanying objectives and strategies, supports VSU's institutional mission and the University System of Georgia's mission for comprehensive universities. 
The story above demonstrates VSU's commitment to meeting the following goals: 
Goal 1: Recruit, retain, and graduate a quality, diverse student population and prepare students for roles as leaders in a global society.
Goal 3: Promote student, employee, alumni, retiree, and community engagement in our mission.
Goal 4: Foster an environment of creativity and scholarship.
Visit http://www.valdosta.edu/administration/planning/strategic-plan.php to learn more.
Newsroom
Office of Communications Powell Hall West, Suite 1120
Mailing Address
1500 N. Patterson St.
Valdosta, GA 31698
General VSU Information
Office of Communications