April 26, 2016
16-132
Jessica Pope
Communications and Media Relations Coordinator
Erinika Taliaferro to Spend Summer Interning with Air Force JAG Office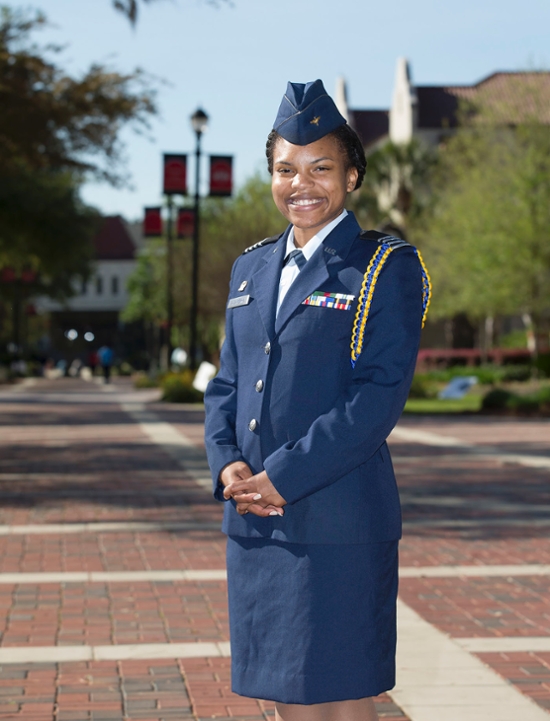 Erinika R. Taliaferro
VALDOSTA — Erinika R. Taliaferro will spend three months interning with the United States Air Force Office of the Judge Advocate General (JAG) at the Pentagon in Washington, D.C., this summer. The 22-year-old looks forward to helping the office realize its mission to "deliver professional, candid, independent counsel and full spectrum legal capabilities to command and the warfighter."
Taliaferro will work under attorney supervision in a variety of military justice and military law practice areas within the JAG Corps. She will have an opportunity to help prepare criminal and civil cases by conducting legal research and investigations; writing briefs and opinions; interviewing witnesses; supporting attorneys working in the areas of federal tort claims, government procurement law, employment law, international law, environmental law, and operational law; assisting attorneys who counsel and represent active-duty airmen, retirees, and their family members in such personal legal matters as family law, estate planning, landlord-tenant law, tax law, bankruptcy law, immigration and naturalization law, and military administrative law; and much more.  
"I am most excited about the experience I will gain, the people I will meet, and the things I will get to see," said Taliaferro, who will graduate from Valdosta State University with a Bachelor of Arts in political science on Saturday, May 7. "I have always wanted to study law, and I thought this would be a great opportunity to … hone in on my leadership abilities. My hope is to retain as much as possible so that I am able to share my knowledge and apply it later in my schooling and career. "  
Following the completion of her internship with the Air Force Office of the Judge Advocate General at the Pentagon, Taliaferro will continue her education through the Air Force's Educational Delay Law Program, which will allow her three years to delay entry into active duty to study law. She has gained acceptance into multiple programs but is keeping a tight lip on which one she will ultimately attend.
"That is to be determined and announced at a later time," she shared. "It's a surprise. I start this fall."
Only the best qualified officers commissioned through the Air Force Reserve Officers' Training Corps (ROTC) are selected for the Educational Delay Law Program. Taliaferro was selected based on her academic performance, extracurricular activities, work experience, community service, military record, and recommendations.
As a student at VSU, Taliaferro has earned the Melvene D. Hardee Scholarship and the Forensics (Speech and Debate) Scholarship; been named to Who's Who Among Students in American Universities and Colleges; served as a member of the national champion Forensics (Speech and Debate) Team, the college chapter of the National Association for the Advancement of Colored People, the Arnold Air Society, Pi Sigma Alpha: The National Political Science Honor Society, Alpha Lambda Delta: National Honor Society for First-Year Students, and Golden Key International Honour Society; and worked as a student assistant for Campus Recreation.    
Taliaferro joined VSU's Air Force ROTC as a freshman. She currently serves as a cadet colonel and cadet wing commander for the university's Detachment 172. 
"I participated in high school, and I fell in love with the program and the mission and wanted to continue in my college career," she said. "My family has served in every branch of the military except the United States Coast Guard. My grandparents alone have a combined 63 years of service. My grandparents have had a huge impact on my life, and they are my motivation to serve. I will be the first in my generation to enter the military." 
Taliaferro's goal is to eventually earn a spot in the Air Force Office of the Judge Advocate General. If she makes it, she will be the first JAG in her family.
"I want to be able to serve, protect, and defend my country while doing something I am passionate about," she explained. "I want to be a JAG because this career provides me with a chance to make a difference for my country and my service members. It provides me an opportunity to make a difference because I am not only advocating for my service members but I am also advocating and fighting for my country's beliefs and rights." 
Taliaferro is a resident of McDonough, Georgia, where she lives with her guardians, Donald D. Shaw Sr. and Ardelia Levesque-Shaw.
On the Web:
https://www.valdosta.edu/afrotc/
https://www.valdosta.edu/polsci/
---
Valdosta State University's 2013-2019 Strategic Plan represents a renewal of energy and commitment to the foundational principles for comprehensive institutions.
Implementation of the plan's five goals, along with their accompanying objectives and strategies, supports VSU's institutional mission and the University System of Georgia's mission for comprehensive universities. 
The story above demonstrates VSU's commitment to meeting the following goals: 
Goal 1: Recruit, retain, and graduate a quality, diverse student population and prepare students for roles as leaders in a global society.
Goal 3: Promote student, employee, alumni, retiree, and community engagement in our mission.
Goal 4: Foster an environment of creativity and scholarship.
Visit http://www.valdosta.edu/administration/planning/strategic-plan.php to learn more.
Newsroom
Office of Communications Powell Hall West, Suite 1120
Mailing Address
1500 N. Patterson St.
Valdosta, GA 31698
General VSU Information
Office of Communications