April 6, 2016
16-107
Jessica Pope
Communications and Media Relations Coordinator
Dr. Tod J. Leavitt Performs at Valdosta-Lowndes County Library April 18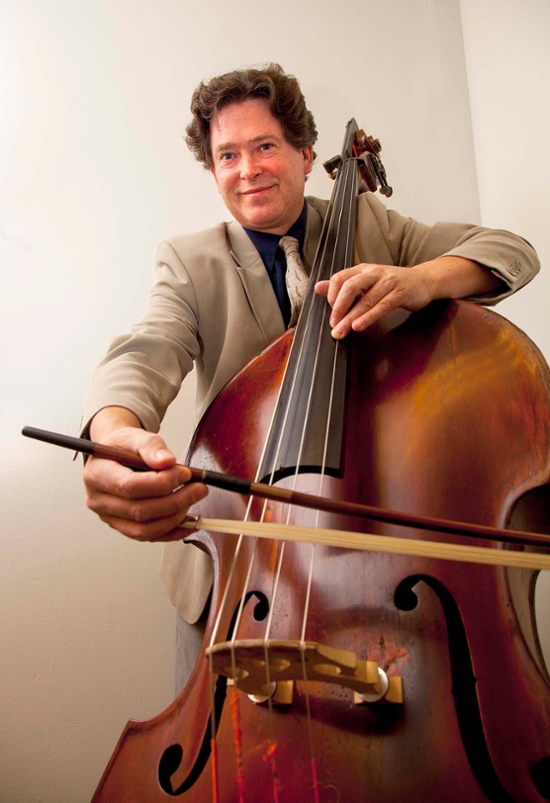 Dr. Tod J. Leavitt
VALDOSTA — Dr. Tod J. Leavitt will present "The Contrabass and the Voice" at 7 p.m. on Monday, April 18, at the Valdosta-Lowndes County Library. Admission is free of charge and open to music lovers of all ages.
Leavitt, a lecturer of music at Valdosta State University, will perform "Bach to Blues," a blues sonority in the style of the Baroque period written by contemporary jazz bassist John Clayton; Recitative and Theme, the theme being "Ode to Joy," from the Fourth Movement of Ludwig van Beethoven's Symphony No. 9; "Poems, Portraits, Ballades, and Blues," a collection of works by Bertram Turetzky, the most recorded bassist in United States history; and "Failing" by Tom Johnson, which involves continuous talking while playing and has been described as a most difficult piece for solo string bass.
Throughout the evening, Leavitt will discuss the music and the composers. He will also lead a question-and-answer session with audience members.
Leavitt is in his eighth year of teaching in the Department of Music at VSU. He helps music students master the bass, jazz and classical music appreciation, chamber music, and jazz combo and enjoys watching them "become mature, professional, working musicians."
When asked what led him to play the contrabass, Leavitt said that the instrument actually chose him.
"I had moved to a new city my junior year of high school and wanted to play guitar in the jazz band," he shared. "The director already had two guitarists and told me that if I played electric bass I would not have to be in marching band. I immediately accepted. I auditioned at various universities but found no program for electric bass, so I became a non-major and studied the contrabass for a term and became a music major my second term. I made the orchestra spring term of my freshman year at Michigan State University."


The first orchestral work Leavitt performed was Beethoven's only opera, Fidelio.
Leavitt also plays piano and guitar and sings.
The Valdosta-Lowndes County Library, a unit of the South Georgia Regional Library System, is located at 300 Woodrow Wilson Drive. Reserved seating may be requested by calling (229) 333-0086, ext. 220.
Contact Dr. Tod J. Leavitt at tjleavitt@valdosta.edu for more information.
On the Web:
http://www.valdosta.edu/colleges/arts/music/
---
Valdosta State University's 2013-2019 Strategic Plan represents a renewal of energy and commitment to the foundational principles for comprehensive institutions.
Implementation of the plan's five goals, along with their accompanying objectives and strategies, supports VSU's institutional mission and the University System of Georgia's mission for comprehensive universities. 
The story above demonstrates VSU's commitment to meeting the following goals: 
Goal 1: Recruit, retain, and graduate a quality, diverse student population and prepare students for roles as leaders in a global society.
Goal 3: Promote student, employee, alumni, retiree, and community engagement in our mission.
Goal 4: Foster an environment of creativity and scholarship.
Goal 5: Develop and enhance Valdosta State's human and physical resources.
Visit to learn more.
Newsroom
Office of Communications Powell Hall West, Suite 1120
Mailing Address
1500 N. Patterson St.
Valdosta, GA 31698
General VSU Information
Office of Communications