January 6, 2016
16-4
Jessica Pope
Communications and Media Relations Coordinator
DrawProject Opens Jan. 11, Benefits VSU Scholarships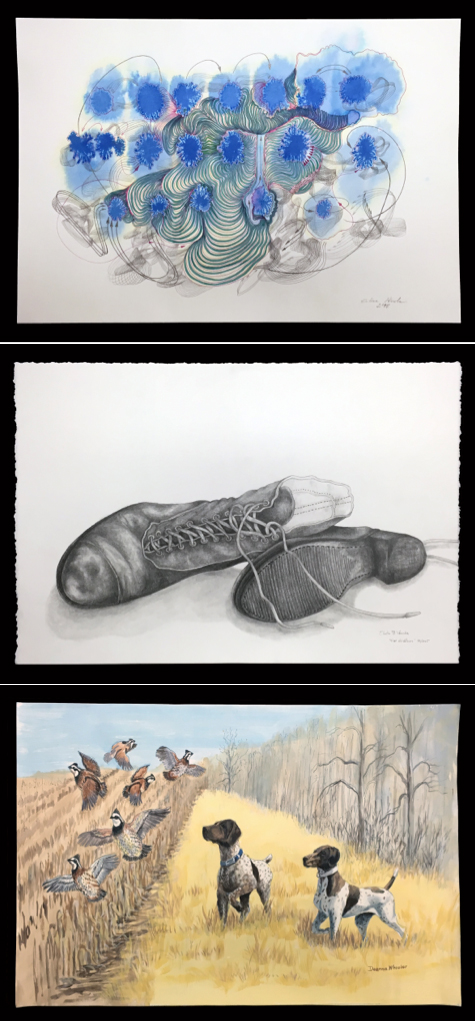 Pictured are works by Kalina Winska (top), Elantu Veovode (middle), and Deanna Wheeler (bottom).
VALDOSTA — DrawProject 2016 opens Monday, Jan. 11, with a reception and auction from 5 p.m. to 7:30 p.m. at the Annette Howell Turner Center for the Arts, located at 527 N. Patterson St. Everyone is invited to stop by, view the works on display in the various galleries, bid on their favorites, and support scholarships for students pursuing their passion for art at Valdosta State University.
DrawProject features works by community, regional, and national artists who were invited to interpret the concept of "drawing" using any medium, subject, style, and technical approach and create an original 22-inch by 15-inch piece of art to be exhibited and donated for auction. More than 60 submissions were selected and framed for this year's event, sponsored by Classic Art & Frame Co., Guardian Bank, Bush Wealth Management, and Binders Art Supply and Frames of Atlanta.
An annual drawing invitational exhibition, DrawProject benefits two scholarships.
The Annette Howell Turner Center for the Arts Scholarship is awarded annually to support a VSU junior art, design, or art education major for meritorious production in the classroom and a commitment to service within the community.
The Danielle B. Harmon Student Merit Scholarship recognizes departmental majors for superior classroom performance. Before her death in 2010, she was an associate professor in the VSU Department of Art.
"The DrawProject charity exhibition event is rooted in the support of the many community sponsors, donors, patrons, and artists who, year after year, give so generously of their time, talent, and financial resources," said Michael T. Schmidt, head of VSU's Department of Art. "Because of the strong community support for the DrawProject, we continue to make a long-lasting impact on our students, which is apparent each time a scholarship is awarded to a bright, hardworking, and dedicated VSU student-artist."
Attendees will have the opportunity to bid on their favorite pieces during the silent auction portion of the evening. All works will begin with a minimum bid of $40. Works that reach a bid of at least $80 but not more than $149 will be closed at 7 p.m. the evening of the reception and awarded to the highest bidder. Those that receive a bid of $150 or more will move to a live auction near the conclusion of the reception.
Works that do not receive $80 in bids during the reception will remain open to bidding until they either reach the $80 mark or the show closes in February.
The DrawProject 2016 exhibition will remain on display for public viewing through Wednesday, Feb. 24.
DrawProject is the brainchild of Jamie Harmon, former curator of the Annette Howell Turner Center for the Arts. 
Contact Bill Shenton at the Annette Howell Turner Center for the Arts at (229) 247-2787 or bshenton@turnercenter.org or Michael T. Schmidt at the VSU Department of Art at (229) 333-5835 or mschmidt@valdosta.edu for more information.
On the Web:
http://www.valdosta.edu/colleges/arts/art/
https://www.facebook.com/DrawProject.VSUArt
---
Valdosta State University's 2013-2019 Strategic Plan represents a renewal of energy and commitment to the foundational principles for comprehensive institutions.
Implementation of the plan's five goals, along with their accompanying objectives and strategies, supports VSU's institutional mission and the University System of Georgia's mission for comprehensive universities. 
The story above demonstrates VSU's commitment to meeting the following goals: 
Goal 1: Recruit, retain, and graduate a quality, diverse student population and prepare students for roles as leaders in a global society.
Goal 2: Increase financial support for the institution.
Goal 3: Promote student, employee, alumni, retiree, and community engagement in our mission.
Goal 4: Foster an environment of creativity and scholarship.
Visit http://www.valdosta.edu/administration/planning/strategic-plan.php to learn more.
Newsroom
Office of Communications Powell Hall West, Suite 1120
Mailing Address
1500 N. Patterson St.
Valdosta, GA 31698
General VSU Information
Office of Communications