November 9, 2015
15-273
Whitney N. Yarber, Communications Specialist
Lt. Tim Yorkey Named Chancellor's Service Excellence Ambassador of the Year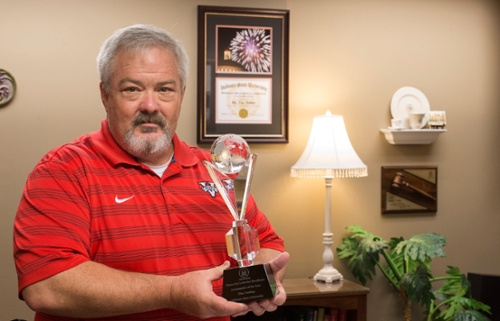 Pictured is Lt. Tim Yorkey, training specialist for Employee and Organizational Development at VSU.
VALDOSTA — Valdosta State University's Lt. Tim Yorkey is the 2015 University System of Georgia Chancellor's Service Excellence Ambassador of the Year.
"Being nominated was an honor in itself," said Yorkey, training specialist for Employee and Organizational Development at VSU. "Winning the award has shown me that what we are doing here at Valdosta State University is being recognized and honored at the highest level within our system. It is an honor to receive this award on behalf of VSU."
The Service Excellence Ambassador of the Year Award recognizes an individual who has successfully guided service excellence improvements throughout his or her institution and fostered service excellence teams and activities.
Yorkey has exemplified leading performance, resulting in a significant, positive impact on service excellence over the last year at Valdosta State University. His actions have reflected the five attributes of service excellence — being respectful, accessible, informed, supportive, and responsive.
Yorkey received the VSU President's Service Excellence Award in 2014.
Yorkey joined Valdosta State in June 1980 as a patrol sergeant with University Police. After receiving three promotions — lieutenant, patrol commander, and chief investigator — and two degrees — an Associate of Art and a Bachelor of Science in criminal justice — he joined Employee and Organizational Development in 1999.
As a training specialist, Yorkey holds numerous professional certificates, enabling him to instruct VSU employees on a variety of topics, including first aid, cardiopulmonary resuscitation (CPR), defensive driving, new employee orientation, time management, service excellence, management and leadership skills, communication skills, and conflict management skills.
Yorkey also specializes in law enforcement training and provides various topics of instruction to area law enforcement officers.
As part of the University System of Georgia (USG)'s Professional Development Consortium, Yorkey assists six USG institutions — Abraham Baldwin Agricultural College, Albany State University, Bainbridge College, Columbus State University, Darton State College, Georgia Southwestern State University, and South Georgia State College — with understanding the professional development issues relating to each institution, sharing training resources, and developing solutions to the challenges.
"Tim Yorkey has been known across our campus as a role model for service excellence for many years," said Rebecca Murphy, associate director of Human Resources for Employee and Organizational Development. "It is great to see him finally recognized through the Chancellor's Service Excellence program. It is much deserved."
On the Web:
www.usg.edu/service_excellence/
https://www.valdosta.edu/administration/finance-admin/employee-development/
---
Valdosta State University's 2013-2019 Strategic Plan represents a renewal of energy and commitment to the foundational principles for comprehensive institutions.
Implementation of the plan's five goals, along with their accompanying objectives and strategies, supports VSU's institutional mission and the University System of Georgia's mission for comprehensive universities.
The story above demonstrates VSU's commitment to meeting the following goals:
Goal 3: Promote student, employee, alumni, retiree, and community engagement in our mission.
Goal 5: Develop and enhance Valdosta State's human and physical resources.
Visit http://www.valdosta.edu/administration/planning/strategic-plan.php to learn more.
General VSU Information
Office of Communications
Campus Address
Office of Communications Powell Hall West, Suite 1120
Mailing Address
1500 N. Patterson St.
Valdosta, GA 31698