November 19, 2015
15-288
Jessica Pope
Communications and Media Relations Coordinator
Jazz Ensemble Performs Billy Strayhorn Centennial Concert Dec. 1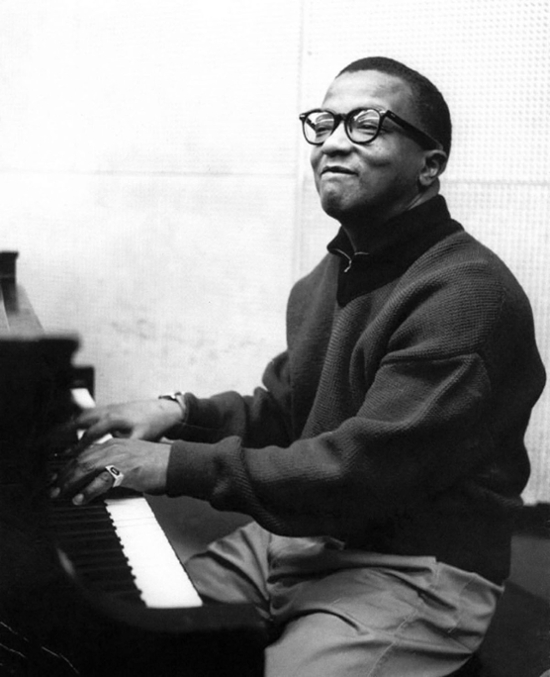 Billy "Sweet Pea" Strayhorn
VALDOSTA — The Valdosta State University Jazz Ensemble will celebrate the life of Billy "Sweet Pea" Strayhorn with a special performance at 7:30 p.m. on Tuesday, Dec. 1, in Whitehead Auditorium. Admission is free of charge and open to the public. 
This year marks the 100th anniversary of the birth of Strayhorn, a master American jazz composer, pianist, lyricist, and arranger best known for his nearly three-decade-long collaboration with bandleader and composer Duke Ellington.
"The program will feature original compositions from his entire career and a few arrangements by other writers," said David Springfield, director of VSU's Jazz Studies Program, assistant professor of jazz piano, and conductor of the VSU Jazz Ensemble.
Highlights of VSU's Billy Strayhorn Centennial Concert include Overture from The Nutcracker Suite by Pyotr Illyich Tchaikovsky, as arranged by Strayhorn for jazz band; Blood Count, Strayhorn's final composition, written as he was suffering from cancer and recorded by the Duke Ellington Orchestra after his death; and Take the A Train, his most famous composition and the Duke Ellington Orchestra's theme song.    
Born on Nov. 29, 1915, in Dayton, Ohio, Strayhorn was raised in Pittsburgh, Pa. According to VSU's Department of Music, "He received extensive classical music training and showed an interest in all the arts … (and) began composing while still in his teens, including the remarkable Lush Life, for which he wrote both the music and the lyrics.
"In 1938, Strayhorn attended a concert by the Duke Ellington Orchestra and presented Ellington with several of his songs. Ellington was very impressed and hired Strayhorn as an associate arranger and second pianist, a position he held for nearly 30 years. He rarely recorded as a leader or appeared in public with the band, preferring to work behind the scenes and in the recording studio.
"Strayhorn's style perfectly complemented Ellington's — to many listeners it is impossible to separate the individual contributions from their collaborative works — but the compositions credited solely to Strayhorn reveal a distinct personality and some of the most harmonically and structurally sophisticated music in all of jazz."
Whitehead Auditorium is located on the first floor of the VSU Fine Arts Building, at the intersection of Oak Street and Brookwood Drive.
Contact David Springfield at (229) 333-5805 or daspring@valdosta.edu to learn more.
On the Web:
http://www.valdosta.edu/colleges/arts/music/
http://www.billystrayhorn.com/index.php
---
Valdosta State University's 2013-2019 Strategic Plan represents a renewal of energy and commitment to the foundational principles for comprehensive institutions.
Implementation of the plan's five goals, along with their accompanying objectives and strategies, supports VSU's institutional mission and the University System of Georgia's mission for comprehensive universities. 
The story above demonstrates VSU's commitment to meeting the following goals: 
Goal 1: Recruit, retain, and graduate a quality, diverse student population and prepare students for roles as leaders in a global society.
Goal 3: Promote student, employee, alumni, retiree, and community engagement in our mission.
Goal 4: Foster an environment of creativity and scholarship.
Visit http://www.valdosta.edu/administration/planning/strategic-plan.php to learn more.
General VSU Information
Office of Communications
Campus Address
Office of Communications Powell Hall West, Suite 1120
Mailing Address
1500 N. Patterson St.
Valdosta, GA 31698