August 24, 2015
15-203
Jessica Pope
Communications and Media Relations Coordinator
VSU Fine Arts Gallery Hosts "Assemblages and Installations" Through Sept. 11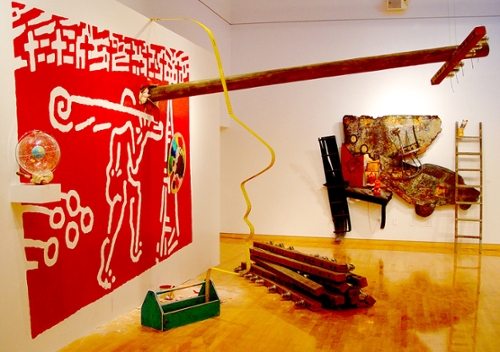 Works by Jerry E. Smith of Plano, Texas.
VALDOSTA — Jerry E. Smith of Plano, Texas, describes his artwork as eclectic and personal, a social commentary that mixes skill with wit. His latest exhibition, "Assemblages and Installations," opened Monday, Aug. 24, in Valdosta State University's Dedo Maranville Fine Arts Gallery and runs for nearly three weeks.
VSU will host an artist lecture during a closing reception for "Assemblages and Installations" from noon to 1:30 p.m. on Friday, Sept. 11. Art enthusiasts are urged to mark their calendars and make plans to attend this event; Smith will conduct a question-and-answer session after his talk.  
Julie A. Bowland, director of VSU's Dedo Maranville Fine Arts Gallery, said that the show's title, "Assemblages and Installations," describes the collage-like aspects of many seemingly unrelated three-dimensional materials grouped together within each painting — assemblage — and the dynamic use of the gallery's entire space — installation.
"The works create a visually exciting environment that uses every part of the gallery, including a large telephone pole/cross that seems to break out of the wall and into the interior space," explained Bowland, a noted plein air painter and professor of art in VSU's Department of Art. "… (Smith's) work is both personal and universal. Drawing on his earlier years growing up on a Kansas farm and meshing into Post Modern influences of 1980's Neo-Expressionism, his work confounds and delights with multiple meanings and visual puns." 
Smith is a professor of art and art appreciation at Collin College in Plano, Texas. He specializes in drawing and painting and has exhibited in numerous solo and juried national competitions, including the 2015 Valdosta National. His "Assemblages and Installations" show kicks off the 2015-2016 art exhibition season at VSU.  
"Viewing my work is a bit like watching 'The Tonight Show,'" he said. "The host would introduce himself and comment on personal situations or current events, both of which are told in seriousness belied by sarcastic wit. Guests make their appearance in unfathomable variety. The zaniness of Bobo The Wonder Dog was sandwiched between a recognizable guest celebrity and the ordinary person with the extraordinary touching event. And among the storytelling and events, someone would show their amazing skill or technique, such as music. That describes my work — eclectic, personal, social commentary, and mixing serious skill with wit.
"Sometimes the art will start because of inspiration by an event in my life, or a phrase, or even just a clever play on words. Such works often start with the tale and writing, even just a headline word that alludes to the image. Other works come into being because of an object that is talisman-like, compelling one to create art from it, and the implication that to ignore it is sacrilege. And yet other works evolve over time as I seek Rorschach-like discernment over the reflected meaning. Much of my current work looks at religious themes, noting the polarity of opinions on relevance and triviality of faith values in contemporary life, especially in knowledge versus application."
VSU's Dedo Maranville Fine Arts Gallery is open to faculty, staff, students, alumni, and the public from 8:30 a.m. to 5:30 p.m. Monday through Thursday and from 8:30 a.m. to 3 p.m. Fridays. It is located on the first floor of the Fine Arts Building, at the intersection of Oak Street and Brookwood Drive.
Contact Julie A. Bowland at (229) 333-5835 or jabowlan@valdosta.edu to learn more.
On the Web:
On Facebook:
VSU Fine Arts Gallery
Visit https://www.facebook.com/vstatenews?ref=hl to view additional images.
Visit https://www.facebook.com/pages/VSU-Fine-Arts-Gallery/133203592765?fref=ts to view a time-lapse video of the artist installing one of the pieces in the exhibit. 
---
Valdosta State University's 2013-2019 Strategic Plan represents a renewal of energy and commitment to the foundational principles for comprehensive institutions.
Implementation of the plan's five goals, along with their accompanying objectives and strategies, supports VSU's institutional mission and the University System of Georgia's mission for comprehensive universities. 
The story above demonstrates VSU's commitment to meeting the following goals: 
Goal 1: Recruit, retain, and graduate a quality, diverse student population and prepare students for roles as leaders in a global society.
Goal 3: Promote student, employee, alumni, retiree, and community engagement in our mission.
Goal 4: Foster an environment of creativity and scholarship.
Visit http://www.valdosta.edu/administration/planning/strategic-plan.php to learn more.
General VSU Information
Office of Communications
Campus Address
Office of Communications Powell Hall West, Suite 1120
Mailing Address
1500 N. Patterson St.
Valdosta, GA 31698