April 7, 2015
15-112
Jessica Pope
Communications and Media Relations Coordinator
Student Art Exhibit Continues Through April 13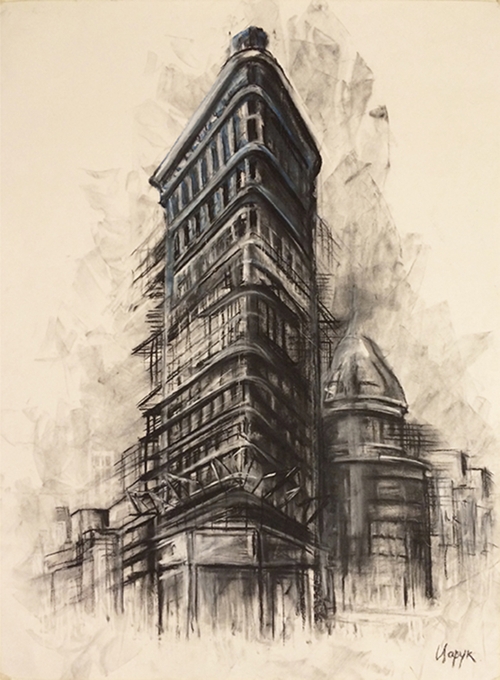 Tatiana Tsaruk's "Build It Again"
VALDOSTA — The 65 works selected for the 17th annual All-Media Juried Valdosta State University Student Art Competition will remain on display in the Fine Arts Gallery through Monday, April 13.
Julie Bowland, VSU Fine Arts Gallery director, said that 73 students from major fields of study all across campus submitted 265 works of art for this year's competition. Ljiljana Obradovic-Edmiston, this year's juror, narrowed the entries to what she believed to be the best 65 works and went on to award first place to Lucas Rocheleau of Valdosta, second place to Robin Carter, third place to Krystle Stotler, fourth place to Brandon Moultrie of Fairburn, and honorable mention to Michael LaGon of Decatur, Natalie Milko of Cairo, Elana Harper, Dario Santillan, and Josh Taylor. 
"When left alone with all those pieces of art I try to have a conversation with each one," shared Ljiljana Obradovic-Edmiston. "Who are you and what are you about? Are you telling me something that I have not heard before? How do you relate to the world around us? Unburdened by the presence of the maker, the work starts to reveal itself to me. When all is said and done, when the work is finished and stands alone, it is an intensity, subtlety, depth of thought, mastery of the materials and freshness of the point of view that makes the difference."
"I would like to congratulate all of the students who contributed to this year's annual exhibition," she continued. "My choices represent my views as an artist and a teacher. I like to say that I know a lot about the art, but I am not sure what I like until I see it. I saw a richness of liquid color and fine layering of texture, a rendering of a figure just on this side of real, yet more believable because of its distortions. I was taken by nice play of abstraction and representation, interplay of simplicity and complexity, fine use of positive and negative space, and so much loneliness. I felt a fury of violence and humor in a small statue and the beauty found in an unlikely abandoned place."
Born in Sarajevo, Yugoslavia, Obradovic-Edmiston specializes in two-dimensional media, particularly drawing, painting, and printmaking. Her work explores ideas of permutation within physical and social context and has been exhibited throughout the United States, Bosnia and Herzegovina, and Italy. She has taught at Florida State University and is an assistant professor of art at Tallahassee Community College.    
All registered Valdosta State students, regardless of their major, were invited to submit a maximum of four pieces of original two-dimensional and three-dimensional work to the All-Media Juried VSU Student Art Competition. This included graphic design, illustration, interior design, animation, drawing, printmaking, mixed media, painting, aqueous media, jewelry, photography, ceramics, small metals, and sculpture.
The VSU Fine Arts Gallery is located on the first floor of the Fine Arts Building, at the intersection of Brookwood Drive and Oak Street. It is open from 8:30 a.m. to 5:30 p.m. Monday through Thursday and 9 a.m. to 3 p.m. on Fridays. On Monday, April 13, the gallery will be open from 6 p.m. to 7 p.m. for the Undergraduate Research Symposium reception.
Contact Julie Bowland at (229) 333-5835 or jabowlan@valdosta.edu to learn more.
On the Web:
On Facebook:
VSU Fine Arts Gallery
---
Valdosta State University's 2013-2019 Strategic Plan represents a renewal of energy and commitment to the foundational principles for comprehensive institutions.
Implementation of the plan's five goals, along with their accompanying objectives and strategies, supports VSU's institutional mission and the University System of Georgia's mission for comprehensive universities. 
The story above demonstrates VSU's commitment to meeting the following goals: 
Goal 1: Recruit, retain, and graduate a quality, diverse student population and prepare students for roles as leaders in a global society.
Goal 3: Promote student, employee, alumni, retiree, and community engagement in our mission.
Goal 4: Foster an environment of creativity and scholarship.
Visit http://www.valdosta.edu/administration/planning/strategic-plan.php to learn more.
General VSU Information
Office of Communications
Campus Address
Office of Communications Powell Hall West, Suite 1120
Mailing Address
1500 N. Patterson St.
Valdosta, GA 31698