March 23, 2015
15-90
Jessica Pope
Communications and Media Relations Coordinator
Learning In Retirement Offers 86 Opportunities To Do Something This Spring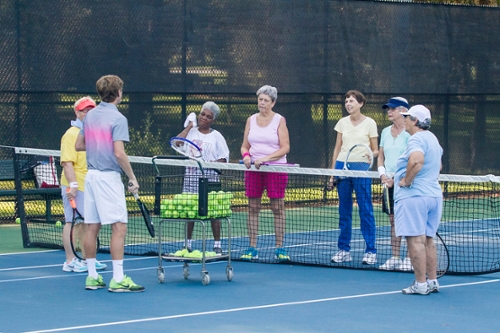 Learning in Retirement members enjoy tennis lessons during the 2014 fall term.
VALDOSTA — Men and women 50 years of age and older have 86 opportunities to meet new people, make new friends, and learn something new during the Learning in Retirement 2015 spring term.
Learning in Retirement's 2015 spring term features a course lineup full of trips and tours, book reviews, topics that are simply "good to know," and classes in the areas of health and fitness, computers and technology, fine arts, history and social studies, leisure, as well as science and nature. The term will conclude on Friday, May 15, with a potluck lunch and performance by the Learning in Retirement Players.
Carol Jennings, Learning in Retirement president, said, "This spring term I am especially looking forward to tours of some of the magnificent gardens in the area and also learning about some of the research being done here on campus, for instance a presentation on creating artificial reefs to help regenerate wild oyster populations." 
A member-led and Valdosta State University-sponsored organization that began in January 1996, Learning in Retirement "provides a unique opportunity for cultural growth, lifelong learning, and recreation," according to information provided by the organization. The course offerings and curriculum are "chosen, designed, and often led by the members, encouraging peer learning and active member participation."
Learning in Retirement capitalizes "on the strengths and experiences of older adults, empowering them to continue learning, expand their horizons, and enhance their personal development."
Membership costs $45 per person per term — fall, winter, and spring — and allows members to participate in as many Learning in Retirement courses as they desire. A few courses and special activities require an additional fee, which is always noted in advance in the course catalog.
New members are always welcome.     
Learning in Retirement is located in Valdosta State University's Regional Center for Continuing Education at 903 N. Patterson St.  
Contact Suzanne Ewing, Learning in Retirement program coordinator, at (229) 245-6484 or sewing@valdosta.edu to learn more.
On the Web:
http://www.valdosta.edu/academics/extended-learning/continuing-education/programs/lir/welcome.php
https://www.facebook.com/groups/177509944265/
---
Valdosta State University's 2013-2019 Strategic Plan represents a renewal of energy and commitment to the foundational principles for comprehensive institutions.
Implementation of the plan's five goals, along with their accompanying objectives and strategies, supports VSU's institutional mission and the University System of Georgia's mission for comprehensive universities. 
The university-sponsored Learning in Retirement program meets the following goal: 
Goal 3: Promote student, employee, alumni, retiree, and community engagement in our mission.
Visit http://www.valdosta.edu/administration/planning/strategic-plan.php to learn more.
General VSU Information
Office of Communications
Campus Address
Office of Communications Powell Hall West, Suite 1120
Mailing Address
1500 N. Patterson St.
Valdosta, GA 31698