February 2, 2015
15-39
Jessica Pope
Communications and Media Relations Coordinator
Linda Cionitti Performs Feb. 8 at VSU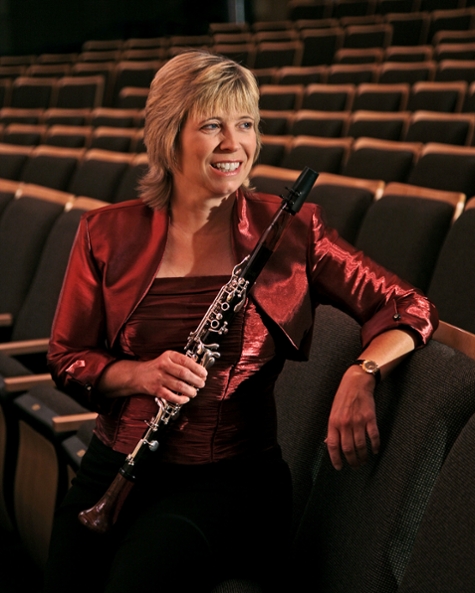 Linda A. Cionitti
~2014-2015 is the Year of the Arts at Valdosta State University ~
VALDOSTA — Linda A. Cionitti, clarinetist, will perform at 3 p.m. on Sunday, Feb. 8, in Valdosta State University's Whitehead Auditorium. The guest artist recital is free of charge and open to the public.
Described as an "extraordinarily fine" clarinet player by MusicWeb International (http://www.musicweb-international.com), Cionitti is a professor of music at Georgia Southern University, where she has taught for 26 years. She is an active international performer and has appeared throughout the United States, Canada, Switzerland, and Italy. She is an advocate for new music and has commissioned and premiered new works around the world.
Cionitti released "Jag and Jersey," a compact disc featuring premiere recordings of Libby Larsen's Yellow Jersey for Clarinet and Piano and James David's E-Type Jag for Clarinet and Piano in May 2009. Both pieces were considered for a Grammy Award nomination the following year. VSU's own Maila Gutierrez Springfield, an instructor in the Department of Music and award-winning pianist who maintains an active performance schedule with the Maharlika Trio, accompanied Cionitti on the latter.
"I was honored to be a part of her CD," said Springfield, who will once again accompany Cionitti when she performs at VSU.
"Linda is a fantastic musician. Before coming to VSU, I worked with her at Georgia Southern University. We have collaborated many times, performing at national and international clarinet festivals. I am excited to bring her to VSU."

The program lineup includes music composed by Eugene Bozza, Victor Babin, Elliot Del Borgo, Piotr Szewczyk, Louis Cahuzac, Carlos Guastavino, James M. David, and Faustin and Maurice Jeanjean.
Raised in Rochester, N.Y., Cionitti began studying clarinet with her father. She earned a Bachelor of Music from the Crane School of Music at the State University of New York at Potsdam. She earned a Master of Music and Doctor of Musical Arts from Michigan State University.  
Contact Maila Gutierrez Springfield at (229) 293-6226 or mlspring@valdosta.edu for more information.
On the Web:
http://www.valdosta.edu/colleges/arts/music/
http://class.georgiasouthern.edu/music/faculty/cionitti-linda/
---
Valdosta State University's 2013-2019 Strategic Plan represents a renewal of energy and commitment to the foundational principles for comprehensive institutions.
Implementation of the plan's five goals, along with their accompanying objectives and strategies, supports VSU's institutional mission and the University System of Georgia's mission for comprehensive universities. 
The story above demonstrates VSU's commitment to meeting the following goals: 
Goal 1: Recruit, retain, and graduate a quality, diverse student population and prepare students for roles as leaders in a global society.
Goal 3: Promote student, employee, alumni, retiree, and community engagement in our mission.
Goal 4: Foster an environment of creativity and scholarship.
Visit http://www.valdosta.edu/administration/planning/strategic-plan.php to learn more.
General VSU Information
Office of Communications
Campus Address
Office of Communications Powell Hall West, Suite 1120
Mailing Address
1500 N. Patterson St.
Valdosta, GA 31698