February 13, 2015
15-59
Jessica Pope
Communications and Media Relations Coordinator
Fine Arts Gallery Presents Civil Rights Series by Karl Zerbe Feb. 16-March 6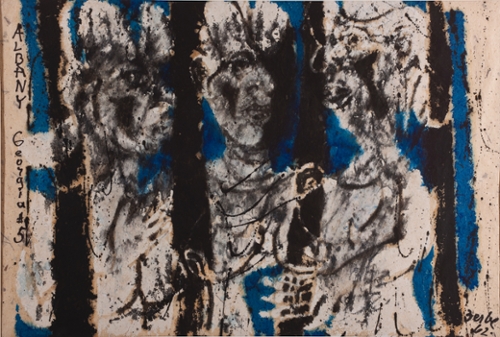 Karl Zerbe's "Blue Bars"
VALDOSTA — Valdosta State University's Fine Arts Gallery will host Karl Zerbe: Civil Right Feb. 16 through March 6.
Born in Germany in 1903, Zerbe was an expressionist figurative painter who quickly became recognized as a major new artist. His first exhibitions in Munich and Berlin attracted immediate attention, and his rise in popularity led to representation in some of the finest museums in his country.
Then Adolf Hitler rose to power.
Zerbe's paintings were among those destroyed as cultural bolshevism as the Third Reich denounced modernism in the arts. Fleeing Nazi persecution, he escaped to the United States in 1934, at the age of 31, making a home in Boston, Mass., where he painted, taught, became a U.S. citizen, and contributed to the revival of encaustic, a hot wax method of painting. He joined a group of artists living and working in the Boston area from the 1930s to the 1950s who "explored human emotion and spirituality with color and imagination, painting figuratively at a time when abstraction was the trend," embracing "a distinctive blend of visionary painting, dark humor, religious mysticism, and social commentary," according to Danforth Art, a museum and school in Framingham, Mass., in an online explanation about the movement that became known as the School of Boston Expressionism. In 1955 he moved to Tallahassee, Fla., and taught at Florida State University, retiring as professor emeritus in 1971. He died in 1972.
To the viewer, Karl Zerbe: Civil Right may appear to be a collection within a collection. First there is what has become known as his Civil Rights Series, a group of brush drawings and acrylic collages inspired by the Albany Movement, a series of civil rights protests in nearby Albany, Ga., in 1961 and 1962.
"The protests, led by the Student Nonviolent Coordinating Committee (SNCC), brought Martin Luther King Jr. to Albany and led to the arrests of hundreds of demonstrators," shared Julie Bowland, Fine Arts Gallery director, Department of Art professor, and noted landscape painter. "It is celebrated for its use of the mass singing of freedom songs as a tool of civil rights protesters. Many of the paintings in this exhibition depict women and men behind bars, singing and clapping in protest. This group of paintings depicts Zerbe's strong inspiration drawn from the fight for civil rights both in Nazi Germany and in black communities in the Southern United States."
The Karl Zerbe: Civil Right exhibition also includes selected paintings, collages, and drawings that he created between 1930 and 1966.
"There is a broad transition of styles represented, from Picasso-like line drawings, 1940s style realism, cubism, abstract expressionism to a pop art sensibility of the 1960s," Bowland said.
An opening reception, featuring a brief presentation by Linda Van Beck, the exhibition's organizer, will be held at 7:30 p.m. on Monday, Feb. 16. VSU faculty, staff, and students, and the general public, are invited to attend.
"This exhibition is very important to our community, as it is a record of the activism of South Georgia and North Florida citizens who risked so much — literally their freedom — to make civil rights a reality in our region the early 1960s," Bowland added.
"On an artistic note, the work in this show spans the art history of mid-20th century modernism, depicting figurative styles from abstraction in the 1930s to the pop art of the 1960s."
All of the works are on loan from the LeMoyne Center for the Visual Arts in Tallahassee, Fla.
VSU's Fine Arts Gallery is located on the first floor of the Fine Arts Building, at the intersection of Brookwood Drive and Oak Street. It is open from 8:30 a.m. to 5:30 p.m. Monday through Thursday and from 9 a.m. to 3 p.m. Fridays. Admission is free of charge. 
Contact Julie A. Bowland at (229) 333-5835 or jabowlan@valdosta.edu to learn more or to schedule a guided tour of the exhibition.
Visit https://www.facebook.com/vstatenews?ref=hl to view additional images.
On the Web:
http://www.valdosta.edu/colleges/arts/art/
http://www.valdosta.edu/colleges/arts/
---
Valdosta State University's 2013-2019 Strategic Plan represents a renewal of energy and commitment to the foundational principles for comprehensive institutions.
Implementation of the plan's five goals, along with their accompanying objectives and strategies, supports VSU's institutional mission and the University System of Georgia's mission for comprehensive universities. 
The story above demonstrates VSU's commitment to meeting the following goals: 
Goal 1: Recruit, retain, and graduate a quality, diverse student population and prepare students for roles as leaders in a global society.
Goal 3: Promote student, employee, alumni, retiree, and community engagement in our mission.
Goal 4: Foster an environment of creativity and scholarship.
Visit http://www.valdosta.edu/administration/planning/strategic-plan.php to learn more.
General VSU Information
Office of Communications
Campus Address
Office of Communications Powell Hall West, Suite 1120
Mailing Address
1500 N. Patterson St.
Valdosta, GA 31698