January 29, 2015
15-34
Jessica Pope
Communications and Media Relations Coordinator
Tallahassee Artist Wins Valdosta National, Exhibit Runs Through Feb. 6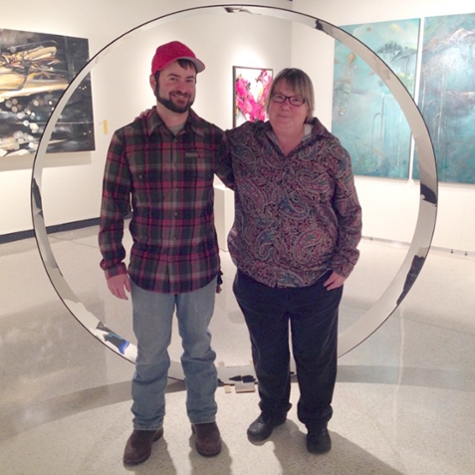 Noah Z. Brock of Tallahassee, Fla., and Julie A. Bowland, Valdosta State University Fine Arts Gallery director and Department of Art professor. Brock won first place at Valdosta National 2015 with "Vitruvian Reflexion," an aluminum and stainless steel installation piece measuring 76 inches by 76 inches by 8 inches. 
VALDOSTA — Noah Z. Brock of Tallahassee, Fla., won first place at Valdosta National 2015 with "Vitruvian Reflexion," an aluminum and stainless steel installation piece measuring 76 inches by 76 inches by 8 inches.
"My work is based in mathematics in an attempt to describe the world around us," shared the 27-year-old in his most recent artist statement. "This concept is manifested in sculptural form to high precision but often represents seemingly imprecise organic shapes. This clash of structured form and nature is often perceived as a juxtaposition, but in reality, one is used to describe the other. Calculated geometry can often times show us another perspective on the natural world.
"My current work uses computer-aided design, computer-aided machining, and traditional practices to build sculptures. By combining these new technologies with the old, I can create the concepts that I see in my head without limiting myself to a certain material or process. I am drawn to using metal because of its versatility and strength, but I am always willing to experiment with new things and see what is possible. Each sculpture is an opportunity for me to develop a new process of art making."
Other Valdosta National 2015 winners were Mimi Silver of Atlanta, who won second place with "Legacy," an oil on canvas measuring 52 inches by 30 inches; Meaghan Gates of New Bedford, Mass, who won third place with "Release," a ceramic sculpture; and Kyle Hicks of Canton, who won fourth place with "Pulse-Width Modulated No. 1," an oil on panel.
Nearly 650 works of art — more than four times that received a year ago — were submitted for the Valdosta State University Fine Arts Gallery's Valdosta National 2015, an all-media juried competition.
From graphite and colored pencil drawings to ceramics and mixed media sculpture to oil and acrylic paintings, printmaking, silver gelatin prints, video, collage, and digital photography, the submissions came from adult artists living and working as far away as Seattle, Wash., and as close as the university's own backyard, said Julie A. Bowland, Fine Arts Gallery director and VSU Department of Art professor.
For the exhibition, which runs through Friday, Feb. 6, Susan Welsh, Valdosta National 2015 judge, selected 55 works by 35 artists from 19 states to be featured and to compete for what turned out to be $1,900 in awards when she donated her $400 honorarium to the winning artists.
Valdosta National 2015, Bowland said, features a number of works with a scientific or mathematical influence, which is due to the adjudicator's work as executive director of the Museum of Arts and Sciences in Macon, a position she has held since 2012. Welsh shared that she is "particularly interested in work that explores the intersection of art and science and the visual articulation of scientific observations and mathematical concepts."
"It's a really strong show with impressive, large-scale work," Bowland noted.
The "annual national juried exhibition showcases a multitude of media, styles, and sensibilities from across the nation. It is a wonderful indication of the diversity of contemporary art …," she added. 
A painter, Welsh studied studio art and art history at the University of Georgia and Wesleyan College; her work has appeared in exhibitions throughout the region. She taught elementary school fine arts through private instruction and programs offered by the Bibb County Public School System, the Museum of Arts and Sciences, and Mid Summer Macon. She served as the artist-in-residence at Sonny Carter Elementary in Macon and designed and installed a series of educational public murals in a number of elementary schools throughout Macon. Two of those murals have been nationally recognized. Prior to taking the position at the museum, she served as vice president of Institutional Advancement at Wesleyan College.
"The success of this show rests entirely on the talents of these dedicated artists, yet it is absolutely necessary to acknowledge the leadership of Valdosta State University and its faculty for developing a national juried exhibition widely recognized for attracting a competitive field of ambitious, accomplished, professional artists," noted Welsh in her juror's statement.
"As artists," she continued, "we must push the limitations of technique, media, and message — innovating, always — if we are to engage viewers on multiple levels. Wonder junkies will delight in Noah Brock's stunning sculptural work "Vitruvian Reflexion," the winner of this year's competition. While appearing to bend the laws of physics and awe with its balance of strength and vulnerability, both the reflexion and the reflection captivate the viewer from the approach, but the viewer must enter and engage to complete Brock's vision. Interacting with this masterwork is truly an immersive experience, which ignites curiosity — and that is exactly where art must be today."
The VSU Fine Arts Gallery is located on the first floor of the Fine Arts Building, at the intersection of Brookwood Drive and Oak Street. It is open from 8 a.m. to 5:30 p.m. Monday through Thursday and from 8 a.m. to 3 p.m. on Fridays. Admission is free of charge. The public is encouraged to visit.
Contact Julie A. Bowland at (229) 333-5835 or jabowlan@valdosta.edu to learn more.
On the Web: http://www.valdosta.edu/art/gallery
On Facebook: VSU Fine Arts Gallery
---
Valdosta State University's 2013-2019 Strategic Plan represents a renewal of energy and commitment to the foundational principles for comprehensive institutions.
Implementation of the plan's five goals, along with their accompanying objectives and strategies, supports VSU's institutional mission and the University System of Georgia's mission for comprehensive universities. 
Exhibitions and competitions like Valdosta National 2015 help the university meet the following goals: 
Goal 1: Recruit, retain, and graduate a quality, diverse student population and prepare students for roles as leaders in a global society.
Goal 3: Promote student, employee, alumni, retiree, and community engagement in our mission.
Goal 4: Foster an environment of creativity and scholarship.
Goal 5: Develop and enhance Valdosta State's human and physical resources.
Visit http://www.valdosta.edu/administration/planning/strategic-plan.php to learn more.


General VSU Information
Office of Communications
Campus Address
Office of Communications Powell Hall West, Suite 1120
Mailing Address
1500 N. Patterson St.
Valdosta, GA 31698