November 24, 2014
14-370
Jessica Pope
Communications and Media Relations Coordinator
VSU Celebrates Jazz with State Band Clinic, Highly Acclaimed Saxophonist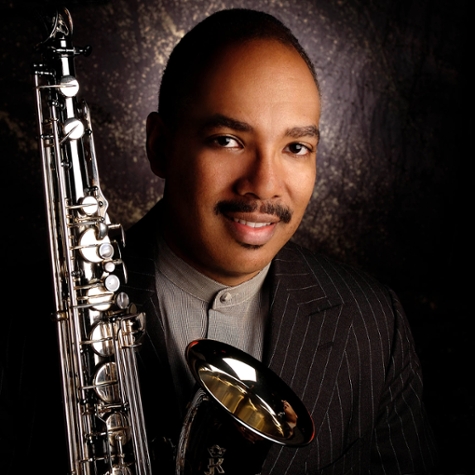 Don Braden
~2014-2015 is the Year of the Arts at Valdosta State University~
VALDOSTA — Valdosta State University will host the 2014 State High School Jazz Band Clinic and All-State Jazz Ensemble Auditions Friday, Dec. 5, through Saturday, Dec. 6. More than 100 students from 36 high schools are expected to attend.
Throughout the two-day event, which is sponsored by the Georgia Association of Jazz Educators and the Georgia Music Educators Association, the participating high school students will be placed in one of five honor jazz ensembles, where they will learn new music, enhance their skills, and attend a master class led by renowned saxophonist Don Braden. VSU last hosted the State High School Jazz Band Clinic and All-State Jazz Ensemble Auditions in 2010.  
As part of the festivities, the VSU Jazz Ensemble, featuring Braden, will perform at 7:30 p.m. on Friday, Dec. 5. The high school honor jazz ensembles will perform at 3:30 p.m. on Saturday, Dec. 6. Both concerts are free of charge and open to the public and will be held in VSU's Whitehead Auditorium.
"We are very excited about welcoming some of the top high school jazz musicians in the state to campus, along with their parents and teachers," said David Springfield, an assistant professor of jazz piano and director of VSU's Jazz Studies Program. He also directs the VSU Jazz Ensemble.
Braden is described as a musician of the highest caliber, one who is imaginative, technically excellent, and soulful. Born in Cincinnati, Ohio, and raised in Louisville, Ky., his first exposure to music came from his parents' record collection and from radio. At age 13, he started playing tenor saxophone in middle school band class; two years later, he joined his first professional band and went on to be chosen first chair for the McDonald's All-American High School Jazz Band and the McDonald's All-American High School Marching Band.
Braden entered Harvard University in 1981, dividing his time between studying engineering and performing at jazz clubs around the Boston and Cambridge, Mass., area.  He began composing more seriously during this time, writing and arranging pieces for several Harvard-based dance, film, and music projects, as well as for his own quartet.
In 1984, Braden moved to New York City. His first gigs were with the Harper Brothers Quintet and with organist Dr. Lonnie Smith and then with Betty Carter.  After touring with the Wynton Marsalis Quintet for over seven months, he recorded with Carter on her Grammy Award-winning album, "Look What I Got." He enjoyed gigs in Europe, Japan, and the Americas with Tony Williams, Roy Haynes, and many others; he was a member of the Freddie Hubbard Quintet from 1989 to 1991, followed by the Tom Harrell groups from 1993 through 1997.  He has also worked with the Mingus Big Band, Kenny Barron, J.J. Johnson, the Dizzy Gillespie All-Stars, the Carnegie Hall Jazz Band, and others, as well as with his own groups. He has released 18 CDs as a leader or co-leader.
In addition to performing and composing for his own groups and CDs, Braden has composed for a number of projects.  He spent four years as co-music supervisor/composer for Bill Cosby's CBS sitcom, "Cosby." He also co-wrote the theme song for Cosby's CBS cartoon series, "Little Bill," and composed music for Nickelodeon's "Fatherhood."  He has written a number of big band charts and has composed or arranged several pieces for full symphonic orchestra. 
Braden is currently serving a three-year interim appointment as guest conductor of the Harvard Monday Jazz Band, in which he played as an undergraduate. He also worked for two years as coordinator of jazz studies at Montclair State University and has served more than 16 years as music director of the renowned Litchfield Jazz Camp and the New Jersey Performing Arts Center's Wells Fargo Jazz for Teens program.  He is also a visiting professor in the New York Comes to Groningen program at the Prince Claus Conservatoire in the Netherlands.
Whitehead Auditorium is located on the first floor of the VSU Fine Arts Building, at the intersection of Brookwood Drive and Oak Street.
Contact David Springfield at (229) 333-5805 or daspring@valdosta.edu to learn more.
On the Web:
http://www.donbraden.com/index.html
http://www.valdosta.edu/colleges/arts/music/
---
Valdosta State University's 2013-2019 Strategic Plan represents a renewal of energy and commitment to the foundational principles for comprehensive institutions.
Implementation of the plan's five goals, along with their accompanying objectives and strategies, supports VSU's institutional mission and the University System of Georgia's mission for comprehensive universities. 
Hosting the State High School Jazz Band Clinic, All-State Jazz Ensemble Auditions, and acclaimed saxophonist Don Braden helps the university meet the following goals: 
Goal 1: Recruit, retain, and graduate a quality, diverse student population and prepare students for roles as leaders in a global society.
Goal 3: Promote student, employee, alumni, retiree, and community engagement in our mission.
Goal 4: Foster an environment of creativity and scholarship.
Goal 5: Develop and enhance Valdosta State's human and physical resources.
Visit http://www.valdosta.edu/administration/planning/strategic-plan.php to learn more.
Newsroom
Office of Communications Powell Hall West, Suite 1120
Mailing Address
1500 N. Patterson St.
Valdosta, GA 31698
General VSU Information
Office of Communications