November 6, 2014
14-345
Jessica Pope
Communications and Media Relations Coordinator
Reece Walker Named Air Force ROTC Cadet of the Year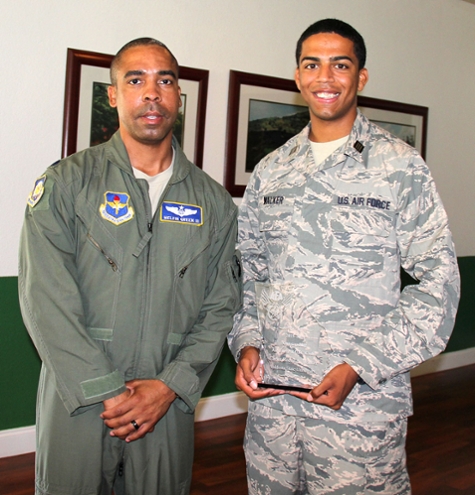 Cadet Lt. Col. Reece A. Walker, 21, of Valdosta State University's Detachment 172 is the recipient of the Georgia Air Force Association's 2013-2014 Outstanding Air Force ROTC Cadet Award. He is pictured with Lt. Col. Melvin Green III, commander of the Air Force ROTC Detachment 172 at VSU and professor of aerospace studies.
VALDOSTA — Cadet Lt. Col. Reece A. Walker, 21, of Valdosta State University's Detachment 172 is the recipient of the Georgia Air Force Association's 2013-2014 Outstanding Air Force ROTC Cadet Award. This marks the 11th consecutive year a VSU cadet has won this award.
"It was very humbling because I did not even know I was being presented for the award," said the senior from Warner Robins. "When they announced my name, I was blown away. Every year we attend the state convention, I hear someone's name being called for the award. It's weird to hear your own."
As a cadet at VSU, Walker has worked part time at CVS, while maintaining his grade point average and physical fitness and meeting the unique demands of ROTC, or Reserve Officer Training Corps. He served as commander of the Color Guard during his freshman and sophomore years, participating in more than 30 events. He was also in charge of the Saber Drill Team and Honor Guard. He earned Distinguished Graduate honors at Field Training, a four-week encampment similar to military basic training conducted at Maxwell Air Force Base in Alabama. He said cadets are required to attend this intensive evaluation period during the summer between their sophomore and junior years; the goal is to evaluate their military leadership and discipline, determine their potential for entry into the professional officer corps, and stratify them among their peers. He returned to Field Training this past summer as a cadet training assistant, teaching others while also learning how to be an effective leader.
"That was the most rewarding thing I have ever done," he said.   
Walker participated in Junior Air Force ROTC as a student at Houston County High School. When he graduated in May 2011, he received a scholarship to continue ROTC at the college level. He joined VSU's Air Force ROTC Detachment 172 at the start of the 2011-2012 academic year.  
"I love the atmosphere with ROTC," he shared. "It is an opportunity to build camaraderie with your fellow peers. When you wake up at early hours in the morning to do physical training three days a week … you realize that you are in this together; you have to do this together. It's awesome to see how a team is formed.
"I also love the opportunity to lead. In ROTC, everything is about leadership — how well can you follow and how well can you interpret what you have learned and lead others."
Walker expects to graduate from VSU in May 2015 with a Bachelor of Science (B.S.) in applied mathematics. He will then be immediately sworn into the United States Air Force as a second lieutenant and sent to pilot training in Oklahoma, Texas, or Mississippi.
"It is a dream come true to be selected to be a pilot in the Air Force," he noted. "It is a very competitive process. Pilot training lasts about one and a half years, and through every stage, it tests your aptitude, weeding people out. I am nervous because I have never flown a plane, but I am excited. It has been a dream of mine for a long time."
Walker said that his parents, Terry and Donna Walker, have always encouraged him to work hard, aim high, and never settle for less than what he feels is right for him. His dad served some 14 years in the Air Force. 
Walker is a member of the Baptist Collegiate Ministries and the Mathematical Association of America.
The Air Force Association is a nonprofit, independent professional military and aerospace education association promoting public understanding of aerospace power and the role it plays in the security of the nation.  AFA publishes Air Force Magazine, conducts national symposia, and disseminates information through outreach programs. It sponsors professional development seminars and recognizes excellence in education and aerospace fields through national awards programs. It presents scholarships and grants to Air Force active duty, Air National Guard, and Air Force Reserve members and their dependents and awards educator grants to promote science, technology, engineering, and math education at the elementary and secondary school level.  
The 3000-plus members of AFA in Georgia work to further disseminate the national AFA programs and support military members and missions unique to the state. The individual chapters within the state conduct their own outreach programs to include awards, scholarships, and a variety of programs in support of military members and their families.
Reece A. Walker can be contacted at reewalker@valdosta.edu for more information.
On the Web:
https://www.valdosta.edu/afrotc/
---
Valdosta State University's 2013-2019 Strategic Plan represents a renewal of energy and commitment to the foundational principles for comprehensive institutions.
Implementation of the plan's five goals, along with their accompanying objectives and strategies, supports VSU's institutional mission and the University System of Georgia's mission for comprehensive universities. 
The success of the Air Force ROTC Detachment 172 and individual cadets like Reece A. Walker meets the following goals: 
Goal 1: Recruit, retain, and graduate a quality, diverse student population and prepare students for roles as leaders in a global society.
Goal 3: Promote student, employee, alumni, retiree, and community engagement in our mission.
Goal 4: Foster an environment of creativity and scholarship.
Visit http://www.valdosta.edu/administration/planning/strategic-plan.php to learn more.
Newsroom
Office of Communications Powell Hall West, Suite 1120
Mailing Address
1500 N. Patterson St.
Valdosta, GA 31698
General VSU Information
Office of Communications