October 1, 2014
14-293
Jessica Pope
Communications and Media Relations Coordinator
Guest Organist to Perform on Whitehead Auditorium Stage Oct. 3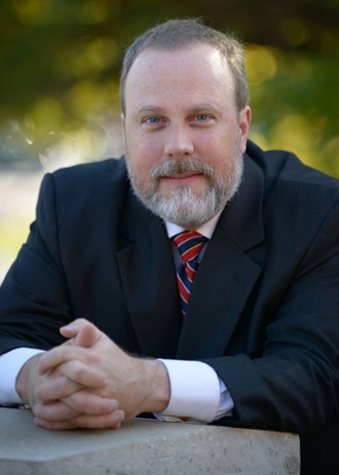 Valdosta State University will welcome Joby Bell, organist, in concert at 7:30 p.m. on Friday, Oct. 3, on the Whitehead Auditorium stage. The performance is free of charge and open to the public. 
~2014-2015 is the Year of the Arts at Valdosta State University ~
VALDOSTA — Valdosta State University will welcome Joby Bell, organist, in concert at 7:30 p.m. on Friday, Oct. 3, on the Whitehead Auditorium stage. The performance is free of charge and open to the public.
Dr. Paul A. Neal, an associate professor in VSU's Department of Music, said that Bell's campus visit is an opportunity for the university to raise "awareness of all the great talent and resources that we have in the arts" and to present to the community the hidden gem that calls Whitehead Auditorium home.
He continued, "So many people have asked me over the years, 'What are those pipes for in Whitehead? Well, this is their chance to come and find out."
Bell will perform a selection of music by John Weaver, Josef Rheinberger, Charles-Marie Widor, Johann Sebastian Bach, Jean-Yves Daniel-Lesur, and Leo Sowerby on VSU's Whitehead memorial organ. Neal described the concert as the "chance of a lifetime to hear this amazing instrument and performer."
Neal noted that no one he has asked can recall the university ever hosting a guest organist before — not even Dr. Doug Farwell, who joined the VSU family 19 years ago and currently serves as a professor of trombone and head of the Department of Music.
"I'm hoping that this will be a chance to raise awareness of the instrument," Neal said, "and maybe start an organ concert series for the city."
An associate professor of organ and coordinator of the Sacred Music Program at the Appalachian State University Hayes School of Music in Boone, N.C., since 2004, Bell's specialties as a teacher are memorization and practice techniques, service playing, choral accompanying, and maintaining grace under pressure. He studied piano as a high school student at the University of North Carolina's School of the Arts and went on to earn a Bachelor of Music in organ and piano from Appalachian State University and both a Master of Music and Doctor of Musical Arts in organ from Rice University in Houston, Texas.
Bell's numerous performances throughout the United States, France, England, Scotland, Romania, and Hungary have been well-received by audiences and critics. His acclaimed blog at www.JobyBell.org deals with a comprehensive range of issues facing organists, including teaching philosophies, recital preparation, as well as church music subjects.
Whitehead Auditorium is located on the first floor of the Fine Arts Building, at the intersection of Brookwood Drive and Oak Street.
Contact Dr. Paul A. Neal at (229) 333-5804 or paneal@valdosta.edu to learn more.
On the Web:
http://music.appstate.edu/faculty-staff/dr-joby-bell
http://www.valdosta.edu/colleges/arts/music/
---
Valdosta State University's 2013-2019 Strategic Plan represents a renewal of energy and commitment to the foundational principles for comprehensive institutions.
Implementation of the plan's five goals, along with their accompanying objectives and strategies, supports VSU's institutional mission and the University System of Georgia's mission for comprehensive universities. 
The Department of Music's commitment to bringing acclaimed musicians to the campus meets the following goals: 
Goal 1: Recruit, retain, and graduate a quality, diverse student population and prepare students for roles as leaders in a global society.
Goal 3: Promote student, employee, alumni, retiree, and community engagement in our mission.
Goal 4: Foster an environment of creativity and scholarship.
Goal 5: Develop and enhance Valdosta State's human and physical resources.
Visit http://www.valdosta.edu/administration/planning/strategic-plan.php to learn more.
Newsroom
Office of Communications Powell Hall West, Suite 1120
Mailing Address
1500 N. Patterson St.
Valdosta, GA 31698
General VSU Information
Office of Communications