September 16, 2014
14-275
Jessica Pope
Communications and Media Relations Coordinator
Craig Hawkins Merges Art, Faith in Latest Series of Exhibits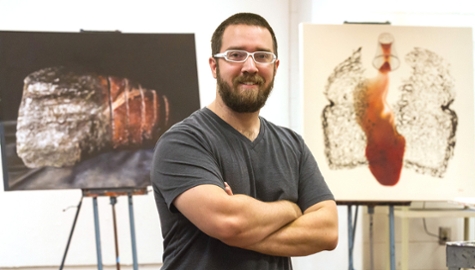 Craig Hawkins (Photo by Paul Leavy, Valdosta State University)
~ 2014-2015 is the Year of the Arts at Valdosta State University ~
VALDOSTA — T. Craig Hawkins has had a busy year — and it is not over yet.
On Friday, Sept. 26, Hawkins will celebrate the opening of "Bread: Works by Craig Hawkins" at Mason Murer Fine Art in Atlanta. The solo exhibition features 15 to 17 new works, a mix of painting, drawing, lithography, screen printing, and monotype prints.
"I've recently been researching bread in biblical contexts — the first temptation of Christ, the Last Supper, manna in the desert, the feeding of the 5,000, etc.," shared the Valdosta State University assistant professor of art who has been represented by the Mason Murer Fine Art gallery, his preferred venue for showing new bodies of work, since 2007. "This work revolves around the question of hunger and what bread can and cannot do. Bread can speak to abundance and the power to provide, but it's only temporary.
"It doesn't answer the supreme hunger of life, transcendence."
"The way bread is referenced through Christ in the Gospels is fascinating," he added, describing the inspiration behind his latest works. "The victory over a temptation to turn stones to bread, revealing the power of provision, speaks to the fact that we are more than what we eat.
"The feeding of the 5,000 speaks to the power of provision through compassion. The Last Supper speaks to Christ himself being the sacrifice for our sins that gives us all eternal significance and a reunited relationship with our creator — now and beyond death. Jesus Christ is the bread of life fulfilling the supreme hunger of life."
"Bread: Works by Craig Hawkins" runs through Saturday, Nov. 8.
Hawkins said that his work as an artist has been influenced by his relationship with God since 1998, when he made the decision to start following Christ. He said that it has taken a while for him to discover how art and faith merge in his life, but he truly believes art is important because it can be a catalyst for great discussion.
"Art asks questions better than it gives answers," he continued. "I intend to ask good questions and plant seeds of beauty with the work I create."
Hawkins has four hymn drawings in the "Word & Words & Image" exhibition at The Sojourn Gallery in Louisville, Ky. The group showcase features works by three other artists and runs through Sunday, Oct. 29.  
"This show places the power of words and image together with biblical text. The hymn drawings are charcoal over monotypes on paper," he shared. "These drawings are concerned with comparing the temporal with the eternal.
"While often captivated by the temporal, our heart longs for an eternal home. Our desires find ultimate fulfillment when they are given to the One in which we are designed to enjoy forever. The metaphor of a paper airplane constructed from the page of a hymnal seems appropriate for the temporal nature of our songs here on earth. Although they're directed to heaven, they are, through time, destined to end. However, another experience of the beauty of God yields another song to beckon our hearts toward the eternal once again."
"I'm comparing the length of the song to the flight of a paper airplane," he continued, "and comparing the direction of my heart towards God to the child-like expression of delivering, in the form of a paper airplane, the admiration God deserves. I enjoy this expression of worship through song and image."
Hawkins is no stranger to Kentucky. In 2012 he enjoyed a solo exhibition at the 930 Gallery, also in Louisville. It was the director of that gallery who invited him to be a part of the four-person show at The Sojourn Gallery.
A VSU alumnus, Hawkins graduated with a Bachelor of Fine Arts in 2001. He then returned to his alma mater a decade later, this time as an educator, after earning a Master of Fine Arts from the University of Georgia's Lamar Dodd School of Art. He primarily teaches foundation level and drawing courses, although he is also a noted painter and has created several works that can be enjoyed by the local community year-round.
In 2013, Hawkins was commissioned to paint a cloud ceiling mural at Nails by Chris on Gornto Road in Valdosta. He was commissioned to paint Christ in an olive grove at Northside Baptist Church the year prior. He has also worked as a scenic artist for Peach State Summer Theatre and for the School of Dance Arts Inc.'s annual holiday performance of "The Nutcracker."
Referring to his artistic pursuits, he said, "I collect moments of personal revelation and attempt to visually give them away as a drawing or a painting. In doing this I hope to motivate the viewer to reassess things typically taken for granted and find common ground for a great discussion."
Hawkins kicked off 2014 with a solo exhibition, "Craig Hawkins: Confessing Unity" at the Beard Arts Center in Marion, Ind., and two group exhibitions, "Selections from White Stone Gallery" at the Connie A. Eastburn Gallery in Langhorne, Penn., and "Nude Night Art Show" during a Nude Nite event in the Princeton Warehouse District in Orlando, Fla. By the time spring arrived, his works were on display at Hospice of South Georgia in Valdosta, allowing his local fans, including his students, an opportunity to contemplate the works comprising his "Notice Series by Craig Hawkins."
Hawkins's "Eve's Curse," a drawing of graphite on paper measuring 22 inches by 30 inches, was selected for the Texas National 2014, which ran from mid-April to mid-June in Stephen F. Austin State University's Cole Art Center in Nacogdoches, Texas. The same artwork was later accepted into the 2015 International Drawing Annual, an exhibition-in-print publication by Manifest Gallery of Cincinnati, Ohio, scheduled to be released during the upcoming winter season. He is the only artist from Georgia appearing in the publication.
In May, Hawkins's work was featured as part of a grand opening show at the Anne Neilsen Fine Art Gallery in Charlotte, N.C.
On Friday, Sept. 14, Hawkins's "Chasing the Wind: Works by Craig Hawkins," a solo exhibition that ran for 45 days, closed at the Genema Gallery in Atlanta. It featured 15 works, all paint and gold leaf over monotypes on paper. His artist talk from the opening night reception can be found on his website, www.craighawkinsart.com.  
"This series depicts figures veiled by visual manifestations of thoughts or seemingly important responsibilities," he explained. "The manifestations represent anything without eternal significance that gets in the way of our ability to see reality, to see and to set priorities in an appropriate hierarchy. These are supervening thoughts, questions, worries, concerns, anxieties, pleasures, distractions, and rabbit trails we consume on an hourly basis. As a group they represent the human struggle to live meaningfully within a culture containing a multitude of differing worldviews."
Hawkins first exhibited at the Genema Gallery 11 years ago as part of a two-person show. He was relatively fresh out of college, having graduated from VSU a couple of years earlier.
Craig Hawkins can be contacted at (229) 293-6239 or tchawkins@valdosta.edu for more information.
On the Web:
http://www.valdosta.edu/colleges/arts/art/
http://sojournartsandculture.com
https://www.facebook.com/ggatlanta
Visit https://www.facebook.com/vstatenews?ref=hl to view additional images.  
---
Valdosta State University's 2013-2019 Strategic Plan represents a renewal of energy and commitment to the foundational principles for comprehensive institutions.
Implementation of the plan's five goals, along with their accompanying objectives and strategies, supports VSU's institutional mission and the University System of Georgia's mission for comprehensive universities. 
Craig Hawkins's work as both a professional artist and faculty member meets the following goals: 
Goal 1: Recruit, retain, and graduate a quality, diverse student population and prepare students for roles as leaders in a global society.
Goal 3: Promote student, employee, alumni, retiree, and community engagement in our mission.
Goal 4: Foster an environment of creativity and scholarship.
Goal 5: Develop and enhance Valdosta State's human and physical resources.
Visit http://www.valdosta.edu/administration/planning/strategic-plan.php to learn more.
Newsroom
Office of Communications Powell Hall West, Suite 1120
Mailing Address
1500 N. Patterson St.
Valdosta, GA 31698
General VSU Information
Office of Communications