August 15, 2014
14-246
Jessica Pope
Communications and Media Relations Coordinator
VSU Fine Arts Gallery Hosts Art Faculty Exhibition Aug. 25 Through Sept. 12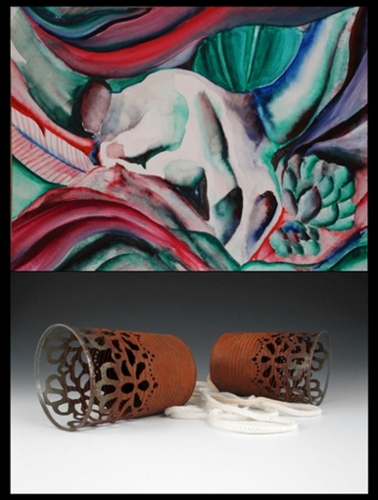 Top: Cindy Hasio, "Dream of Fort Worth" / Bottom: Abigail Heuss, "The Sound that Memories Make" / President William J. McKinney has declared 2014-2015 to be the Year of the Arts at Valdosta State University.
~2014-2015 is the Year of the Arts at Valdosta State University~
VALDOSTA — The Valdosta State University Fine Arts Gallery will kick off the 2014-2015 season with an Art Faculty Exhibition. An opening reception will be held from 7 p.m. to 8:30 p.m. on Monday, Aug. 25; the Faculty Jazz Combo from the College of the Arts, Department of Music, will perform.
"This is the show where the Department of Art faculty demonstrate to students that we practice what we preach," said Julie Bowland, art professor and Fine Arts Gallery director, as well as noted landscape painter. "We not only talk the talk but walk the walk. It's a nice way to welcome faculty and students back to classes."
All full-time art faculty members are invited to participate in the annual art exhibit, Bowland said, and because VSU boasts such an eclectic mix of talent, art enthusiasts will find a little bit of everything at the Art Faculty Exhibition, from photography and ceramics to paintings and drawings to jewelry, sculptures, prints, animation, graphic design, interior design, and more. Participating faculty exhibitors are Hollis Barnett, Julie Bowland, Tommy Crane, Clyde Edwards, J. Dominick Gheesling, Craig Hawkins, Cindy Hasio, Abigail Heuss, Jim Hornsby, Paula McNeill, Selena Nawrocki, Kyoung-Im Park, A. Blake Pearce, Richard Peterman, Michael Schmidt, Mark Stafford, Kalina Winska, and Karin Murray — all are current studio instructors except Pearce, who was named dean of the College of the Arts in 2013, and practicing artists.  
The Art Faculty Exhibition will remain open to visitors through Friday, Sept. 12.
VSU's Fine Arts Gallery is located on the first floor of the Fine Arts Building, at the intersection of Brookwood Drive and Oak Street. It is open from 8:30 a.m. to 5:30 p.m. Monday through Thursday and from 9 a.m. to 3 p.m. on Fridays. Admission is free of charge. 
Contact Julie Bowland at (229) 333-5835 or jabowlan@valdosta.edu to learn more or to schedule a guided tour of the exhibition.
On the Web:
http://www.valdosta.edu/colleges/arts/art/
http://www.valdosta.edu/colleges/arts/
Visit https://www.facebook.com/vstatenews?ref=hl to view additional images. 
---
Valdosta State University's 2013-2019 Strategic Plan represents a renewal of energy and commitment to the foundational principles for comprehensive institutions.
Implementation of the plan's five goals, along with their accompanying objectives and strategies, supports VSU's institutional mission and the University System of Georgia's mission for comprehensive universities. 
The annual exhibition of works created by Department of Art faculty members, who are also practicing artists, meets the following goals: 
Goal 1: Recruit, retain, and graduate a quality, diverse student population and prepare students for roles as leaders in a global society.
Goal 3: Promote student, employee, alumni, retiree, and community engagement in our mission.
Goal 4: Foster an environment of creativity and scholarship.
Goal 5: Develop and enhance Valdosta State's human and physical resources.
Visit http://www.valdosta.edu/administration/planning/strategic-plan.php to learn more.
Newsroom
Office of Communications Powell Hall West, Suite 1120
Mailing Address
1500 N. Patterson St.
Valdosta, GA 31698
General VSU Information
Office of Communications