April 23, 2014
14-152
Jessica Pope
Communications and Media Relations Coordinator
VSO's 24th Season Ends April 26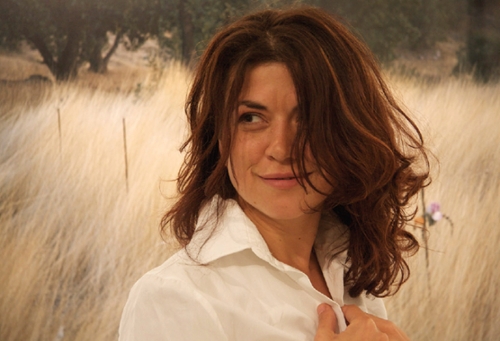 Katia Skanavi
VALDOSTA — Dazzling world-renowned pianist Katia Skanavi will perform with the Valdosta Symphony Orchestra during the final concert of its 24th season at 8 p.m. on Saturday, April 26, in Valdosta State University's Whitehead Auditorium.
Born in Moscow, Skanavi "is prized for her command of a rich and vivid tonal palette and a virtuosity that is allied to intuitive and thoughtful interpretation," according to the April 2014 issue of Symphony Notes. She is known to impress "audiences, critics, and fellow performers alike with her vibrant pianism and sensitive musicality."
During Saturday's VSO concert, Skanavi will perform as featured soloist on Frédéric Chopin's Piano Concerto No. 2 in F Minor, Op. 21.
"She made quite a splash with her Valdosta solo recital years ago," noted Dr. Howard Hsu, Valdosta Symphony Orchestra conductor, "so we wanted to have her come back and play with the VSO."
Themed "The Free Will," the season-ending concert lineup will also feature music by Johannes Brahms, his "Hungarian Dance" No. 5 and his Symphony No. 3 in F Major, Op. 90.
"Even though I love all of the Brahms symphonies, the third is probably my favorite," explained Hsu. "It is undeniably a tough nut to crack, but I know that it will provide a fitting ending to our 24th season."
Tickets are $27 for adults and $10 for students with valid identification. A discount will be given to university faculty and staff, as well as to senior citizens and military personnel. Reservations are required.
A special youth concert featuring the "free-spirited" Brahms Third Symphony, the "brilliant" Chopin Second Piano Concerto, and the "dazzling" Skanavi will be held at 10 a.m. on Friday, April 25, also in Whitehead Auditorium.
Whitehead Auditorium is located on the first floor of VSU's Fine Arts Building, on the corner of Brookwood Drive and Oak Street.
Visit www.valdostasymphony.org or contact Sarah Alexander with VSU's College of Arts Outreach Office at (229) 333-2150 or swalexander@valdosta.edu to reserve tickets or learn more.
On the Web:
http://www.valdostasymphony.org/April2014SymphonyNotes.pdf
http://www.valdosta.edu/colleges/arts/music/
http://www.valdostasymphony.org/index.php
About the Valdosta Symphony Orchestra
Created in 1990, the Valdosta Symphony Orchestra serves both the cultural life of Valdosta and the regional academic mission of Valdosta State University. The high standard of performance of the orchestra enables it to attract guest soloists of national and international renown to the Valdosta community. The orchestra's membership is a unique blend of resident artist-faculty, students studying professional music disciplines, talented community performers, and carefully selected professionals from a five-state region. Supported by an Advisory Board of Directors, the Valdosta Symphony Guild, Valdosta State University, corporate sponsors, and hundreds of individual patrons, the orchestra has become an important part of the cultural life of the entire region.
Newsroom
Office of Communications Powell Hall West, Suite 1120
Mailing Address
1500 N. Patterson St.
Valdosta, GA 31698
General VSU Information
Office of Communications