April 17, 2014
14-140
Jessica Pope
Communications and Media Relations Coordinator
Spring Senior Art Exhibition Runs April 19-May 5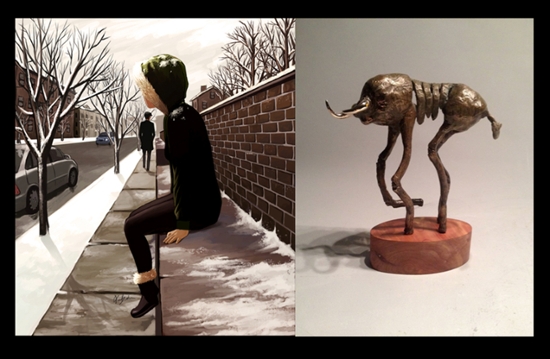 On the left: Kimberly Bicknese, Do You Not See Me
On the right: Sarah Hamman, Untitled
VALDOSTA — The Valdosta State University Department of Art will kick off its 2014 Spring Senior Art Exhibition with an opening reception in the Fine Arts Gallery from 1 p.m. to 3 p.m. on Saturday, April 19. A student jazz combo will perform.
Admission to the annual Spring Senior Art Exhibition is free of charge; the public is encouraged to attend. The exhibit will run through Monday, May 5. 
Titled "/Seen-yer/ /Shoh/," the Spring Senior Art Exhibition features graphic design and mixed media creations, drawings, paintings, photographs, ceramics, sculptures, and more created by 17 artists — Kimberly Bicknese, Fania Braaf, Galen Coles, Allie Threlkeld, Hayley Brannen, Zella Campbell, Kristen DeShazo, Sarah Hamman, Zach John, Daniel Keefe, Jamal Peterson, Tayler Ruppel, Abbey Spacil, Megan Spann, Eric Sturgill, Jordan Steele, and Allison White.
All of the students anticipate graduating in May with either a Bachelor of Arts (B.A.) or Bachelor of Fine Arts (B.F.A.).
The Fine Arts Gallery is located on the first floor of the VSU Fine Arts Building, at the intersection of Oak Street and Brookwood Drive. The gallery is open from 8:30 a.m. to 5:30 p.m. Monday through Thursday and from 8:30 a.m. to 3 p.m. on Fridays.
Contact Julie Bowland, VSU Fine Arts Gallery director, at jabowlan@valdosta.edu or (229) 333-5835 to learn more or to schedule a guided tour.
On the Web:
On Facebook:
VSU Fine Arts Gallery
Visit https://www.flickr.com/photos/valdostastate/sets/72157644097712383/ to view additional images from the exhibition.
Newsroom
Office of Communications Powell Hall West, Suite 1120
Mailing Address
1500 N. Patterson St.
Valdosta, GA 31698
General VSU Information
Office of Communications